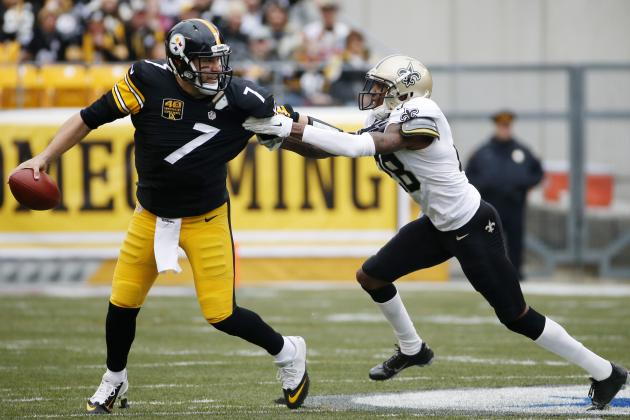 Sit
1. QB Ben Roethlisberger, PIT:
Roethlisberger has shown glimpses of greatness this season with some huge performances, but this week should be a lull of sorts as the Steelers take on their division rivals in Cincinnati. Cincy's defense is starting to play at an elite level, as they have allowed 13 points or less in each of their last 3 games. Roethlisberger will have a tough time making plays against this stout pass defense, despite having playmakers like Le'Veon Bell, Antonio Brown and Martavis Bryant. Big Ben is also dealing with an injury to his throwing hand that could limit his big play capabilities. Consider Roethlisberger nothing more than a weak QB2.
2. RB LeSean McCoy, PHI:
McCoy has exploded as of late, totaling 289 yards and 2 touchdowns in Philly's last two games combined, but do not expect similar production for week 14. Shady McCoy has finally taken off this season, but has a very difficult matchup at home this week against a punishing Seattle defense. The Hawks rank 4th (tied with the Ravens) in allowing just 86.3 rushing yards per contest, and have not allowed a rusher to reach 30 yards on the ground during their last 2 games. Expect the red-hot Seattle defense to pressure McCoy and company significantly, and take away the opportunity for big plays to be made. McCoy should not be used as anything more than a middle-of-the-pack RB2.
Start
1. RB Frank Gore, SF:
Gore is coming off a 28 yard rushing performance, but has the perfect chance to turn things around versus the hopeless Oakland Raiders. The Raiders rank 27th in surrendering 130.5 rushing yards per game, and Frank Gore should have a field day with them. Oakland took on the St. Louis last week, and allowed Rams RB Tre Mason to pick up 117 yards and 2 TDs on just 14 carries, and expect their defense woes to continue. Gore will find plenty of running lanes to exploit, and can be implemented into starting lineups as a high RB2 with RB1 potential in fantasy leagues across the board.
2. WR Kenny Stills, NO:
Kenny Stills will look to keep the ball rolling as he comes off a 5-162-1 spectacular performance, as the Saints took down the Pittsburgh Steelers. Stills was targeted a team-high 6 times, comfortably being used as Drew Brees' number one option. This trend should continue as the Panthers will look to limit Jimmy Graham's effectiveness, likely leaving Stills with single coverage for most of the contest. The Panthers rank 17th in allowing 243.5 passing yards per game, making them decent at best. Expect Kenny Stills to continue to shine in Brandin Cooks' absence, and to pan out as a high-end WR2 this week, with low WR1 potential for the rest of the season.  He is a good fantasy football start option.
Keep reading ASL for the best fantasy sit start guidance.