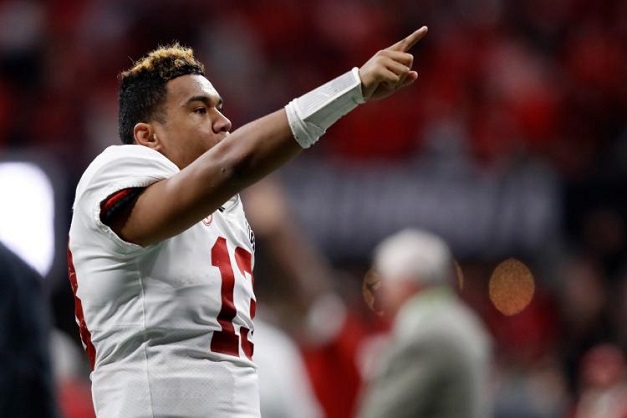 Written by Chad Samuels
09 January 2018
This is for all of the fantasy football addicts out there. If seasonal fantasy football isn't enough for you, then there is dynasty where you keep your rosters from year to year with a mechanic to turn over some of your roster is the way to go. January is a good time to put finishing touches on your rosters for 2018. This is also the time when a savvy owner will begin to prepare his knowledge of rookies coming out in the draft, learning the players and ranking them. Then as the combine occurs and the NFL draft finishes the process, your rookie ranks will be adjusted due to physical prowess and opportunity. This is all in preparation for the most important day on the dynasty calendar, Rookie Draft Day. A solid rookie draft is important to the overall health of your dynasty roster long term. You need to be prepared for it and you need to nail it. Just like a grandmaster chess player anticipates several moves ahead in his game, if you want to be a dynasty baller, then you need to do the same. The most prepared drafters prepare early and are several steps ahead of other dynasty owners.
If you play in a dynasty league, give your team the best chance to win with Chad's Dynasty Diagnostic service. 
Over the next five to eight months many owners will be preparing for 2018. As a top owner, you will be too. But at the same time, that should not be your only focus. You should also be paying attention to the top college prospects and then dig a little bit deeper. This does several things. The first and most important thing is it gives you a sense of the dynasty landscape for future years. How does 2019 look? How about 2020? Elite players are highly recruited in college as well. By knowing how many four- or five-star recruits are at a skill position, it gives you an advantage of class strength. It can be a risky proposition but if you project a rookie class to be weak you can trade for a stronger class before your opponents realize and gain an advantage in talent long term. Trading is risky, but the good news is rookie picks never go down in value like players do. It is worth the risk if you prepare properly and trade into drafts that are strong. Anticipating a class strength also allows you ahead of time to anticipate whether or not to stock up on rookie picks in a given year. More importantly, it is the ability to trade for those picks years in advance while the cost is less. In order to do that well, you need to know the prospects in advance. For example, we got to know one of those prospects, Alabama true freshman QB Tua Tagovailoa, in the national championship game last night.
Sad that the NFL season is ending? Don't be. Make your own offseason prop bets here.
The other insight to projecting farther out is what positions a draft will be strong in. If you know an upcoming draft is strong at a position and you have the draft picks in the draft, it allows you to trade away aging talent for additional assets that you need and you can replenish it through the draft. This way you can strengthen a weak spot on your roster and not do much to weaken your strength. This can create win-win trade situations for you and other dynasty owners. These scenarios will help get a deal done. All of this preparation is predicated on knowing more than your opponents.There may be some that are as prepared as you are, but there can be many that are not. It is those that are not that you will target to gain an advantage. In pop culture, there is a humorous adage for a zombie apocalypse that is applicable here: "You don't need to run fast in a zombie apocalypse, you just need to run faster than the other guy."  In dynasty settings you don't have the be the best prepped on draft day, need to be prepped faster than other owners in your league. This will help allow you to make better trades and improve your roster quicker.
There are many different websites out there that cover college players. It is wise to use multiple sources. Some are free, others will give a free trial content and others you will have to pay for. Take some time explore and find some websites you like that has college player content. You can also find some additional prospect content on our site. So check back often. We mostly will cover current rookie crops in this column but there will be some long-term prospects content from time to time. While the following website's devy rankings are not my rankings, Dynasty Football Factory put out a comprehensive devy document in 2017 called the devy watch. It is free with the option to donate through PayPal. It is a good place to start with assessments while the document itself is long, one does not need to read it all just the top profiles at each position to get a feel for the prospects. You can rank players as you like as you continue to read up on the players.
It is easy to get lost in preparation for the current rookie draft. The final thing I suggest is if you haven't already joined a devy league. A devy league is a dynasty league that includes developmental (devy) college players on your roster. These leagues come in many forms but are well worth your time. If you join a startup draft for a devy league, then it will force you to do draft prep on devy players and increase your rookie knowledge base. Find a free devy league or one where the cost just covers web hosting fees. While the goal for any version of dynasty leagues are to win, this league will have a very important secondary goal of providing information on future rookie drafts. If you never win a title or place in the top three, still the knowledge you earn will help you long term in your other dynasty leagues. For this reason, try not to pay for it and if you have to start one up do so. Unless you have a lot of extra time on your hands, look for a devy league that offers about six to eight devy spots maximum per roster. You don't want to spend so much time that this league takes away from your draft prep for other leagues. Not all owners will fill their maximum devy spots and this level of depth should create roughly twenty-five or so devy prospects on dynasty rosters over four draft classes. This level of depth gives you not only your future draft prep but allows you to see who other owners participate in devy leagues are valuing. These players are worth being researched so that you are aware of them and what they can do. Even if after you are done researching the player and you are not impressed with them as prospects, these players have value to other owners and need to be accounted for in future rookie drafts.
In the end, I hope you see the value in preparing for your rookie drafts multiple years out. While it is not an exact science, having a team in a devy league can help you get an edge for your other dynasty leagues. If you have difficulty finding one and need help setting one up, then feel free to contact me at This email address is being protected from spambots. You need JavaScript enabled to view it. and I will help as much as I can.

Never miss out on the latest sports content and receive ASL's free newsletter. Send us an email at This email address is being protected from spambots. You need JavaScript enabled to view it. with the sports you are interested and receive custom content in your inbox.