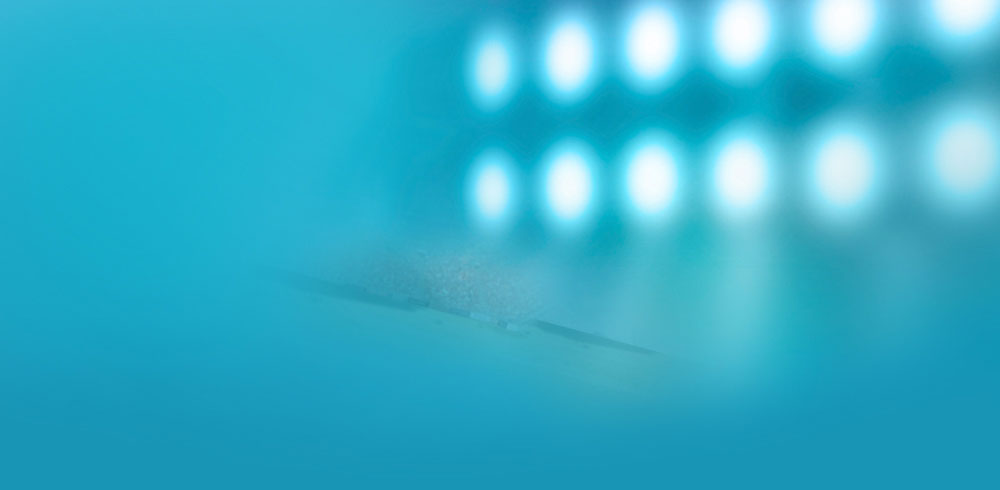 THE MACHINE

for Daily Fantasy Sports
Get optimum lineup guidance from top projection sources
Select your daily fantasy lineup slate and team stacking strategy
Receive up-to-date gate-time-decision, injury and batting order information
Build your lineup by locking or deselecting players across the multiple projection sources
Get Started
Supports NFL, MLB, NBA and NHL DraftKings, FanDuel and Yahoo lineups
Top Projections
---
Get the best accuracy based on multiple top quality projection sources
Receive an optimized lineups for each source of player projections
Receive an additional optimized lineup from a blend of all projection sources
Injury and Other Information
---
Receive important player information from multiple additional sources
Get current injury and game time decision information to help you eliminate risky plays
Get batting order and opposing pitcher information for baseball even before projections update
Detailed Update Information
---
Click on any fantasy point projection to get more information
See when a projections was last checked and when the provider last changed it
See specifically where a projection came from
Parallel Player Lock
---
Lock any player across all lineups to help you build your best lineup
Get re-optimized lineups automatically when you click lock
Build your best daily fantasy sports lineup locking one player at a time from multiple top projection sources
Exclude Player
---
Check the latest player status information to identify risky players
Exclude players you prefer to avoid and get re-optimized lineups
Reset your exclude list with one click to start over
Select Players Directly
---
Click any player and get a list of other players that can fill in that spot on the lineup
Sort the list by salary, fantasy points or value
Select the player you choose and get re-optimized lineups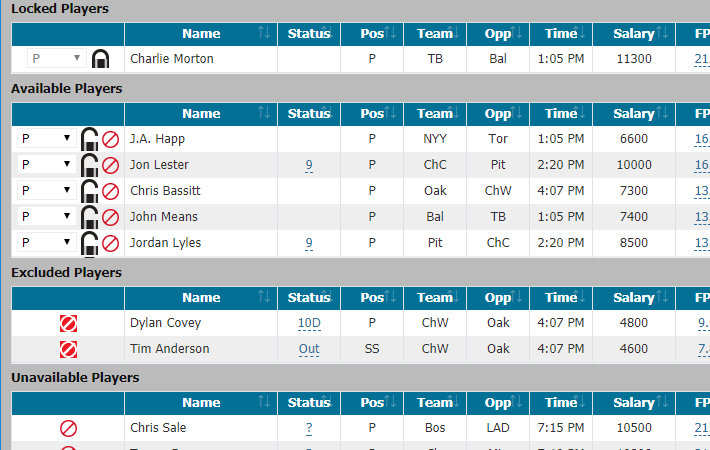 Select Your Slate
---
Indicate the first and last game times for your contest's slate
Click "Generate Lineups" and get optimized lineups for your slate
Get the lineups that are right for your daily fantasy sports contest slate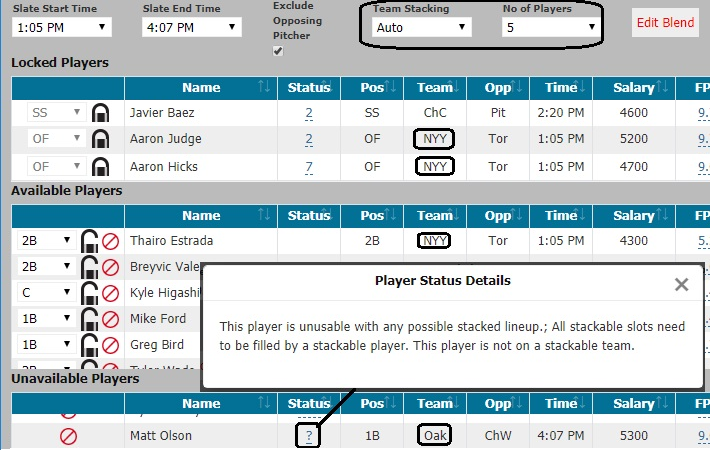 Advanced Team Stacking
---
Team stacking is a strategy used for gaining a higher probability to win higher odds daily fantasy sports contests, e.g., if a quarterback does well, then his receivers do well also, or when several batters on the same team each do well they collectively do even better by getting more at-bats and RBIs
Select a team and how many players to stack from that team, giving your lineup greater upside potential
Auto-team select is ASL's powerful feature that finds the team stack for each projection provider that results in the highest optimized lineup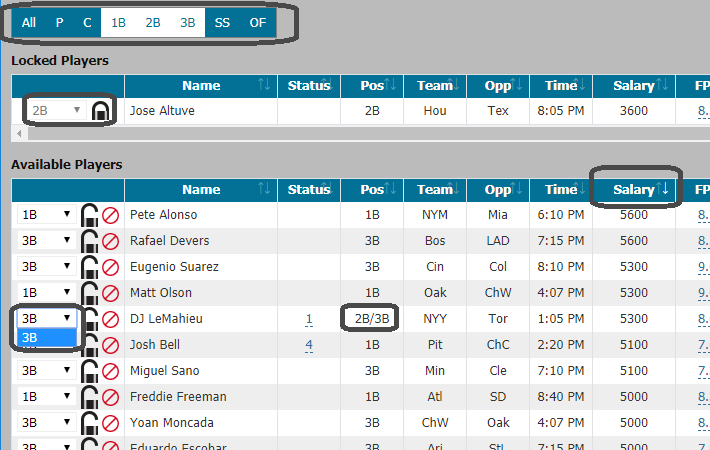 Excluding Opposing Defense
---
You can't have your cake and eat it too – if your offensive players do well, especially if they are stacked, the opposing defense (D, Pitcher or Goalie) can't also do well
Click "Exclude Opposing Defense" and get optimized lineups without an opposing defensive player
Use ASL's advanced strategy features to get the best chance to win your daily fantasy sports contests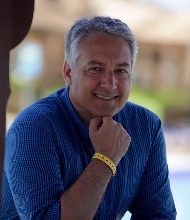 A Note from the Founder of ASL
"Since founding Advanced Sports Logic (ASL) in 2009, it's been my passion to provide fantasy sports players with the best tools at the best prices. My passion for automating fantasy sports guidance started in 2003 when I was working for a major silicon-valley technology company. At the time, I was automating complex chip design flows. When I started playing fantasy football in 2003 I realized I could apply the same techniques to optimizing fantasy football play. Couple that with my love for mathematics (yes – I am a geek – I completed the equivalent of four years of calculus my freshman year of college) and apply them to tools for fantasy football guidance, and I thought perhaps something great might happen.
In 2009 I finally had the "Eureka" moment when I figured out the math that would enable a computer to play fantasy football. Soon thereafter I left my day job and by 2011 ASL had The Machine up and running. From 2012 to 2015, ASL's "The Machine" for season-long fantasy football was the top-rated and top-selling App in CBS Sports' App Central, an accomplishment the whole ASL team has been proud of. Taking metrics of user's win results, we found that the average person that used The Machine for the first half of the season was 2.7x more likely to win their league than the average fantasy football player, but even then we were not satisfied and had several improvements planned.
However, CBS closed their App Central at the end of 2015 and at the end of 2016 ASL made a tough decision to shut down our tools so we could focus our full effort on a needed rebuild to move to more modern technologies and a more efficient IT infrastructure. This effort is expected to complete in time for the 2019 fantasy football season.
In the meantime, The Machine for Daily Fantasy Sports is ASL's first rebuilt product in the new technology. We believe it is already the best Daily Fantasy Sports lineup optimizer product available at a price that offers real value, helping to keep Daily Fantasy Sports fun. Even still, ASL is committed to continuous improvement and has even more powerful math algorithms on the way.
Daily Fantasy Sports is a matter of some skill and of some chance (or luck). However, the odds are stacked against the average player. While ASL regards Daily Fantasy Sports as a form of entertainment that makes watching your favorite sports games more exciting, and that it should be played with the expectation of losing money, it is ASL's mission to combine skill and luck with a third factor--the most powerful math and computer assistance. ASL's goal is not only to provide a better tool and to offer greater value than the other tools available, but to build the most powerful optimizer tool that we can by using advanced probability theory and other supporting advanced mathematics.
Finally, as part of ASL's commitment to continuous improvement, we want to hear from you. Do you have a favorite Daily Fantasy Sports platform that you would like ASL to integrate with? How about another source of projections? Is there some strategy or new feature you would like us to add?
Just send us an email at This email address is being protected from spambots. You need JavaScript enabled to view it.
Sincerely,
Leonard LaPadula
Founder, Advanced Sports Logic, Inc
Build top daily fantasy sports lineups to enter contests while you are on the go or from home.
---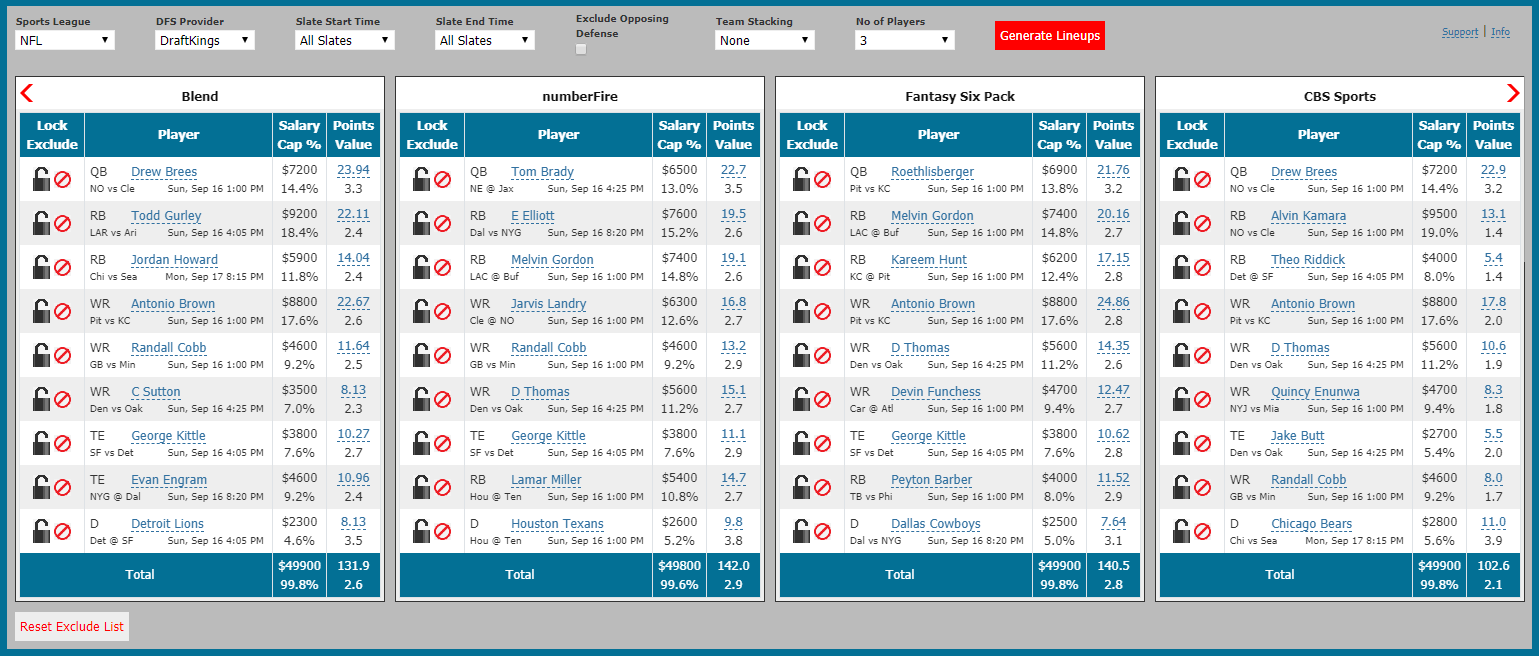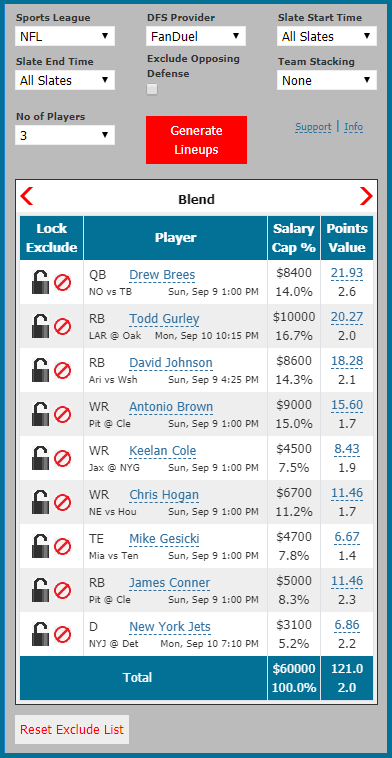 The Machine for Daily Fantasy Sports blends top projections and provides powerful features to give you the lineup advice and strategy you need to build competitive lineups for FanDuel, DraftKings and Yahoo
Start building competitive Daily Fantasy Sports lineups today
Get Started
This section of the article is only available for our subscribers. Please click here to subscribe to a subscription plan to view this part of the article.