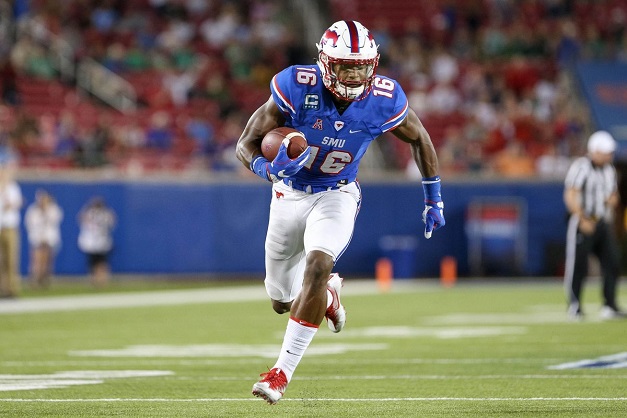 Written by Chad Samuels
06 February 2018
While there is no more important time than the startup draft, it is safe to say the biggest most important day in the dynasty calendar every year is a league's rookie draft. While there are waivers and free agency and teams may improve by trading for players, the rookie draft provides a time where you can be guaranteed to add players to your roster. Because of this growth strategies looks to utilize this fact and maximize the rookie draft in your favor. If you can leverage the rookie draft to your benefit consistently through the years your dynasty team should remain healthy and strong.
If you play in a dynasty league, give your team the best chance to win with Chad's Dynasty Diagnostic service. 
The first and most important thing to understand is to be very careful when trading your rookie picks. When you trade away rookie picks you are trading away youth. Third-round and later picks can sometimes be added to a deal in order to get a trade done but your first- and second-round selections are where new core assets and flip players will come from on a consistent basis. If you are constantly trading these picks away without receiving any picks back in return you will find yourself in a position where you can not capitalize on the rookie draft. Growth strategies will often package picks with a veteran you cannot keep or a flip player to move up in the rookie draft. This sort of trade is fine to do several times a year because it helps you secure the target players in your rookie draft. It also can happen that growth strategies will trade away a couple of top picks for an elite player to fix a weak starting position. This can be fine as well. What is critical about the later type of trade is that it is sprinkled in occasionally here and there. Often this trade can be made from a position of strength if you already own multiple first-round selections in a given rookie draft. What you do not want to do is trade yourself out of top draft picks for multiple years. This hinders growth strategies and what it is trying to do.
The second thing to understand is that dominating a rookie draft actually starts a year in advance. We are currently beginning the 2018 season for dynasty purposes. While there will be trades that affect the current rookie draft these rookie values will begin to rise as people start thinking more about the rookie draft. Then the combine results and the NFL draft is executed. People will elevate the value of the picks because they know what pick they have and they are beginning to attach names to the picks. However, 2019 rookie picks cost should be lower now because they are nameless and acquiring some of these picks, if possible is a wise endeavor. Remember growth strategies says the value of a rookie pick never goes down.
There are two main ways to acquire first-round rookie picks. The first is trading an aging stud. Often you will find me pointing to Antonio Brown as an example to be traded as an asset. He is at the top of his game and his value is high. Brown will turn 30 in July and his quarterback Ben Roethlisberger is 35 years old. There has been talk of Big Ben retiring and he is primed to be an asset that loses value sooner than later. Just like in the stock market you will never sell a stock at its peak value before it drops. You will not be able to sell a player like Antonio Brown at his peak value. The strategy in the stock market is to sell off shares of the stock on the way up to lock in profit. This is exactly how we need to view our aging studs. Sell them before their value drops and lock in the multiple first-round picks. The other way is to trade out of the late first round of your current rookie draft. Each draft year is different. As you evaluate the rookie prospects you will get a feel if there are strong upside players to be drafted in the late first round or early second round. These players need to be strong prospects. If they are not, then you can trade out of the late first-round pick into the second round for a first-rounder the following year. You can still find a flip player preferably in the same talent tier or close and reset the clock on the rookie pick. In the worst case, you get a similar pick next year on possibly some better prospects. In the best-case scenario, you can receive a pick that will be several spots higher and a player with a better chance of becoming a core asset for you. 2018 looks to be a strong class and if you can get a target player you like late in the first round, go ahead and do so. The talent is deep at running back so if you do not have a clear target rookie at that position it would be a very good year to trade back into the early second round and pick up a first-rounder for 2019.
The other strong play is to trade two late firsts to move up in the first round. This move is good if you can move into a tier where you feel comfortable with the players you are drafting. For example, early in 2018, RB Saquon Barkley, RB Nick Chubb, RB Derrius Guice, WR Courtland Sutton (pictured) and WR Christian Kirk appear to be strong candidates to become core assets for a roster. Trading to move up into the top five to secure one of these players is a good idea. The other time to move up into the first round is if you have a clear-cut target player after the core group of top rookies are gone. In 2017 that player was Alvin Kamara. Trading up to acquire Kamara in the seventh or eighth spot to ensure I was able to draft him was a good idea. At this position, you can sometimes package a first and a player or a first- and a second-round pick to get there. Remember, the rookie draft is the one chance you have to ensure you get a player if you love him. Once he hits another owner's roster he may never be available again.  
Once you acquire the multiple draft picks it is then about preparing and knowing the prospects so that you can make the best-informed decision possible. If you are in a devy league you already have a head start. If you don't, then draft prep starts in January for you. Take the time each week to read, read, read. Find multiple websites read their opinions on players. Do web searches for the top rookies for the upcoming year. Find clips of their play and watch them. Listen to multiple podcasts. Also, watch NFL Network if at all possible. They have lots of rookie content heading up to the NFL draft. Find out what Mel Kiper Jr., Todd McShay and Mike Mayock think about the prospects. While their Mock Drafts are fun to read and can give an idea who may be a first-round selection, look at their positional rankings instead. If you have twitter the NFL tweets some video clips of forty times if you can not watch the combine. From all this information you can put together a draft board for the rookies. Do not let anyone outwork you. One word of note: Do not rely on draft magazines. Don't spend your money on them. It takes time for these magazines to go to press and their content to be set early in the draft process. By the time they hit the newsstands, their information is often outdated. They are not worth the money from a dynasty perspective. If you want to buy one because it is an entertainment read go ahead. I just can't recommend them from a dynasty perspective.
Growth Strategies suggests that if you can, be a draft snob. Metrics are such that the players who will break out will most often be drafted on day one and sometimes on day two of the NFL draft. These are the players you want and should be your draft targets. Wide receivers have a low percentage chance of becoming fantasy-relevant beyond day one so draft them sparingly. Running backs have a higher chance of producing even for a small amount of time. This window though small provides an opportunity to sell the player for a profit. So once the first-round receivers are gone running back should be the go-to position to draft. First-round quarterbacks hit 50 percent of the time so unless it is a weak draft class, do not draft them in Round 1. Tight ends often have a tendency to be average so it is only the elite receiving prospects you should spend your draft capital. Tight ends usually take several years to develop so there is an opportunity after a year or two to buy the same player at a discount and get some reasonable production out of them. Growth strategies suggest you wait on tight end until late Round 2 or Round 3 and hunt for them on the secondary market. 
Finally, when it comes to building your rankings of rookies do not let draft position greatly affect where you place the rookies on your draft board. Growth strategies are about finding growth prospects at a reasonable cost so that you can trade them later to net a profit. A player may have a great opportunity to become a starter but if he doesn't have the talent he might not do much with it. If you inflated him on his opportunity he was going to receive and drafted him high when he does break out and it is time to trade him for profit there will be little profit to gain. So what good is knowing what team the player is drafted to worth then? It is used to break ties of prospects who are of similar talent levels. Two players are roughly the same and you have them in the same draft tier. Player A goes to a position with a deep depth chart where Player B goes to a team where the starter is tenuously holding onto his job. In this situation, you rank player B higher.
These are some of the strategies employed during the rookie draft. Remember growth strategies looks to grow your roster to sell for a profit. It looks to reduce risk to keep your roster healthy. From this perspective, you will choose your starters from year to year and over time you can grow into one of the strongest rosters in your league and compete for a title year in and year out.


Dynasty never goes out of style. The following is previous content you may want to refer to: 
Introduction to Growth Strategies
Growth Strategies and Startup Drafts Part 1
Growth Strategies and Startup Drafts Part 2
Why You Should Join a Devy League


Never miss ASL's latest fantasy sports news. Send us an email at newsletter@advancedsportslogic.com and list the sports you are interested in (NFL, NBA, MLB, NHL, EPL) to start receiving ASL's newsletter.