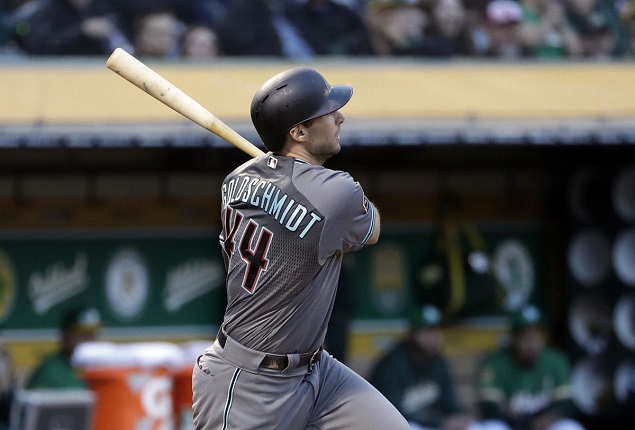 Written by Brian Murphy
29 May 2018
SS Didi Gregorius, New York Yankees
Last month, I told you to trade Gregorius. Now, I'm telling you to re-acquire him! OK, maybe not quite like that, but this would be a good time to put a line in the water toward Gregorius' owner. We all knew he would cool down after his Ruthian April, but the pendulum has swung too far in the other direction. Since April 28, Gregorius has put together a slash line of .116/.160/.179. His BABIP is an equally ridiculous .081 since May 4. Part of the problem is of his own making as Gregorius has fallen back into being his typically impatient self, walking just five times in the last month. But again, he's going to be substantially better than this at some point soon. He's still going to start every day near the middle of one of baseball's best offenses. If the Didi owner in your league is impulsive and has grown tired of Gregorius during his slump, take advantage.
1B Paul Goldschmidt, Arizona Diamondbacks
A lot of people were worried about Goldy coming into this season following Arizona's adoption of a humidor. And he is doing terribly at home this year, having posted a .544 OPS. But this is about more than home-road splits. I mean, Goldschmidt's batting average and OPS on the road are about 40 and 80 points, respectively, below his pre-2018 averages. Honestly, there are a ton of bad indicators on his profile, including that his soft-contact rate has nearly doubled from last year and his strikeout rate has greatly increased as well. The good news is that he doesn't seem to be hiding an injury. And I refuse to believe that Goldschmidt, 30, has gone from one of the league's best hitters to over the hill in the span of one offseason. He's become easily the most traded player in CBS leagues recently has been acquired for Buster Posey and Lance McCullers in one-for-one swaps in Yahoo leagues this week. This is just one of those instances where you have to believe in a progression to the mean. Goldschmidt, barring injury, is simply too good to be this bad for much longer.
SP Jon Gray, Colorado Rockies
I'll wrap up this quick post with a player who isn't universally owned -- he's available in about 30 percent of Yahoo leagues -- but can be a helpful part of your pitching rotation the rest of the way. Gray currently carries a 5.40 ERA, but that's way out of whack with his 3.16 FIP and his 3.05 xFIP. Gray's strikeout-minus-walk rate of 20.4 percent is outstanding, and his .368 BABIP is due to fall at some point. He is getting hit harder this year, including a few more fly balls going out of the park. But otherwise, Gray is someone to buy because most of his metrics show a pitcher whose current ERA doesn't represent him properly. Don't forget that Gray was one of the best pitchers in fantasy for the final two months of last season. He can be that guy again.

You can follow, ask fantasy questions and yell at Brian on Twitter: @Spokes_Murphy
Never miss ASL's latest fantasy sports news. Send us an email at This email address is being protected from spambots. You need JavaScript enabled to view it. and list the sports you are interested in (NFL, NBA, MLB, NHL, EPL) to start receiving ASL's newsletter.