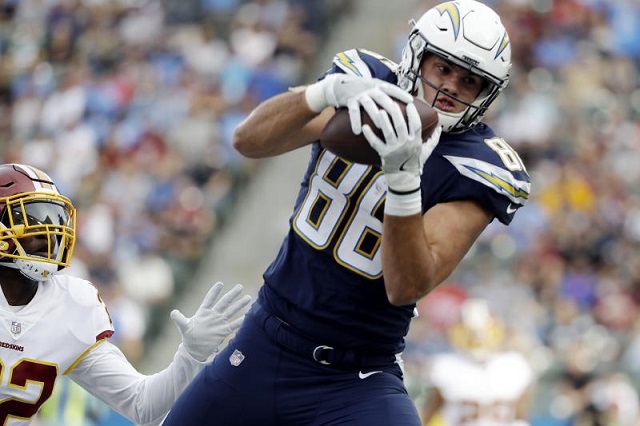 Written by Brian Murphy
26 May 2018
WR Michael Crabtree is 'the guy' in Baltimore
Ravens quarterback Joe Flacco praised Crabtree this week for his route-running abilities and how he is able to get open. Flacco insinuated that Crabtree is the player among all of Baltimore's new receivers that he is clicking with the most at this early stage.
Fantasy Take: It's that time of year when all really have to go on is OTA quotes. Take most of them with a grain of salt and think before you accept some random player compliment as a sign that he's going to have a breakout season. I don't think Crabtree will be a WR1 in fantasy with the Ravens, but he should at least be their No. 1 as Willie Snead plays out of the slot and John Brown still tries to do what he can on deep routes. It's still a very thin receiving corps and given the added uncertainty at tight end -- rookie Hayden Hurst is atop the depth chart right now -- Crabtree should lead this group in targets with relative ease. I feel pretty good right now with my ranking of him as a high-end WR3 in 12-team leagues. 
Eagles RB Corey Clement wants more work
Clement was a big factor in Super Bowl 52, totaling more than 100 yards and a touchdown. This week, the 2017 undrafted free agent who accrued 444 yards on 84 touches last season says he wants more of everything in 2018.
"I definitely want to get more touches, more carries, more catches out of the backfield this year. I want to be more of a key contributor. I don't think that's being greedy," Clement told the Philadelphia Inquirer.
Fantasy Take: I guess it would have been more noteworthy if Clement had said he doesn't want more touches. I mean, what do you expect him to say. As it is, Clement has proven a weapon in the receiving game for the Eagles. However, Darren Sproles is still in the picture, and Jay Ajayi remains the fairly clear No. 1 running back here. Clement is an OK bench stash, but I won't really love him for fantasy purposes until an injury befalls Sproles or Ajayi.
Chargers lose TE Hunter Henry for the season
The budding star suffered a torn ACL during OTAs on Tuesday. 
Fantasy Take: I know this is now old news, but I wanted to address it since I have yet to do so. I'm not really interested in how the Chargers respond to losing Henry; will they bring back Antonio Gates? Will they move forward with Virgil Green? I don't care. Neither man would really be a fantasy difference-maker. If anything, this is probably good news for Keenan Allen's and Mike Williams' fantasy stock as they should see an uptick in targets from Philip Rivers, whom I will consider moving down my QB rankings.
Otherwise, This is just awful news, plain and simple. I had originally listed Henry as my No. 4 tight end for 2018 and was really looking forward to seeing what he could produce with Gates gone. Instead, we're left to only send best wishes for a speedy recovery. Henry will be just 24 years old at the start of the 2019 season. 
Cowboys want to get the ball into WR Tavon Austin's hands
Dallas is trying to revive the career of the former No. 8 overall draft pick. Quarterback Dak Prescott said Austin is lining up over the formation, including in the backfield as a running back, and added, "he'll score some points and get a bunch of yards in this offense."
Fantasy Take: There might be room for expansion in the Cowboys' offense if Dallas decides to discipline Terrance Williams. But I'm not buying Austin. At least, not yet. He's been a tease his entire career. On the plus side, the Cowboys are in desperate need of playmakers past Ezekiel Elliott. I didn't rank any Dallas wide receiver among my early top 50, but I guess I could see Austin finding a way in if a team utilizes him correctly. Crazier things have happened. I'd keep an eye on him in deep formats.
Packers sign TE Mercedes Lewis
Green Bay has brought the 34-year-old aboard to mostly block.
Fantasy Take: Remember when Lewis had a three-touchdown game versus Baltimore in London last season? Yeah, he'll probably do something similar this season. He'll have a game that reminds you he is still in the league and then immediately vanish afterward. This signing, if nothing else, should allow Jimmy Graham to focus more on playmaking than blocking. I placed Graham at No. 5 in my early tight end ranks.


You can follow, ask fantasy questions and yell at Brian on Twitter: @Spokes_Murphy
Never miss ASL's latest fantasy sports news. Send us an email at This email address is being protected from spambots. You need JavaScript enabled to view it. and list the sports you are interested in (NFL, NBA, MLB, NHL, EPL) to start receiving ASL's newsletter.