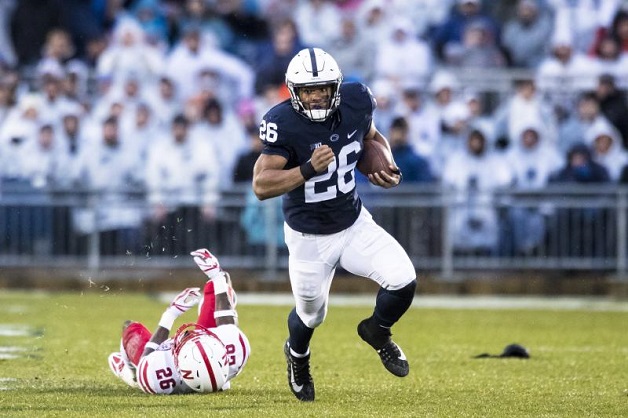 Written by Chad Samuels
30 January 2018
Last time we talked about startup leagues, we covered some of the things to look for in startup leagues that would help optimize growth strategies so that you could be in a better position to succeed. Last week, a lot of the content may have been intuitive or, if you played in fantasy football leagues before, things you already knew. This week we are going to dig deeper into growth strategies and the startup draft itself. We will tackle how to actually handle a start up draft so that you can exit it with the best roster possible for the long term. If you have not read them yet, check out the links to previous content at the bottom of this article. These are some of the basic concepts that growth strategies use and will be invaluable to know.  
The last thing you want to do in a startup drat is stay put with your draft picks. Trading is King. This means a team that trades has an advantage over the other owners that don't. He moves up and down the draft board to get the players he wants and ends up with a roster he is satisfied with. The critical component is trading down in the draft. Normally a team trading away the best asset in the deal receives a premium to trade it away. Usually, the premium is about 10-20 percent more. There are two types of trading down as a growth owner you want to do. The first is picking up extra assets. You want to try and structure deals that are two for one or three for two trades. This gives you an extra player. The extra player gives you another chance to hit on a growth stock and grow your roster. As mentioned in previous articles, there is always risk with growth stocks. The way you reduce the risk it to have a bunch of them so that you do not have to hit on all of the few growth assets you own. Also, look to have the owner throw you a third-round rookie pick or later into the trade. You may get to a point where you may not use the draft picks but they are still assets you can throw into trades later to get what you want. The second type of trade you want to execute is the two for two or the three for three trade where you move down a little now to move up several rounds later. These trades, while they do not help protect your roster with quantities, are effective if it moves you out of a spot where you will be drafting a high-risk player to an established veteran or an established veteran to a strong growth prospect. You do not want to execute many trades with even players but some can be an advantage to your roster especially if it moves you out of the late rounds.
If you play in a dynasty league, give your team the best chance to win with Chad's Dynasty Diagnostic service. 
Your biggest asset in trading is your first-round startup pick. If you can trade it do so because it will get you the largest return possible. Normally I would suggest moving down into the round two and three turn and pick up both turn picks and a first round rookie or another pick in the top six rounds of the draft. In 2018 market factors are such it will be better to make several trades down four to six spots each time and pick up some extra capital along the way with each trade down. This is because 2018 is shaping up that a roster will be at a disadvantage if it does not own a three-down running back or one of the two optimized touches running backs in Alvin Kamara or Christian McCaffrey. By making smaller trades back it allows you to control if you either select a running back or trade down more. Waiting until the end of round two for your first selection will most likely cause you to miss out on one of these running backs. One does not need to draft one of these backs to be successful. It is very good to have the option to draft one if you want.     
In the past growth article, we talked about core assets, flip players, and fodder. It is important when you are drafting to grab your core assets and a bunch of flip players and add a little bit of fodder to your roster along with plenty of rookie picks or rookies. Because of this, while ADP can be a tool to assist you, you want to draft using a tier system which groups similar types of players and players of value and have specific targets throughout the entire draft. Player Tiers are groups of players that you think are similar in value and production or will be similar to rookies. Player ranks may vary from season to season so similar players, can be pretty much interchangeable. For example, I may have Saquon Barkley, Le'Veon Bell, Ezekiel Elliott, Leonard Fournette, Todd Gurley and David Johnson in a top tier at running back. I may have them ranked but because they are similar I can feel good about owning any one of them. If several of these players are available in my draft and it is a position where I should draft one. I can take one and continue my draft. However, it would be better instead if I could capitalize on trading down a couple of spots grab some additional assets let a couple of them be taken and then grab who is remaining in the tier. All the players are similar so the latter player is the better value for his production because of the additional assets or upgrade in assets I received. When you group players in tiers you want to keep in mind what role they will play at their position. For running backs, are they a three-down back or are they a third-down back? Are they a committee back who can optimize his opportunity or have the potential to become a three-down back. For wide receivers, are they an elite receiver or a solidified WR1 on their team? Are they a slot receiver used for possession receptions or are they a burner who will catch few passes but when they do they will be deep balls? For quarterbacks, are they efficient in passing or do they run the football? Are they top six at their position or a journeyman who runs the risk of losing his job? These factors affect how you put players in tiers to choose from.
You will find due to your scoring system that there will be player types that will help you maximize your scoring and there will be others that will not. Because of this, you don't want to take the consensus best player available or go by who is best available according to ADP. If you draft by average draft position, you will draft an average team. Instead, have clear target players, draft them and build your roster with them. After the first six or ten rounds, you can abandon ADP altogether for your target players. Target Players are players you are specifically targeting due to scoring and starting rules that will maximize your roster with core assets, flip players and/or established veterans that are fodder. You do not need to rank everyone. If they do not fit the criteria, then cross them off your draft board. If you think a player will bust, then it doesn't matter if you draft him two rounds later than his ADP. He is still a bust. These players are Falling Knives. If you draft them you will get cut. There will be a time later on when falling knives will turn into distressed assets then you can look at adding them to your roster, but not during the startup draft. The goal of your startup draft is to reduce the risk of losing value on players while adding players who have growth potential so that in a season or two your roster is worth more than when you drafted it. Also with growth strategies Age is Key.
Age is Key means during a startup draft you don't want to spend a high draft pick on a player who is aging. As players age, they lose value. To grab such an asset is to guarantee that player will not be worth as much in two years as he is now. It is OK to take an aging vet later in the draft but through the first six to eight rounds it works against what you are trying to build. Because of this avoid running backs and wide receivers who are age 28 or older or quarterbacks who are age 35 or older. The opposite is not true. Do not pick up a player because he is young. Young players can be good growth assets but they need to have upside or potential to grow into a starting role. Growth strategies not only want players to grow in value but it also looks to sell them. A young player who does not grab a starting spot is unsellable and does you no good. They are fodder.    
Finally, do not forget rookies. Rookies are a key component to building a growth roster. You want to draft many of them. Each year is different as you need to assess the strength of the draft class. 2018 is a strong draft class. If you can put a lot of the top 25 rookie picks on your roster you will have a strong engine for growth. While you are drafting and considering your options if you have a choice between a piece of fodder or a rookie pick break the tie with the rookie pick. If you have a choice of a flip player and a rookie pick through the first three rounds of the rookie draft take the rookie pick because rookie picks will hold their value a year or two longer than the flip player. The important thing is not to overdraft the rookies early in startup drafts. Make sure you trade down to get them where they are properly valued. If you overdraft the rookies, you are losing value from your roster. For example, if you draft Barkley late in the first round when there are several three-down running backs still on the board, then you are not gaining value from him because you drafted him where you think he will grow into. Normally, only the top three rookies or rookie picks should be drafted in the first two rounds and honestly, I do not see a scenario where the top rookie pick should be selected in round one. Again this is a general guideline each year and each draft class is different and you need to adjust accordingly. This is why leagues where startup drafts that have rookie picks over actual rookies are preferred. No names are attached to them. After the top several they get devalued a little bit but at the same time the pick is protected from something bad happens to a player.
These are the basic concepts that growth strategies apply to startup drafts. From a startup standpoint, a growth strategy is similar to a gambit opening in chess. You sacrifice a small amount of material for a better position on the board. In this case, you are sacrificing some higher draft picks and some older established veterans for players that will grow into stronger assets and you will be one of the stronger teams in a season or two. Year 1 can be difficult for growth strategies to compete for a title. That is OK if you are setting yourself up to be dominant in years to come. It is still possible to compete in year one and in a couple of weeks, we will review such a league. Keep in mind growth strategies do not advocate tanking. Tanking is poor sportsmanship. You should always try to put in your best lineup to win. It is OK to trade away a strong player for future assets that improve your chances to win in the future and you may lose a few more games because of it improving your draft position. It is never OK to purposefully put in a lineup that is designed to lose and leave your studs on the bench. If you have any questions about growth strategies and startup drafts feel free to email me at This email address is being protected from spambots. You need JavaScript enabled to view it. and I will clarify as best as I can.


Dynasty never goes out of style. The following is previous content you may want to refer to:
Introduction to Growth Strategies
Growth Strategies and Startup Drafts Part 1
Why You Should Join a Devy League


Never miss ASL's latest fantasy sports news. Send us an email at newsletter@advancedsportslogic.com and list the sports you are interested in (NFL, NBA, MLB, NHL, EPL) to start receiving ASL's newsletter.