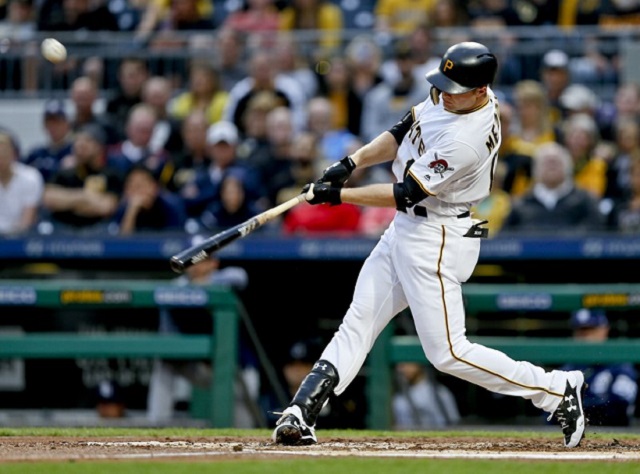 Written by Brian Murphy
26 May 2018
OF Austin Meadows, Pittsburgh Pirates
The Pirates activated Starling Marte from the disabled list today, so the bad news is that Meadows doesn't really have a guaranteed starting spot right now. The good news is he is still in the majors. The Pirates opted not to send him back down after the former top-10 prospect hit .448 with three homers, five RBIs and two steals over a seven-game stretch. I'd still pick up Meadows because his talent is legit, and the Pirates wouldn't keep him in the bigs if they didn't plan on using him. If Gregory Polanco continues to slump -- he's in a 3-for-28 rut right now -- Meadows might usurp him in Pittsburgh's lineup. He deserves some PT and some fantasy love after what he accomplished over the past week.
1B Mitch Moreland, Boston Red Sox
I thought about listing Dustin Pedroia here, but I don't know how much he's going to really help you in the counting categories moving forward. Moreland, conversely, will definitely assist you in the HR and RBI columns. Mitch is slated to play a lot until further notice after the Red Sox DFA'd Hanley Ramirez on Friday. Moreland has homered in back-to-back games and was riding a .318/.393/.636 slash line heading into Saturday's game. He'll take a seat against left-handed pitchers, but he is a power source who will bat in the middle of perhaps baseball's best lineup more often than not.
SP Joe Musgrove, Pittsburgh Pirates
The centerpiece of the Pirates' return for Gerrit Cole, Musgrove threw seven shutout innings on just 67 pitches Friday against the Cardinals. He walked none, allowed five hits and struck out seven. He was a key bullpen piece for the Astros last year -- a 1.44 ERA and a 31:5 K-to-BB ratio in his last 31.1 innings of the 2017 regular season -- but Musgrove will continue to start for as long as he stays healthy and/or doesn't embarrass himself. A shoulder injury delayed his 2018 debut, but just judging from Friday's results, he's 100 percent now. He'll tentatively start at home versus the Cubs next week and is worth a speculative add in 10- or 12-team leagues right now.
1B Greg Bird, New York Yankees
Hey, this guy is still available in about 45 percent of Yahoo leagues and more than 60 percent of ESPN leagues. Bird, who should make his season debut Saturday after undergoing ankle surgery during spring training, has easy 30-homer pop and should find himself batting sixth or seventh, at least, in this offense. He has a tailor-made swing for Yankee Stadium. And although he has been injury prone, consider that he hit eight home runs with 25 RBIs and an .891 OPS over his final 89 at-bats of the regular season last year, spanning Aug. 26-Oct. 1. He won't give you a great batting average -- Moreland is stronger in that area between the two first basemen -- but Bird is going to drive in runs in bunches as long as he stays on the field.
SS Brandon Crawford, San Francisco Giants
Crawford is hitting close to .400 over the past month with 15 runs, four homers, 19 RBIs and a stolen base. I know he doesn't have that new sheen some of these other players do, and Crawford has usually been a .260-ish hitter with 10-15 HRs and a few steals. But you might as well see how much longer he can stay hot if you need shortstop help. A lot of owners have simply ignored him for too long. Crawford is on the wire in about half of all Yahoo and CBS Sports leagues
MORE PICKUPS: ADD THEM WHILE THEY'RE HOT!


You can follow, ask fantasy questions and yell at Brian on Twitter: @Spokes_Murphy
Never miss ASL's latest fantasy sports news. Send us an email at This email address is being protected from spambots. You need JavaScript enabled to view it. and list the sports you are interested in (NFL, NBA, MLB, NHL, EPL) to start receiving ASL's newsletter.