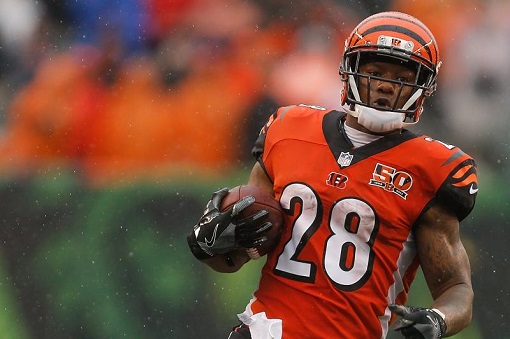 Written by Chad Samuels
31 October 2017
Week eight has come and gone. Most dynasty leagues are about two-thirds of the way through their season before the playoffs. A 4-4 team can still win out and can make the fantasy playoffs. This is the time when you must decide are you in or out? If you haven't done so already it's time to evaluate your roster and look at the rosters and schedules of those who you are competing with for that last playoff spot. Don't hedge your answer by saying to yourself maybe if this happens, especially if it's a long shot for it to happen. Assess what is likely to happen, then answer yes or no. Make the honest assessment and adjust your team accordingly.
If you're in the playoff hunt and you don't feel comfortable with your roster you may want to add a player or two to cover a weak spot. If you have the depth to go out and buy a young stud go ahead and do so. If you can add a Le'Veon Bell or an Amari Cooper to your roster without affecting your starting lineup much go for it. It will boost your team long term and help make it formidable for years to come. Most teams do not have the depth to add a stud and not hurt them elsewhere. This is when you want to trade for an aging veteran to fill a hole on the roster. The key to trading for the aging vet is that you need to get back more players that will improve your starting lineup than you give away. It sounds simple but it's easy to lose sight of.
If you want me to look at your team, and give my assessment and recommendations, check out my Dynasty Diagnostic service.
Normally, you want to trade away older vets after the season, unless you are going for the jugular. Going for the jugular is where you have a very good team and by adding a single solid piece to your starting lineup it puts you in position to compete or win the title for several years to come. In that situation, you want to ride the aging vet and use his production as long as possible then discard him. A championship or two is worth the lack of compensation you get by recycling him. Fantasy football is fickle. Any team can win on any given Sunday in the playoffs. This is why when you make a decision to make a trade or not you are looking to make it to the title game and not win it. If your opponent starts a player that puts up stats like JuJu Smith-Schuster did this past week and goes off for 7 receptions for 193 yards and 1 touchdown then it can be very hard to come back from.  
An example of going for the jugular happened in one of my devy leagues about a week ago. My team had been consistently winning although it was an adventure cobbling together a lineup from week to week. Injuries to Corey Coleman and Kevin White depleted my receiving corps while Josh Doctson, DeVante Parker and Jermaine Kearse have failed to materialize into solid starts weekly. Being a devy league I invested heavily in devys and own several projected first-round rookie picks that should join my roster next year. In this scenario, I sold Joe Mixon with Jared Cook for Demaryius Thomas, Chris Hogan and a 2019 devy selection. Thomas replaces Mixon production while Hogan adds wide receiver production for this year to win and the 2019 devy selection is still a devy selection. In fact, the devy selection is what makes this trade works. Thomas and Hogan are not valuable enough for Mixon, but the 1st round of a devy gives you another crack at youth to keep the cycle going. I already owned five selections in 2018. Pushing the selection back to 2019 creates depth long term for replenishing my devy picks that will enter my roster over the next two years or more importantly they are pieces that I can trade to get the devys I want on my roster. Thomas will be 30 in December. He really should be recycled for anything I can get for him after the season as his peak season is passed. However with some young receivers coming up and needing some time to develop he provides valuable depth over the next two seasons and should put up enough points to remain in my starting lineup. There are also top running backs in my devy pipeline to replace Mixon. On an already strong team, the addition of Thomas and keeping him is going for the jugular to attempt to win multiple titles.
If you are out of the playoff hunt, then it is time to start marketing your aging vets. There are several this year that still hold some value. By moving them now you are moving points off your roster while receiving maximum value for them. Some owners will pay well for a chance to win the title. You can receive youth to restructure your roster and improve your draft position at the same time. A draft slot or two can be the difference between a player you like or playing the odds on the metrics for a player you don't like or trading back in next year's rookie draft. This scenario does happen, for example. I was expecting to draft Alvin Kamara at 1.8 in one of my rookie drafts. Unfortunately, he was snipped at 1.6, Mike Williams went next leaving me to play the odds on John Ross and I have been regretting not trading out of the draft slot ever since.
The following aging running backs are prime targets to move off your roster if you can do so. They are Mark Ingram, LeSean McCoy, Lamar Miller and DeMarco Murray. Murray might not net you much, Worst-case scenario, take that extra third-round pick you get for him and trade it or throw him into a larger deal to get it done. Wide receiver has several top options to move that can replenish your roster while helping an owner for a title run. Antonio Brown, Dez Bryant, A.J. Green, Julio Jones, Jordy Nelson and Thomas all can be moved as they are nearing or at thirty years old.Nelson and Thomas are similar to DeMarco Murray in value. While Brown, Green and Jones should net you a solid return. Dez is somewhere between the two groups.
As for some players to trade for, consider Dalvin Cook as he is lost for the year and movable off of a contending team to win now. Sammy Watkins is underachieving but should be a free agent (or franchise tagged) after the season. Mike Williams is healthy and has been seeing increased snaps. The Chargers offense is loaded and he is not producing or flashing at this point, but he is worth grabbing for the future. Finally, Doctson isn't flashing but he is seeing the field more than Terrelle Pryor and has grabbed three touchdowns on limited targets. The Redskins schedule becomes difficult down the stretch which should distress his value a little more. Let the schedule do it's work and then grab him for cheap. If he flashes the second half of the season, snatch him up. Finally, any way to move yourself into the first round of the 2018 rookie draft is advisable. Early on it looks like this draft will be a deep one with several running back and wide receiver options worth adding to your roster. Even if your newly traded pick ends up being a late first round after the season you can bundle it to move up and grab the player you want.  
When selling players try to send out an offer to each team. Try to keep the value similar. Everybody likes to receive offers and they will look at them. You have a greater chance of being accepted with the more you send out. Set up a block of time to do it and send them all out at once. Make sure you have trade acceptance and decline notifications set up. Just do not delete the declines notifications make sure you read them. Few people write a comment with the offer decline, but some do. Those that do give you a clue on how to best counter and move your player. After a few days if most people have declined send out another round of offers this time asking for a little less than the last one.
If you are buying find the target players you like then take the time to not just craft one offer but several offers that are similar in value. You don't necessarily know what that specific ower likes so give him several offers to choose from. Again everybody likes to receive offers. Explain you are not sure what they would like so you crafted several for them to choose from. Unless you both are off in evaluating the target player you will have a better chance of getting a trade accepted. There also may be a little back-and-forth if there are a lot of counteroffers it is easy to get value lost in the shuffle. When a counteroffer comes in make sure you are writing down the offers and then cross off players from each side that are similar in value whatever is leftover shows who is currently winning the trade from a value perspective. It is a simple but effective exercise.  
Finally, there are a few odds and ends thoughts on trading that you can incorporate into the process. First, keep a record of who you trade for and what you paid for them. When growing your roster this is good information to know so that's when you move the player you will have this information at your fingertips to help assure you do not lose value in your trades. It is also good to keep draft and waiver wire information on your players as well. Second, for trades where you are looking to push to win a title or make the playoffs, consider having a Yahoo free league. Yahoo has a lot of different data points including four-week projections for each player. Projections on any site are never accurate but it gives you a good idea of how the player should be performing in the short term. Lastly, find a good trade calculator and use it. There are some free calculators out there that are decent you can find, but some of the good ones will cost money. If you intend to stay active in the offseason it can be well worth the investment. Test the calculator before just accepting what it says. Put in a couple of sample trades of players you are sure of what the valuation of the trade should be plus a couple that are even and see what it says. If you find one you like, use it.
Trading can be a slippery slope and you can tumble down it if you are not careful. Despite the risk, it is best to venture into the trade market to reshape your roster. You can not keep a roster healthy just by drafting what you earn. Trading provides a valuable tool to maintain a healthy and growing roster. Using these tips and ideas above should help you in that endeavor. What trade calculators do you use if any? Do you have any trade tips to share? Send me an email with your tips and I will share the best ones next week.
Love sports? Get the latest information from Advanced Sports Logic on the sports you love in your inbox. Never miss an article again. Just send an email to This email address is being protected from spambots. You need JavaScript enabled to view it. with a list of the sports you love and we will set you up.