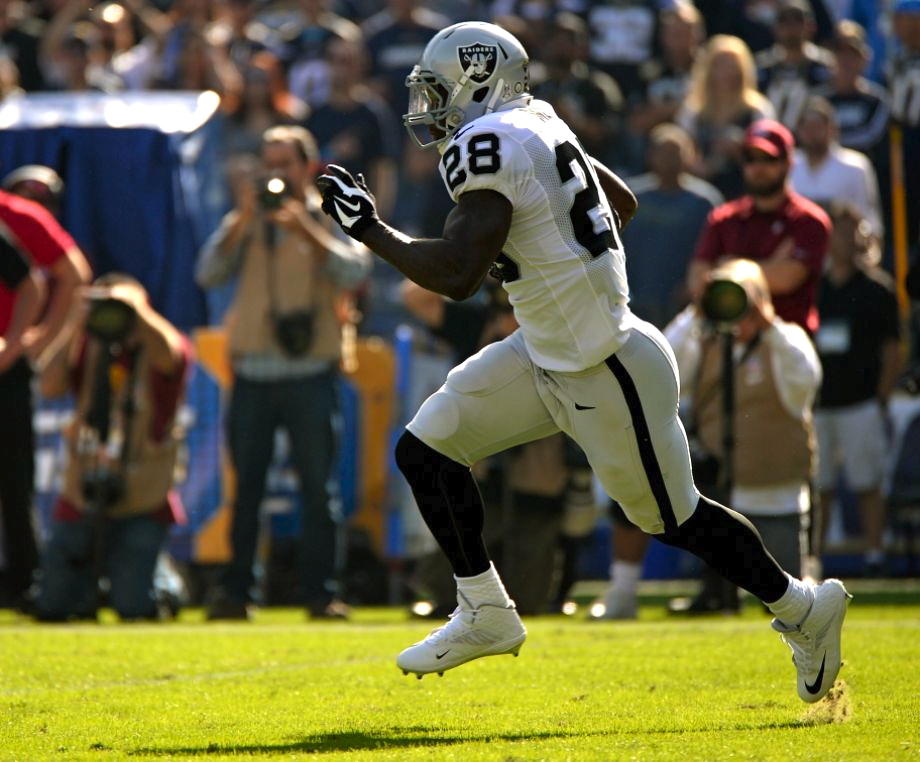 It may FINALLY be Latavius Murray time. He's been close to the top of fantasy sleeper picks for a long time. The Raiders finally gave Murray some playing time and he answered the bell with 4 carries for 43 yards and 3 catches for 16 yards on 4 targets. The good news, and not shocking to us: He looked so obviously superior to the existing and tired, ancient RB duo in place. He's going to be a hot name in smarter FF circles. He may even catch heat among the masses this week. If he wasn't on the Raiders, he may even make the list of best fantasy football keepers.  
Here is a list of some trends in the NFL fantasy world.
– Assuming Fred Jackson is cleared, he will waltz in and takeover all the main touch responsibilities. However, there will be a MAT-BACK situation looming. Two weeks ago, when FJax came back from injury quickly, there was a quasi-three-way between him, Bryce Brown, and Anthony Dixon. If you have to bet on one—you go FJax. 
— Just to save us all time: If you have a sit-start question that involves a Cleveland Browns RB, don't even bother asking me…your guess from one week to the next is as good as mine. This 'hot hand'/MAT-BACK approach is the wave of the near future…like when the 'pistol' QBs were going to take over the NFL a year or two ago.
 — Rams IDP CB E.J. Gaines has six or more tackles in four of his last 5 games…6.4 tackles per game in that span.
 — Don't lose sight of Chris Hogan as a very viable, decent PPR WR in deeper leagues. See our BUF-MIA recap to get a bio and trending on Hogan.
 – Jerick McKinnon's targets in games since Teddy Bridgewater became the full starter from Week 6 on: 5-6-4-1-4-7 (4.5 per game). Look past the game with one target, and in the other five games he is averaging 5.3 per game. The awful Norv Turner offense, whatever that is, will dump a lot of passes to the RB.
 — The last three weeks of carries for Steven Jackson: 18-16-17 (17.0 per game). You could do worse in your RB despair.
 — In the past four weeks, Philip Rivers has 6 TD/6 INT and all four games below 255 yards passing, three of them below 210-yards…and a 1-3 record with a lucky win at Oakland.
 — IDP LB Brandon Marshall has three double-digit tackle counts in his past four games, averaging 10.8 tackles per game in that four-game span.
 — Pierre Garcon in RG3's first two-games back from injury: 2.0 catches for 10.5 yards and 0.0 TDs on 5.5 targets per game. Let's just put a fork in this one…more on that in the WAS-TB recap slated for Monday. 
 — Jordan Reed vs. Niles Paul in RG3's two games back from injury:
Reed = 1.5 catches for 19.5 yards and 0.0 TDs on 2.0 targets
Paul = 2.5 catches for 17.5 yards and 0.0 TDs on 3.5 targets
 — How is the NFL takeover by Pistol/running QBs going? RG3, Colin Kaepernick, Tim Tebow, Michael Vick…are all between awful and limited. Russell Wilson isn't exactly lighting up the airways either, but there is hope there because he is a pass-first QB.
A year or so ago I started readjusting all out scouting metrics to allow more room/grace for the running QB (the 'wave of the future' in the NFL). We had slammed these run-first type QBs in our scouting metrics prior. Now, I might just go back to Classic Coke, and ditch New Coke on the QB scouting.
 — The last six weeks of TD passes for Matt Ryan: 1-1-1-2-1-1 (1.2 per game). Two of them Antone Smith screen passes converted into gifts for Ryan. He also hasn't gone past 275 yards passing in the last five games. He has one 300+ yard game in his last nine games.
 — The last two weeks for Mohammed Sanu: 2.5 catches for 21.5 yards and 0.0 TDs on 6.5 targets. He had a near-miss TD this week, but it still was a flimsy week. Once A.J. Green came back the fade began.
 — Charles Sims' rushing output in his first two NFL games: 21 carries for 59 yards (2.8 ypc).
 — IDP LB Emmanuel Lamur has averaged 9.7 tackles per game in his last three starts with Vontaze Burfict out.
 – Roy Helu has the 8th most catches among all RBs this season.
 — Last two weeks of Andre Ellington rushing: 37 carries for 65 yards (1.8 ypc).
 — Ahmad Bradshaw limped off Sunday night, which means it's probably time to try to gin up excitement for Trent Richardson. Some FF-analysts will be clever with dropping some Daniel Herron 'best NFL fantasy sleepers' discussion…and that's reasonable. The real sleeper play…you know who it is: If anyone aside from FFM recommends Zurlon Tipton, I hope they note they heard about him here first in April…May…June…July…
If I do get the due credit, the earth may stop rotating, and we'll all die. If you don't know our scouting on Zurlon Tipton…my friend, you need College Football Metrics.com…or all the other Internet places I gave briefer teases. It's too soon for Tipton, most likely, but he likely sees active duty if Bradshaw is out. Then he gets a couple of heartbeats closer to the prize. Those with deep roster Dynasty leagues, if you haven't indulged already…you may be getting final chances. Maybe…
Tipton's more of a 2015+ story, I would suspect.
– R.C. Fischer is an NFL Draft analyst for College Football Metrics.com, and a football projections analyst for Fantasy Football Metrics.com. His group also provides player projections for Advanced Sports Logic's football software "The Machine." See "The Machine" here: The Machine via FFM