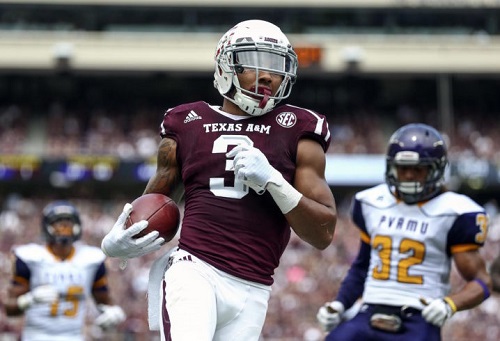 Written by Chad Samuels
17 October 2017
Dynasty is a format where a teams are rewarded to never be complacent. This includes in season. While it is tempting and easy to just enter waiver mode and set your lineups, it is wise to stay alert and try to make some trades in season. Your goal is to continually grow your roster, to increase it's value. And from that collection of assets you start your weekly lineup. This week a trade went down that illustrates this concept of roster value growth in season.
Devy Leagues
First, the league in question is a devy league. This league is a little different because it lets you draft and hold college players. Then when they enter the NFL if you own the rights to the "devy player" he is on your roster and you can do with him as you wish. There can be many different ways to run a devy league. Each one will have some different twist. If you are new to the devy concept don't tune out we will explain more in depth as the illustration moves along. I encourage everyone who has the time to do so to join a devy league. The benefits are that it prepares you for your rookie draft.
The Setup
In one of my startup leagues this year, there were some sportsmanship concerns and the commissioner replaced a few owners who were setting less than optimal lineups and were inattentive to their teams. Over the last few weeks these new owners began putting their stamps on their new teams. Usually, you want to trade with these teams first and get the growth players you want from them. When your team is in your startup season trades are few and far between. You drafted your players for a reason and you want to see those reasons materialize.These growth player are like fruit. They are ripening and it is best to not to partake (or trade) until that happens. Through the first season the main strategy is watch and waivers. By November December trading becomes more viable as you prepare for next season or make a final push for a championship. This means currently, I am watching what the other owners do and mostly let it pass without action. I add waiver wire players as it is in best interest of the team. I am looking to find the inseason growth potential players so that I can trade them.
One replacement team attempted to drop some developmental (devy) players, which the bylaws stated could not be done. He had to pick his players back up. However it sent a signal that he did not value his devy players. This provides an opportunity to buy low on them. Devy players are the ultimate growth potential. They also come with much risk. If you can acquire them and pay a lower price than market value it can fuel future moves. It was worth exploring a trade.
The Action Plan
The bylaws allowed me to add two more devy's to my roster. Since he tried to drop a couple of devys, I wanted to add two of them to my roster and give up preferably a piece of fodder or a flip player. As a quick review in roster growth strategies there are three different types of players. Core Assets are the stud and high impact players who make up the core of your team.  Flip Players are players with depressed market value or rookies who you expect their value to grow over the next 12 to 24 months, but can take up to 36 months. Ideally you want to flip them for more than you paid for them. Fodder are the rest of your players on roster. They are the players whose value should remain steady or decline as time continues. They hold minimal value except to fill in starting holes for your roster. Often fodder will be the players you cut after the season is over. I sent out the following offer.
Kevin White.
For
Deon Cain
Christian Kirk
White was a 10th round draft pick in the startup draft. This was year three and should have been his breakout year. White was drafted as a flip player with the upside of becoming a core asset. White has been injury prone and provided some risk. If he did not do much in 2017, White ran the risk of becoming fodder. After week one White went on the IR. With the injury White's value plummeted and getting back what I paid for him would be difficult to do, if possible at all. If I could move him for two devys, then I would have two chances to hit from one player with plummeting value. When I sent the offer I pointed out he needed roster space and that White could be put on the IR and free up two spaces on his roster.
Both Kirk and Cain have potential to be first round draft picks. If one goes first round in the NFL draft and the other goes day two, then this trade could net the equivalent of a first and third round rookie pick. This would grow the roster and reset the clock of the roster spot that Kevin White was occupying. Resetting the clock is the concept of a player is running out of time to produce and keep his value buy trading into another younger upside player who has more time to produce before his value drops. Essentially you are buy more time for a player to break out and produce. Realistically, in this offer we are gambling one will college player will develop into a core asset while the other becomes a flip player.
.   
401K or Growth at Work
The owner of the devys turned down the offer stating he did not like contract that White had. After a quick exchange back and forth encouraging him to send me a rebuttal offer and that the devys were not worth much. He sent back the following offer
Nelson Agholor
For
Kendall Wright
Deon Cain
Christian Kirk
Nelson Agholor was a first round NFL draft pick that never really did anything in the NFL. As such he has some draft pedigree and had a chance of sticking around in the NFL if he failed in the NFL. Still, in the startup draft no one invested in Agholor as his roster value was very depressed. Week one he had a breakout game with 6 receptions for 86 yards and a touchdown. One game does not a breakout make. He has performed steadily on limited touches throughout the rest of the season but has shown to be touchdown dependant this year. The Eagles do have Alshon Jeffery and Zach Ertz on roster. Jeffery is on a one year deal but with size and talent in his own right I expect Jeffery to be resigned by the Eagles. I was expecting Carson Wentz to break out this year so a second receiver had the potential to be productive. Odds are Nelson would not break out with large numbers but was worth the roster spot as a stash, or flip player. I picked him up after week one while others spent more money on other hot waiver wire players. AGain one of the keys to roster growth strategies is not just picking up the growth players but at what cost do you get them.  
Kendall Wright is 27 years old. He is the top receiver on an injury depleted Bears team.  Odds are he will not do much this season that is spectacular and in the long term of things he will not benefit my roster. He is fodder. I will take him and see if I can throw him in future trade offers to sweeten the pot.  If not He will not be on my roster next year. The contract Wright has will make him an easy cut should he not be traded.  
When I got home from work I accepted the trade.
Conclusion
In the end I turned a waiver wire acquisition which was worth little capital to acquire and turned it into a potential first and third round draft pick. While this is a devy league the concept applies similar to other dynasty leagues as well. When you acquire waiver wire players odds are they will not stay relevant for long. Come 2018 the team often will move onto another player. You can use their production now or use them in a trade to better your roster or draft position. Unfortunately I will be honest I probably could have asked for an additional third round draft pick in the negotiations with him and he probably would have accepted. I hesitated because I did not want to lose my targets. The other owner immediately picked up players off the waiver wire after he traded those devy players so he probably would have accepted the trade had I asked for more. It is a lesson learned for myself as we all have room to grow. Hopefully you can use this model to identify players to trade and grow your roster as well in season. Just because we are playing meaningful fantasy football games does not mean we can grow our rosters as well for the future.