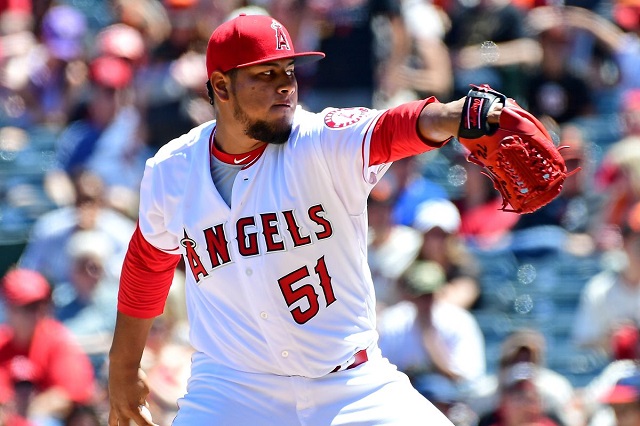 Written by Michael Nease
31 May 2018
Wow -- May 31! Here we are, about one-third of the way through the 2018 season. All of our league standings are starting to develop and we can see which teams are winners, losers or somewhere in between. When Week 8 ended Sunday night, I looked at my league's standings and, lo and behold, I had moved into first place.
I could have patted myself on the back, but there is no celebrating allowed until one wins the championship, something I lost last year by the margin of a single stolen base. So, I went to the waiver wire this week and replaced my five weakest players (three batters and two pitchers). I am strong in all 10 scoring categories but I strive to be better. There are many times already when I have lost by a single run or a couple points of batting average.
To win in our leagues, we have to dig in and work. Waiver moves, trades and managing the lineup are critical things we need to do constantly throughout the week. A player can become a non-starter at any point before his game begins. Staying on top of that can help you obtain more points and betters results during a week. Luck? Sometimes hard work brings amazing results.
There have been lots of surprises this season when it comes to pitching. Sure, Max Scherzer has an MLB-leading nine wins, but unheralded guys like J.A. Happ (seven) and Sean Newcomb (five) are at the top of my starting rotation.
When I look for waiver moves, I sort all of the players by their current ranking and judge them on their last 30 days of production. This week, I looked for starting pitchers with the best 30-day performances. Voila! They jumped out of the list and said, "Take me, Mike!" What the heck! I dropped my two lowest pitchers and added two myself: Ryan Yarbrough and Jaime Barria.
Barria has been good thus far but is a bit of a risk as he has been bouncing back and forth between the Angels and minors. I am taking that risk because I will simply replace him if things don't work out. He is slated to start Friday, so it looks like the job is his to win or lose. In our league, we are limited to six moves per week but unlimited for the season. If you have a limit, use your moves sparingly. I have a lot of leeway that many of you may not.
This is a game with about two-thirds of the season to go. With some hard work each week, you can improve your team and still make your league's playoffs. Once you get there, even as the last team in, you can still win the championship. So, if your team has been sliding down the standings in flames, put that fire out and start rebuilding. If you put your heart into it, you can really do it.
Here are some pitchers that may be better than some on your roster right now:
SP Jeremy Hellickson, WAS
Preseason rank: 433
Current rank: 49
Ownership percentage: 47
Last 30 days 5x5 stats: 2-0-25-1.30-0.76
SP Andrew Heaney, LAA
Preseason rank: 528
Current rank: 73
Ownership percentage: 52
Last 30 days 5x5 stats: 2-0-29-1.39-1.05
 SP Ryan Yarbrough, TB
Preseason rank: 429
Current rank: 75
Ownership percentage: 10
Last 30 days 5x5 stats: 3-0-27-2.54-0.95
 SP Kyle Freeland, COL
Preseason rank: 438
Current rank: 88
Ownership percentage: 44
Last 30 days 5x5 stats: 4-0-25-2.56-1.14
 SP Caleb Smith, MIA
Preseason rank: 464
Current rank: 90
Ownership percentage: 42
Last 30 days 5x5 stats: 3-0-28-2.60-1.05
 SP Jaime Barria, LAA
Preseason rank: 444
Current rank: 105
Ownership percentage: 11
Last 30 days 5x5 stats: 3-0-20-2.70-0.99
 SP Matthew Boyd, DET
Preseason rank: 626
Current rank: 131
Ownership percentage: 18
Last 30 days 5x5 stats: 3-0-31-3.18-1.12
MLB stats and rankings, through May 30, 2018, found via Yahoo! Fantasy Baseball


Over the years many readers have contacted me for fantasy baseball advice throughout the season. I look forward to helping you on your journey to win championships this year. You can contact me with any questions or comments at This email address is being protected from spambots. You need JavaScript enabled to view it., follow me on Twitter @mikeinsights, or join me as a member of Couch Tomatoes, my fantasy sports discussion group on Facebook: https://www.facebook.com/groups/330237687362965/

Never miss ASL's latest fantasy sports news. Join our mailing list. Send us an email at  This email address is being protected from spambots. You need JavaScript enabled to view it. and list the sports you are interested in (NFL, NBA, MLB, NHL, EPL) to start receiving ASL's newsletter.
Good luck! Have fun!