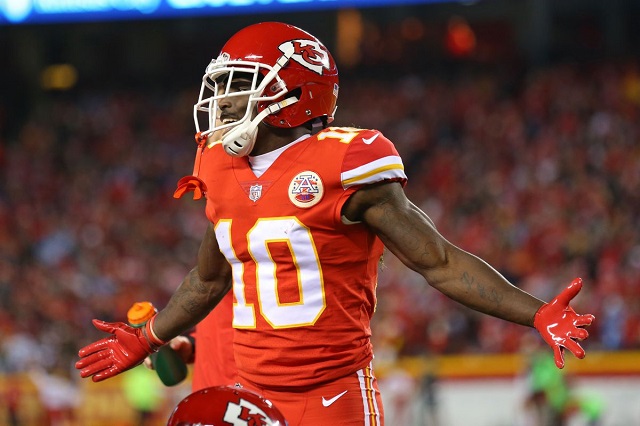 Written by Michael Nease
29 May 2018
Have you ever been to an auction and gone home with a box of treasures only to have your significant other exclaim that you bought a worthless pile of garbage? The value Auction bounty is pretty much beautiful, or junk, depending on the eyes of the beholder. Over the years I have been in hundreds of drafts, but the style I enjoy the most is an auction draft.
Last week, I was excited to once again participate as an expert in a best-ball auction draft. This draft, much like the experts' poll of projected top 20 fantasy scorers I told you about last week, has some unique scoring nuances. These factors can really affect player values.
No PPR component. By taking points per reception out of the equation, WRs, TEs and pass-catching RBs have to be adjusted somewhat. This is a point that most people overlook entirely.
Place kickers with a big leg are neutralized somewhat as all field goals are worth only three points.
Team defenses don't score much (six points per TD, two points per turnover, one point per sack). The top 20 are going to score between about 80-110 points.
There are nine starting spots (one QB, two RBs, three WRs, one TE, one PK, one D/ST) that count each week in this best-ball format. 
In this auction, we had 12 teams bidding to build 22-player rosters with a fantasy bankroll of $200. This causes you to have a sound strategy because although you can bid on and win any player you want, your resources are limited. If you make really expensive buys in the beginning, you will be severely limited as the draft winds down. As you will see, my team is solid at every position except wide receiver. I have Tyreek Hill and six other WRs that I hope can give me two solid scores to add to Hill's each week.
We will now discuss each of the players on whom I bid top dollar.
Quarterbacks
Russell Wilson, SEA ($18)
No. 1 overall scorer in 2017 by more than 40 points
Second-most expensive QB in this draft
2017 passing yards: 3,983
2017 rushing stats: 586 yards with 3 TDs
2017 TD-to-INT ratio: 34:11
By far, the No. 1 QB in this scoring format last year. Most of the quarterbacks went for lower amounts than I expected.
Kirk Cousins, MIN ($13)
No. 5 overall scorer in 2017
No. 4 QB last season
Seventh-most expensive QB in this draft
2017 passing yards: 4,093
2017 rushing stats: 179 yards with 4 TDs
2017 TD-to-INT ratio: 27:13
Moving from the inconsistent Washington offense to Minnesota should do nothing but boost Cousins' value considerably.
3. Mitchell Trubisky, CHI ($8)
No. 29 QB last year in 12 stats
2017 passing yards: 2,193
2017 rushing stats: 248 yards with 2 TDs
2017 TD-to-INT ratio:7:7
Trubisky is strictly an insurance policy if an injury befalls Wilson or Cousins. He is surrounded by a much better offensive cast this season and should be a decent backup for my team.
Running Backs
Alvin Kamara, NO ($44)
No. 21 overall scorer in 2017
No. 4 RB in 2017
Fourth-most expensive RB in this draft
2017 rushing stats: 728 yards with 8 TDs
2017 receiving stats: 826 yards with 5 TD
People tend to look at a season's final results as the whole story. That's not the right approach with Kamara. He accrued just 54 points in non-PPR scoring systems through his first six games. Then he kicked it up and led the league over his final 10 games with 184 points. With Mark Ingram suspended for the first four games, I think Kamara is ready to step up even more and become fantasy's No. 1 back in all formats.
LeSean McCoy, BUF ($26)
No. 34 overall scorer in 2017
No. 7 RB in 2017
2017 rushing stats: 1,138 yards with 6 TDs
2017 receiving stats: 448 yards with 2 TDs
If this were a dynasty league, I would not have touched McCoy. But at $26 after he was fantasy's seventh-best RB last year, I consider him to be a bargain. Some owners did not wind up with one running back as good as either Kamara or McCoy. I got both.
3. Sony Michel, NE ($14)
Selected with the 31st pick in the 2018 NFL Draft
Fifth-most expensive rookie RB in this draft
Michel is a highly touted rookie who many believe will be the Patriots' primary running back this season, heralding the end of New England's multi-pronged, running back-by-committee attack.
    4. Chris Thompson, WAS ($4)
No. 31 RB in 2017
No. 12 RB in 10 games before suffering season-ending injury
2017 rushing stats: 294 yards with 2 TDs
2017 receiving stats: 510 yards with 4 TDs

Thompson was one of the best fantasy values for the majority of the 2017 season. At $4, he's a bargain for my RB corps.
Corey Clement, PHI ($4)
#47 scoring RB in 2017
2017 rushing stats: 321 yards rushing with 4 TDs
2017 receiving stats: 123 yards with 2 TDs
Clement played well as a rookie and has a good upside. He scored 82 fantasy points on 84 touches last year. 
Theo Riddick, DET ($1)
No. 37 RB in 2017
2017 rushing stats: 286 yards with 3 TDs
2017 receiving stats: 444 yards with 2 TDs

Riddick was cheap and is the best RB6 in this league.

Frank Gore, MIA ($1)
No. 20 RB in 2017
2017 rushing stats: 961 yards with 3 TDs
2017 receiving stats: 245 yards with 1 TD

When I made my last buy of the entire draft, Gore was still available. Even at 35 and likely as a backup to Kenyan Drake in Miami, Gore can have a big game at any time. If Drake goes down, I think he is more likely to help me more than some unknown commodity as my No. 7 RB.
Wide Receivers
Tyreek Hill, KC ($23)
No. 43 overall scorer in 2017
No. 4 WR in 2017
11th-most expensive WR in this draft
2017 stats: 1,183 receiving yards with 8 total TDs
Oh, what a bargain. I love Hill! He is close to being the fastest man in the NFL and through two seasons, he has already scored 20 total touchdowns.

Alan Hurns, DAL ($6)
No. 68 WR in 2017 with Jacksonville
2017 receiving stats: 484 yards with 2 TDs

OK, you are absolutely right: My depth at WR stinks. Hurns had 1,030 receiving yards and 10 TDs in 2015 and has spent the last two seasons battling injuries. I am really reaching with Hurns in hopes that can rediscover his previous form with the Cowboys.

Albert Wilson, MIA ($2)
No. 56 WR in 2017 with Kansas City
2017 receiving stats 554 yards with 3 TDs

Wilson is another player who carries upside into his new surroundings this season. Last year, he was hindered by injuries and could reward me at least a couple of times when I need some points.

Danny Amendola, MIA ($1)
No. 54 WR in 2017 with New England 
2017 receiving stats: 659 yards and 2 TDs
In this scoring format, the top three scores are counted from my seven-man wide receiver corps. My strategy in this draft was to become as strong as possible at as many positions as possible. To succeed and win it all, I need two consistent weekly scorers out of these seven.

If that indeed happens, I think my scoring at QB, RB, TE, PK and D/ST, as well as with my WR1, will be enough to make this the No. 1 team when the season ends. If not, it does not matter where I finish; there are no prizes awarded for finishing 2nd-12th. Since I cannot make any waiver moves or fiddle with my lineup on a weekly basis, this is my one shot.
J.J. Nelson, ARI ($1)
No. 65 WR in 2017
2017 receiving stats: 508 yards with 2 TDs

Nelson finished the 2016 season strong and did well in the first two games of 2017. Then he fought off nagging injuries the rest of the year. He has a solid upside and could deliver big plays to my weekly scoring effort.

Corey Coleman, CLE ($1)
No. 93 WR in 2017
2017 receiving stats: 305 yards with 2 TDs

Coleman has had an injury-plagued career thus far, including last year when he missed extended time with a broken hand. I chose to add him because I believe he has a high upside and can raise his level of play. 

Courtland Sutton, DEN ($1)
Selected as the No. 3 WR, 40th overall, in the 2018 NFL Draft

Expected by many to be taken as high as the 19th overall pick by the Cowboys, Sutton slipped into the 2nd round where he was selected by the Broncos. I figure that despite being one of the last players taken overall, he fits in well with my other WRs. I feel confident that I can get enough production out of my WRs as a group to make me a serious contender this year.

Tight Ends
Greg Olsen, CAR ($14)
Plagued by foot injuries in 2017
2014-2016: 1,000-plus receiving yards each season
Top-scoring TE in 2016 and No. 4 in 2015
Olsen has been a premier TE for several years and missed much of the season in 2017. I expect that he and Burton will combine to give me great point production at the TE position,
Trey Burton, CHI ($10)
No. 24 TE in 2017
2017 receiving: 248 yards and 5 TDs
Burton was a strong backup to Zach Ertz, and Chicago is now counting on him to really step up as a starter this season. The Bears are planning to use him in a manner similar to how the Chiefs use Travis Kelce. Whether that will work or not is debatable. Nevertheless, he is expected to have a very productive season.
Place Kickers
Greg Zuerlein, LAR ($2)
2017: 38 FG and 44 XP
2017: 10 double-digit-point games, missed Weeks 16 and 17
As solid a PK as there is today and I got him for only $2.
Graham Gano, CAR ($2)
2017: 29 FG and 34 XP
2017: 7 double-digit games
Zuerlein and Gano will compete against each other and I will get to use the best score between them.
Team Defense
Los Angeles Rams ($4.00)
2017 relevant stats: 47 sacks, 28 turnovers and 3 TDs
As one of the most dominant defenses in the league, I feel fortunate to get the Rams defense. I made the decision to buy only one defense, realizing I would have a void in one week. This allowed me to carry seven RBs and seven WRs.
So, that was my first draft of the season. Looking back, I wish that I had been able to get a better WR corps. On the other hand, I believe my strength at the other five positions puts me in position to win the whole thing. On Sunday, we saw Will Power win the Indy 500 when the two cars ahead of him both pulled into the pits with only four laps to go. That was a lesson that tells us to hang around the lead at the end. You never know what might happen.
Now there are fewer than two months left until training camps open. Buckle up for the journey. My colleagues and I at Advanced Sports logic are intent on helping you become the champion you want to be. Between our top-rated software and our poignant articles, we will be with you for the 2018 season in its entirety. What happens then? That, my friends, is easy. We start over and do it all again in 2019!
Over the years many readers have contacted me personally for fantasy football questions throughout the year. I look forward to helping you in your quest to win championships this year. You can contact me with any questions or comments you may have at This email address is being protected from spambots. You need JavaScript enabled to view it., follow me on Twitter @mikeinsights, or join me as a member of Couch Tomatoes, my fantasy football discussion group on Facebook.
https://www.facebook.com/groups/330237687362965/.
 Never miss ASL's latest fantasy sports news. Join our mailing list. Send us an email at  This email address is being protected from spambots. You need JavaScript enabled to view it. and list the sports you are interested in (NFL, NBA, MLB, NHL, EPL) to start receiving ASL's newsletter.
Good luck! Have fun!