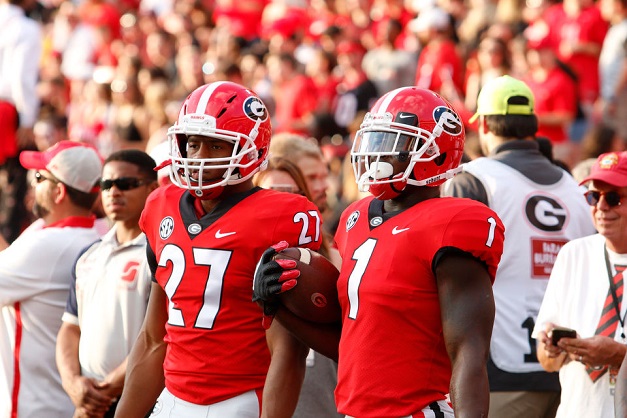 Written by Chad Samuels
13 February 2018
Dynasty is an in depth niche of fantasy football where you hold over the majority of your roster from season to season. While there can be many different ways to run a dynasty football roster, Growth Strategies is a strong concept to build your roster long term and compete for the title on an annual basis. The main concept in growth strategies is to fill your roster with "growth stocks" or players that will increase in value, use them to start on your dynasty roster and after they have grown in value sell them and lock in a profit gain. Every roster building strategy has a weakness.The weakness for a growth strategy style of roster building is the first year. Growth strategies wants to limit adding players whose value will go down and it also encourages trading down early in the startup draft to acquire more assets that can grow long term to limit risk. Player growth often is not actualized until the offseason between years one and two. For these reasons, it can be difficult to compete the first year of a dynasty startup. Often growth strategies will find itself outside looking in for the playoffs year one. In this way growth strategies is a gambit that sacrifices competing year one for a long term advantage to compete in years to come. The following is an example of what can happen when growth strategies go right. This past season I participated in a 12-team devy league where I employed the growth strategies concept. I made the playoffs and advanced to the title game before losing to the owner of Todd Gurley. As often is the case, the team whose players get hot in the playoffs often win the dynasty title. The following is what happens when draft strategies go right and how such a team can compete in year one. If you have not done so already take the time to read the articles listed at the bottom of the webpage. These articles are the "Growth Strategies Manifesto" in which this league illustrates.
If you play in a dynasty league, give your team the best chance to win with Chad's Dynasty Diagnostic service. 
In order to understand what happened, you must first know the basics of the dynasty league. The startup was a 28 man roster with PPR scoring and a Kentucky Derby style determination of draft order. The startup draft was in May and rookie picks, not the actual players were included in the startup draft. There is a devy component to the league. There is an eight-man taxi squad where two spots are devy only while the other six can be any combination of devy or veteran players. Devy players could only be selected in the rookie draft. They could not be picked up on waivers or through free agency and they can not be dropped once they were drafted. Because first-round rookie picks must be placed on your active roster it means that the first devy can be drafted at 2.1 in the rookie draft. The league included team defenses which was a late change to the league and affected how I built my roster. This change allowed me to allot all eight taxi squad spots for devys instead of allocating two spots for late season IDP stashes for 2018. This was critical because with 2017 being a strong draft class and 2018 appearing early to have some strong prospects it created a scenario where devy players would be a strong growth asset. By owning eight of them, I would be reducing the risk that not all of them would hit as a growth prospect.  
Sad that the NFL season is over? Don't be. Make your own offseason prop bets here. 
Through the Kentucky Derby I was able to achieve the number one overall selection in the draft. This places me in a good position to trade back. My strategy was to trade back as often as I could, pick up additional draft picks, load up at wide receiver and accumulate as many rookie draft picks as possible. I would need at least 8 picks round two or later to fill a complete taxi squad. I would want to fill the taxi with as many seniors and juniors who should be assured of coming out in the 2018 NFL draft as possible. This way they would realize the NFL draft faster and grow in value quicker. It also allows me to turn over my taxi squad faster and replenish it with future picks. While doing all of this I wanted to accumulate as many second round draft picks for the future to help replenish the devys that would promote to my roster. Notice growth strategies developed a draft plan going into the draft. This is important because it helps focus what you want to do in draft so that you can execute it.
In the startup draft I executed fourteen trades. I traded up once and back thirteen times. The trade that started it all was trading 1.1 (David Johnson) for 2.11 (Rookie pick 1.2), 3.2 (traded away), 6.11(rookie 1.11) and a 2018 3rd round rookie pick. I traded back in round two and three often. This allowed me to pick up more 5th and 6th round selections. My assumption was this would be the sweet spot for round two rookie picks and to grab a young QB I liked. I also churned the startup draft picks I acquired to trade back for more assets. For example the 3.2 (LeSean McCoy) I acquired above I traded with my 2018 1st  for 4.1 (Rookie 2.2- SPOILER SaQuon Barkley), 5.4 (traded), and 2018 2nd. This concept is called cascading trades. Having cascading trades helps increase the value of the original assets you trade back with and adds depth to your roster. The only trade up I did contained two fifth round startup picks. I traded 5.1 (Stefon Diggs) 5.4 (Jamison Crowder) a 2018 3rd for 3.6 (1.3 rookie pick) and a 2018 2nd. With the NFL draft already done this was a move for a running back in Joe Mixon who was a clear cut target player at 1.3 rookie for me. More importantly, I was collecting more future second round picks. This trade netted me two growth assets. One of those assets would be useful next year while another would need a couple of years to simmer. While it may seem high for 3.6 startup to turn into the 1.3 rookie or Joe MIxon, all the elite running backs were drafted by the end of round two. Mixon provided a solid growth asset with more time to produce than other players at that position.    
I was a little off on anticipating when the second round rookie picks would go off the board. Rookie pick 2.1 went at 2.12 in the startup and it forced my hand to grab 2.2 rookie sooner than I wanted in round four when only six of the first round rookie selections have been made. My evaluation was either Barkley or Guice whoever fell to me had more long term value than Alvin Kamara. Kamara was my target if I was to take the next rookie pick in line. It helped that early Kamara had been falling to me late in early rookie drafts past the 1.7 rookie selection. By the time round six and my grouping of draft picks arrived the rookie picks were still at the end of the first round so instead of taking round two rookie picks I took the best picks available. This miss in anticipating where the rookie picks were in the draft forced me to be proactive and during the draft I traded 1.12 rookie pick, then startup picks 10.12 (Mike Gillislee) , 12.12 (Frank Gore), and 13.1 (Mike Wallace)  for 2.5 rookie pick, 2.7 rookie pick, startup picks 11.6 (3.1 rookie pick), and 14.2 (traded away). While I did not receive any extra assets in this trade as it was a four for four trade, with the players the other owner selected I essentially moved into assets that had greater growth potential and less likely to go down in value over then following year. A lesson for growth strategy owners is that when you trade away a startup pick the owner you are trading them to will not necessarily draft a player that is optimal to your strategy. This creates value.  
Here are the results of the startup draft    
2.11: Rookie Pick 1.2
3.1:   Davante Adams
3.6:   Rookie 1.3
3.10  Corey Coleman
4.1    Rookie 2.2
4.12  Rookie 1.8
6.5    Carson Wentz
6.10  Devante Parker
6.11  Rookie 1.11
6.12  Rookie 1.12
7.1    Josh Doctson
8.5    Kevin White
9.1    Rookie 2.6
11.6  Rookie 3.1
11.7  Rookie 3.2
11.8  Rookie 3.3
13.6  Rookie 3.10
14.5  Rookie 4.4
15.6  Panthers Defense
16.12 Rookie 4.11
17.1   Texans Defense
18.12 Paxton Lynch
19.1   TJ Yeldon
20.7   Kenyan Drake
20.12 Vance McDonald
21.1   Jared Cook
22.9   Phillip Dorsett
There was a short turnover period between the veteran draft and the rookie draft of roughly a month. While there was a little bit of veteran free agency before the rookie draft it was rather uneventful for me except for the addition of the Eagles defense. The roster was deep enough to justify holding three defenses. The Eagles became the defense early on that I started on almost a weekly basis. The other benefit was that it denied a defense from other rosters to either hold or prevent them from streaming if they decided to use that strategy. I also picked up Zach Zenner who has done little this year but would be a part of a trade later in the season. If you were to look at my roster at this point of the process you would notice it was very small. But there were many draft picks coming that would flesh out my roster. This is normal with growth strategies. Most of the players left over after the startup draft did not have a lot of growth upside. It is important to take what you need from the free agent draft but not fill up on waivers because the space will be used later in the process. As NFL depth charts get defined target players become more easy to identify.  
The rookie draft was where my roster capital was, so it was critical I nail it. I made three trades in draft but only one big one. I traded 1.11 (OJ Howard) and a 2020 4th  rookie for Jared Goff, 2.12 (Juju Smith-Schuster) 3.8 (traded), and a 2020 2nd rookie. I liked pairing Goff to Wentz because first round rookies have a 50% hit rate. While going into 2017 I liked Wentz to be that guy, Goff and Lynch together provided insurance that if I was wrong I would have a QB that the odds stated would be viable. It also upgraded another pick to a second round draft pick to replenish my devys in future years. It is normal that rookie drafts with devys in them many rookies dropped lower than expected. I won't cover the players who dropped but it needs to be noted that it does happen. I was in discussions with the owner for 1.1 rookie pick I refused to pay a lot in order to move up. My capital was in the rookie draft and I wasn't going to invest all the work in acquiring what I had to assure I was guaranteed Corey Davis when he could possibly fall to me at number two overall. Leonard Fournette is a very strong prospect and a solid consolation prize should the rookie draft not break my way. For these reasons I let offers for the 1.1 rookie pick pass. I would have preferred Corey Davis dropping to me at 1.2, but another owner who values wide receiver paid the price and traded up to 1.1 and snatched him out from under me. I must admit while Davis probably would have made my team a bit stronger long term, Fournette made my team far more viable in the now. I did get sniped on Alvin Kamara as he went at 1.6. He was my target with the 1.8 rookie pick. With missing out on Davis, I felt the best route was to gamble on a first round WR. So I held my nose and drafted John Ross hoping for the 70% hit rate for one decent season so I could trade him. I have been regretting the pick ever since. I should have traded back. I did get fortunate at the top of the second round as Derrius Guice went at 2.1 and Calvin Ridley went at 2.4. In both of these cases I did not entertain any trade offer I just immediately made my pick happy that a player fell to me I did not expect. One nice thing about devy is it's not nearly as covered as other fantasy football formats out there. With less content, devy ADP is not readily available and anything can happen compared to your rankings. In the end I had 15 draft selections. Here are the results.
1.2    Leonard Fournette
1.3    Joe Mixon
1.8    John Ross
2.2    SaQuon Barkley
2.5    Nick Chubb
2.6    Equanimeous St. Brown
2.7    James Washington
2.12  Juju Smith-Schuster
3.1    Evan Engram
3.2    Royce Freeman
3.3    Miles Sanders
3.5    D'Onta Foreman
3.10  Adam Shaheen
4.11  LJ Scott
5.2    Auden Tate
The rest of the summer I picked up a couple of waiver/free agent players but the key one was Jay Cutler after Ryan Tannehill went down. While I did not need another quarterback, the deep roster allowed me to mine free agency for a growth stock I would hope to flip. I traded him to the Tannehill owner and got the following deal. I trade Jay Cutler, D'Onta Foreman, 2018 4th Round Pick for Alvin Kamara. Kamara was a target player I missed out on and while I like Foreman as a growth stock I was happy I could trade for him.
Once the season started, I had been hurting at WR almost immediately. Kevin White and Corey Coleman went down early and while I would prefer to start four wide receivers weekly it just was not possible. In free agency for winning now purposes, I picked up Jermaine Kearse, Brice Butler and Dontrelle Inman to cover at WR but more often than not it was better to pick up free agents at either TE or RB and play them then to start the wide receivers. Other notable in season pickups were Ben Watson, Javorius Allen, and Alex Collins. With the depth of the incoming class of devys I decided Joe Mixon was expendable for some additional depth at WR. I tried trading for some additional wide receiving talent with the owner who picked up Corey Davis, but we could not work out a deal because we both want the same things. Since I was in more need for the coveted wide receivers this year I would have to pay more than I wanted to get those young pieces so I passed. As previously mentioned, in October, I traded Joe Mixon and Jared Cook for Chris Hogan, Demaryius Thomas and a 2019 2nd round pick. Acquiring another young prospect back in a 2019 was a critical part of this trade. While this trade had a win now component it also provided a future growth asset. An injury to Chris Hogan ruined the win now component to that trade, so in November I traded Hogan with Zach Zenner, a 2018 3rd for LeSean McCoy after he (McCoy) had traded hands a couple of times this season. I pushed the devy angle of the rookie pick and the age of McCoy and his value dropping and he accepted the trade. This was a win now move and it was dangerous. Notice that the only long-term growth asset offered up is a third-round rookie pick. This limited the risk involved. Ironically, McCoy was the selection at the 3.2 startup pick which I had traded away during startup. Now the pick I traded away was being traded back to me for far less.This trade brings home a critical part of growth strategies that you do not want to lose value on your roster over the first year or so. Moving forward I will want to sell McCoy for whatever I can get for him this offseason I want to get a return of at least a third-round draft pick in the future if I can not I will have to keep him. McCoy was the final piece for a playoff run to fill a flex position  This leaves the key pieces to my roster as follows.
QB: Carson Wentz (on IR), Jared Goff, Nick Foles
RB: Leonard Fournette, Alvin Kamara, LeSean McCoy, Alex Collins
WR: Davante Adams, Demaryius Thomas, DeVante Parker, JuJu Smith-Schuster, Dontrelle Inman
TE: Evan Engram, Ben Watson
Def: Eagles, Panthers
As mentioned before I was able to advance to the title game but missed out on winning the title. This proves while year one can often be the weakness of growth strategies, there are times when you can finish in the top three or in the money of your dynasty league year one. Moving forward, there have been several cleanup moves and free agent acquisitions. For Example, I bundled Phillip Dorsett with a pick midseason to move up into the second round of next years draft. I also overpaid a bit to switch from Equanimeous St Brown to Christian Kirk. I did this because I didn't think St. Brown will come out this year and I didn't want to hold him another year. Also if he did declare, then I think he doesn't have the upside to be a first-round rookie pick where Christian Kirk does. (Editor's note St Brown did declare) Also next year, I will also get both Kevin White and Corey Coleman back. In order to make room for everyone, I still will need to try and trade a player or two to get maximum value out of my roster but I am in solid shape for this process. The key pieces for growth in roster value next year (not mentioned above) and my future picks are as follows.
QB: none
RB: Austin Ekeler, Corey Clement, Saquon Barkley, Nick Chubb, Royce Freeman
WR: Corey Coleman, Josh Doctson, John Ross, Kevin White, James Washington, Auden Tate, Christian Kirk
TE: Adam Shaheen
2018 Rookie: 2.2, 2.3, 2.4, 2.8, 2.11, 3.4, 4.4, 4.11  
2019 Rookie: 1st, 2nd, 2nd, 3rd, 3rd, 4th, 4th, 5th
2020 Rookie: 1st, 2nd, 2nd, 3rd, 5th   
This league is the anthem for growth strategies and how it can work for you. It started as a standard growth strategy build and it still is trending that way. Sometimes circumstances throw us a curveball and we need to adapt on the fly and just acquire value. This league also proves that growth strategies while at a disadvantage year one can still be competitive. If you decide to participate in a startup draft this year, I would encourage you to try and find a Kentucky Derby format that includes rookie picks. This league confirmed it is wise to trade back often and accumulate as much capital as possible including draft stock in following years. If you are selective in your talent you can be competitive and you will have the pieces needed to trade if necessary to fill a weak spot or recover from a key injury.
Dynasty never goes out of style the following is previous content you may want to refer to.  
Introduction to Growth Strategies  
Growth Strategies and Startup Drafts Part 1   
Growth Strategies and Startup Drafts Part 2   
Growth Strategies and Rookie Drafts   
Why You Should Join a Devy League   


Never miss ASL's latest fantasy sports news. Send us an email at newsletter@advancedsportslogic.com and list the sports you are interested in (NFL, NBA, MLB, NHL, EPL) to start receiving ASL's newsletter.