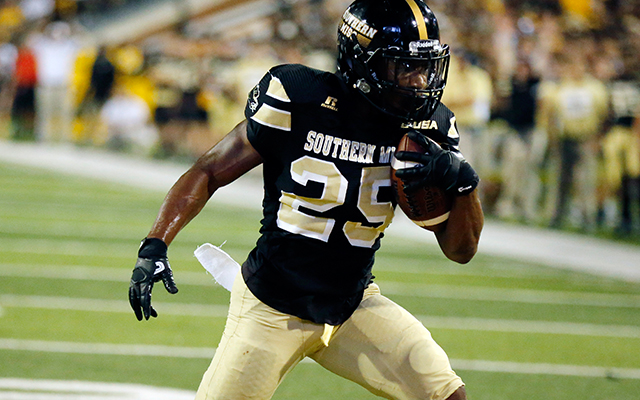 Written by Levi Andrew
03 June 2018
Hey, all! It's great to get back to writing. Now, let's dive right in. We're going to take a look at some rookie stashes that could provide great depth and winning opportunities to your team.
WR Keke Coutee, Houston Texans
Coutee was drafted by the Texans in the fourth round, putting him into an offense that is already loaded. At just 5-foot-10, 181 pounds, Keke could be in line for slot duties if he can beat out Braxton Miller and Bruce Ellington. Coutee's PSI (Prospect Success Indicator) was 4.10 out of 6.00, which put him right above names such as Kenny Golladay, Josh Doctson and Sterling Shepard. In Coutee's final year at Texas Tech, he produced 1,429 yards and 10 touchdowns on 93 receptions. Every year this kid played, he got better.
Coutee has value in the return game as well. In his final college season, he took 10 returns for 315 yards and one TD. Coutee posses speed, posting a 4.43 40-yard dash at the combine. Coutee's immediate fantasy impact will come in the return game, but if Will Fuller was to ever go down due to injury again, who knows what Keke could do with a full-time role?
RB Phillip Lindsay, Denver Broncos
Lindsay was a productive back coming out of Colorado, finishing with the second-most career rushing yards in school history (3,707) and the most all-purpose yards (5,760). Lindsay also averaged 9.3 yards per catch during his collegiate career. Now, the undrafted free agent is part of an RB depth chart that has Devontae Booker, De'Angelo Henderson and second-round rookie Royce Freeman in front of him. 
Lindsay did not get an invite to the combine, which he says "pisses me off." He used that anger as fuel to run a 4.39 40 at his pro day. He credited his speed to his offseason training with Loren Landow, who was hired to be the strength and conditioning coach for, you guessed it: The Denver Broncos.
Lindsay is on a mission to get on the field any way he can, even if it's as a slot wideout or a punt returner. Lindsay's early work could come on special teams. In his first year at Colorado, he had 36 kick returns for 849 yards. The Broncos know what they have in Lindsay. They just have to figure out where to use him.
RB Ito Smith, Atlanta Falcons
Smith could not have landed in a better spot. Tevin Coleman is a free agent next year, and Devonta Freeman was injury-plagued last season. Smith has some of the most fluid hips and best balance I saw on tape this year. He didn't face consistently elite opposition at Southern Miss but was always productive, surpassing 1,000 yards on the ground three years in a row and averaging 5.5 yards per carry during his career. He is also the second-leading rusher in program history with 4,538 yards. However, Smith can be a dual threat. Watching him catch the ball out of the backfield was one of my favorite things about his tape. His receiving skills look natural and he runs fluid routes. 
Smith impressed at his pro day with a school-reported 4.49 40-yard dash (some scouts timed him between 4.50 and 4.53). Smith also put up 22 reps on the bench press and jumped 37.5 inches in the vertical. There is no doubt that Ito is athletic and could become a monster on the field even though he is only 5-foot-9 and 195 pounds.
I really don't see much value in Smith this season unless it's on special teams. I think this was more of a luxury pick for the Falcons with 2019 in mind. Still, that would not stop me from drafting and owning Smith in every dynasty league.
WR Daurice Fountain, Indianapolis Colts
Fountain has the ability to become a great possession receiver for Andrew Luck -- if Luck ever throws a football again. Being 6-foot-1 and 210 pounds, Fountain has that prototypical wide receiver size. His film isn't going to jump out, but his ability to learn and be a leader is looked upon very highly. He also didn't blow up the stat sheets in college, having never broken the 1,000-yard mark in any season, but he did obtain 12 TDs in his final collegiate year. Fountain was named the Offensive MVP of the 2018 East-West Shrine game after he racked up 101 all-purpose yards.
Fountain absolutely destroyed his pro day after being snubbed by the combine. He ran an unofficial 4.46 40, jumped 42.5 inches in the vertical and posted a 134-inch broad jump. Those two latter numbers would have ranked first at the combine for WRs. Fountain's PSI score (4.32 out of 6.00) puts him in the area of guys such as Corey Davis, Josh Gordon, Will Fuller and fellow rookies Dante Pettis and Allen Lazard. Fountain, a raw route runner, will have to learn how to refine his routes to win at the point of attack, but he definitely has the ability to make that happen.
Fountain is going to a team that not only has one of the league's top QBs but also a great wideout in T.Y. Hilton, who can help him improve. Another thing in Fountain's favor is the fact that there isn't much on the Colts' wide receiver depth chart past Hilton. Most reports have Chester Rogers as the early favorite for No. 2 WR duties.


PSI scores provided by @DynastyGuruFF

As always, you can find me on Twitter: @LeviAndrewFF. Make sure to follow me and engage.
Never miss ASL's latest fantasy sports news. Send us an email at This email address is being protected from spambots. You need JavaScript enabled to view it. and list the sports you are interested in (NFL, NBA, MLB, NHL, EPL) to start receiving ASL's newsletter.