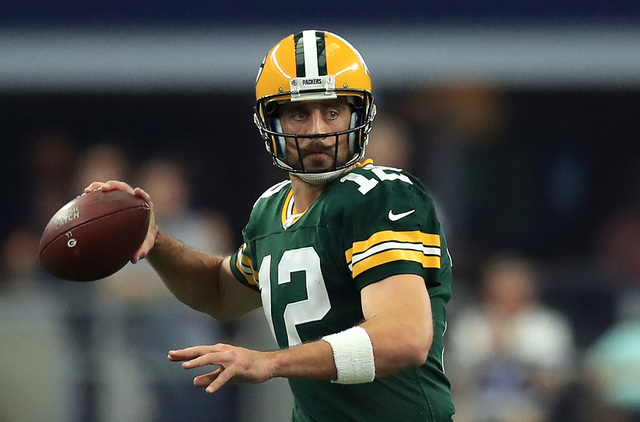 Written by Brian Murphy
10 May 2018
It's only May, but how about some fantasy football positional rankings? Here are the top 25 QBs for 2018, according to ASL's Brian Murphy.
Everyone else is doing them, so why not? It's rankings time!
Important: These initial 2018 QB rankings are only my opinion, not ASL's. And, as a human being who is comfortable with changing his mind without a moment's notice in light of further research, these ranks could move at any time. The rest of my own initial positional rankings -- RBs, WRs, TEs -- will be coming out over the course of the next week. And in the weeks ahead, I'll provide more analysis for my ranks beyond just posting a chart. We've got four long, mostly uneventful months in the NFL ahead of us until the regular season begins. Expect a lot of rankings talk from me between now and then. These ranks assume standard scoring. 
Other early rankings: Top 50 RBs || Top 50 WRs || Top 25 TEs


| | | |
| --- | --- | --- |
| Rank | Player | Team |
| 1 | Aaron Rodgers | GB |
| 2 | Tom Brady | NE |
| 3 | Russell Wilson | SEA |
| 4 | Cam Newton | CAR |
| 5 | Carson Wentz | PHI |
| 6 | Drew Brees | NO |
| 7 | Deshaun Watson | HOU |
| 8 | Matthew Stafford | DET |
| 9 | Kirk Cousins | MIN |
| 10 | Philip Rivers | LAC |
| 11 | Ben Roethlisberger | PIT |
| 12 | Jimmy Garoppolo | SF |
| 13 | Matt Ryan | ATL |
| 14 | Jared Goff | LAR |
| 15 | Marcus Mariota | TEN |
| 16 | Andrew Luck | IND |
| 17 | Jamison Winston | TB |
| 18 | Derek Carr | OAK |
| 19 | Patrick Mahomes | KC |
| 20 | Alex Smith | WAS |
| 21 | Dak Prescott | DAL |
| 22 | Eli Manning | NYG |
| 23 | Blake Bortles | JAC |
| 24 | Andy Dalton | CIN |
| 25 | Mitch Trubisky | CHI |

You can follow, ask fantasy questions and yell at Brian on Twitter: @Spokes_Murphy
Never miss ASL's latest fantasy sports news. Send us an email at This email address is being protected from spambots. You need JavaScript enabled to view it. and list the sports you are interested in (NFL, NBA, MLB, NHL, EPL) to start receiving ASL's newsletter.