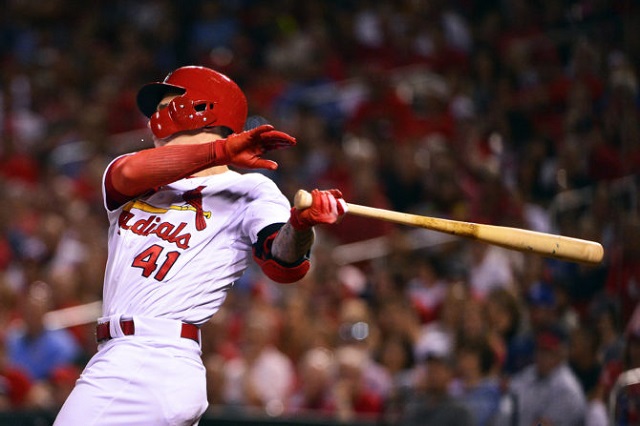 Written by Brian Murphy
23 May 2018
OF Tyler O'Neill, St. Louis Cardinals
Everyone has been rightfully clamoring over the Nationals' Juan Soto, but this fellow rookie outfielder has been pretty much as advertised since the Cardinals promoted him last week for his second cup of coffee in the majors this season. He has homered in three of his last four games. He has also struck out in about one-third of his at-bats during this second call-up, but that's what you get with O'Neill, a top-40 prospect according to Baseball America and MLB.com: He'll miss and he'll mash. If you need some pop in your lineup, O'Neill is available in about 60 percent of Yahoo and CBS Sports leagues.
1B Mark Reynolds, Washington Nationals
This is like the aged edition of O'Neill. Washington picked up Reynolds off the scrap heap with Ryan Zimmerman on the disabled list. All the 34-year-old has done is proven that teams were wrong to overlook him during the offseason and that he is still much the same hitter who posted 30 homers and 97 RBIs last year with Colorado. Now he's homered four times in six games with the Nats and is batting .455. That average won't stay at that level for long, but Reynolds has long been a slugger. And he'll probably continue slugging in the middle of the Nationals' lineup for at least the next week or so.
RP Nate Jones, Chicago White Sox
Need a closer? Jones has picked up three saves in the past week. He's had an up-and-down season, but Jones has thrown 4.2 innings of scoreless baseball over his last five appearances. He's allowed two hits, two walks and struck out six during that time. Expect many more Ks from Jones, whose fastball sits at 97. Whether he'll get many more saves depends on if the White Sox can actually get on a winning streak, which doesn't seem terribly likely. But if there is a save to be had, the chance will go to Jones. He has proven in the past few days that he can handle the gig. He's out there in about 65 percent of Yahoo leagues.


You can follow, ask fantasy questions and yell at Brian on Twitter: @Spokes_Murphy
Never miss ASL's latest fantasy sports news. Send us an email at This email address is being protected from spambots. You need JavaScript enabled to view it. and list the sports you are interested in (NFL, NBA, MLB, NHL, EPL) to start receiving ASL's newsletter.