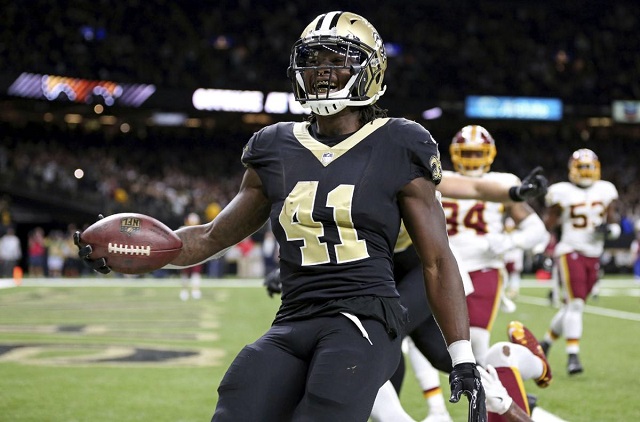 Written by Michael Nease
22 May 2018
When one has been writing about fantasy football for almost 20 years, you gain a little recognition. Sometimes you get invited to compete against other writers from other publications in fantasy leagues and contests. Over the years, I have had the honor and privilege to play in various experts leagues over that time. A few years ago, I was fortunate enough to win the championship in the FF Webmasters Experts League. I have made it into the playoffs in various experts'leagues with great regularity over the years.
A couple of weeks ago, I was invited by my friend Ian Allen at Fantasy Index Magazine to be in a featured contest there. I am competing against 19 people in an experts poll to forecast the top-20 scorers this season at all of the key positions on a non-IDP fantasy football team.
I enjoy this event immensely. I have competed in the open-competition version for at least the last 10 years or so. In fact, during the five-year period from 2010 to 2014, I ranked among the top 10 overall competitors. In 2014, I won the whole contest over about 200 other competitors. Since then, I have slacked off quite a bit as my recent selections have been cursed by injuries.
The keys to doing well are simple; they center around knowing the rules. It is pretty much normal scoring except for some key points. Not bothering to know the scoring rules is a fatal mistake that many people make in this contest. Research laziness kills many people's chances of doing well in a contest like that.
No PPR component. By taking points per reception out of the equation, WRs, TEs and pass-catching RBs have to be adjusted somewhat. This is a point that most people overlook entirely.
Place kickers with a big leg are neutralized somewhat as all field goals are worth only three points.
Team defenses don't score much (six points per TD, two points per turnover, one point per sack). The top 20 are going to score between about 80-110 points.
I feel pretty good about my picks for this year. I examined last year's scoring results extensively and then used my gut to rank the players. I never use anyone else's rankings. Everyone brags when something happens the way they said it would, but you never hear comments such as, "Whoops, I missed on that one." I will put my brain's algorithm talent against any computerized one at any time.
I have been playing since 1985 and I have made thousands of fantasy football decisions. Yes, I am wrong a lot, but I am right more than I am wrong. Injuries figure significantly into these projections. Thus, there is certainly a luck factor.
Right off the bat, you will tell me I forgot quarterbacks such as Andrew Luck, Ben Roethlisberger and Marcus Mariota. Nope, they were intentionally left off. I have little faith in any of them playing enough to hit the top 20.
With 3 1/2 months to go before the season begins, this is all a shot in the dark. Chances are that there will be some surprise players who will be big scorers in 2018, and a few of these guys will be out for the season before the first real games kick off in September. I am not looking forward to a perfect score. All I have to do is be better with my projections than 19 other people. My gut tells me I will have a pretty good shot at winding up pretty high in the expert rankings. Can I win it all? I see no reason why not. We just have to wait until January 2019 to find out.
Projected Top 20 Quarterbacks
Russell Wilson, SEA
Carson Wentz, PHI
Aaron Rodgers, GB
Kirk Cousins, MIN
Deshaun Watson, HOU
Tom Brady, NE
Cam Newton, CAR
Jared Goff, LAR
Matthew Stafford, DET
Blake Bortles, JAC
Drew Brees, NO
Philip Rivers, LAC
Eli Manning, NYG
Derek Carr, OAK
Jimmy Garoppolo, SF
Jameis Winston, TB
Mitchell Trubisky, CHI
Dak Prescott, DAL
Patrick Mahomes, KC
Matt Ryan, ATL
Projected Top 20 Running Backs
Alvin Kamara, NO
Ezekiel Elliott, DAL
David Johnson, ARI
Kareem Hunt, KC
LeVeon Bell, PIT
Todd Gurley, LAR
Leonard Fournette, JAC
Melvin Gordon, LAC
Jordan Howard, CHI
LeSean McCoy, BUF
Joe Mixon, CIN
Saquan Barkley, NYG
Christian McCaffrey, CAR
Dalvin Cook, MIN
Sony Michel, NE
Kenyan Drake, MIA
Devonta Freeman, ATL
Kerryon Johnson, DET
Derrick Henry, TEN
Jerick McKinnon, SF
Projected Top 20 Wide Receivers
Antonio Brown, PIT
DeAndre Hopkins, HOU
Odell Beckham, NYG
Keenan Allen, LAC
Davante Adams, GB
Tyreek Hill, KC
Julio Jones, ATL
JuJu Smith-Schuster, Pit
Brandin Cooks, LAR
A.J. Green, CIN
Adam Thielen, MIN
Stefon Diggs, MIN
Michael Thomas, NO
Mike Evans, TB
Jarvis Landry, CLE
Allen Robinson, CHI
Larry Fitzgerald, ARI
Allen Hurns, DAL
Golden Tate, DET
Doug Baldwin, SEA
Projected Top 20 Tight Ends
Travis Kelce, KC
Zach Ertz, PHI
Rob Gronkowski, NE
Delanie Walker, TEN
Evan Engram, NYG
Jimmy Graham, GB
Greg Olsen, CAR
Kyle Rudolph, MIN
Trey Burton, CHI
Hunter Henry, LAC
Jack Doyle, IND
Jordan Reed, WAS
David Njoku, CLE
Benjamin Watson, NO
Jared Cook, OAK
Ed Dickson, SEA
Jesse James, PIT
George Kittle, SF
O.J. Howard, TB
Vernon Davis, WAS
Projected Top 20 Place Kickers
Greg Zuerlein, LAR
Stephen Gostkowski, NE
Harrison Butker, KC
Robbie Gould, SF
Justin Tucker, BAL
Matt Bryant, ATL
Will Lutz, NO
Ryan Succop, TEN
Chris Boswell, PIT
Dan Bailey, DAL
Graham Gano, CAR
Steven Hauschka, BUF
Mason Crosby, GB
Josh Lambo, JAC
Giorgio Tavecchio, OAK
Cody Parkey, CHI
Matt Prater, DET
Adam Vinatieri, IND
Kai Forbath, MIN
Sebastian Janikowski, SEA
Projected Top 20 Team Defenses
Jacksonville Jaguars
Los Angeles Rams
Baltimore Ravens
Philadelphia Eagles
Carolina Panthers
New Orleans Saints
Chicago Bears
Seattle Seahawks
Los Angeles Chargers
Pittsburgh Steelers
Denver Broncos
Houston Texans
New York Giants
Washington Redskins
Tampa Bay Buccaneers
Tennessee Titans
Arizona Cardinals
Buffalo Bills
Minnesota Vikings
Oakland Raiders
Now that there are only about two months left until training camps open, buckle up for the journey. My colleagues and I at Advanced Sports logic are intent on helping you become the champion you want to be. Between our top-rated software and our poignant articles, we will be with you for the 2018 season in its entirety. What happens then? That, my friends, is easy. We start over and do it all again in 2019!
Over the years many readers have contacted me personally for fantasy football questions throughout the year. I look forward to helping you in your quest to win championships this year. You can contact me with any questions or comments you may have at This email address is being protected from spambots. You need JavaScript enabled to view it., follow me on Twitter @mikeinsights, or join me as a member of Couch Tomatoes, my fantasy football discussion group on Facebook.
https://www.facebook.com/groups/330237687362965/.
Never miss ASL's latest fantasy sports news. Join our mailing list. Send us an email at  This email address is being protected from spambots. You need JavaScript enabled to view it. and list the sports you are interested in (NFL, NBA, MLB, NHL, EPL) to start receiving ASL's newsletter.
Good luck! Have fun!