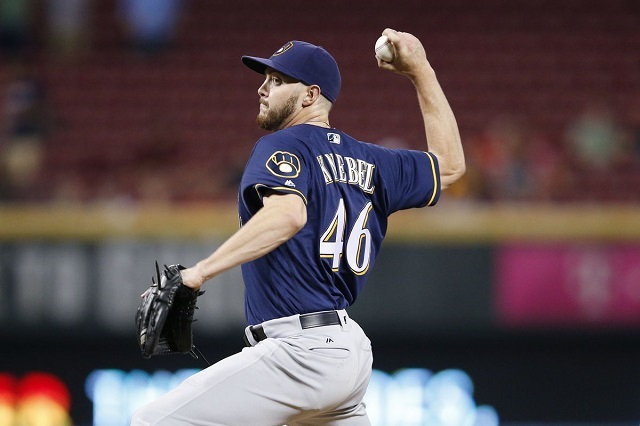 Written by Brian Murphy
17 May 2018
ATLANTA BRAVES
Arodys Vizcaino righted his ship Wednesday, earning a save cleanly after a couple of very shaky outings. May hasn't been a great month for him -- he's allowed runs in three of his eight appearances -- but he can still call himself Atlanta's closer today. However, it's time to get Dan Winkler on your radar. He owns a 0.98 ERA, a 0.65 WHIP and 27 Ks in 18.1 innings. A.J. Minter is also of note, but I think Winkler is going to get multiple save shots before all is said and done. Vizcaino's leash seems pretty short right now.
BALTIMORE ORIOLES
Brad Brach has had some better results in his last 4-5 times out, which has included a couple of saves. His return to closing duties may be short-lived, however, as Darren O'Day is expected to be activated from the disabled list this week. Brach might still hold on to the gig and is worth a speculative add in deeper formats. Keep in mind that everyone in the Orioles' bullpen will have to make way for Zach Britton when he makes his season debut in a few weeks.
LOS ANGELES ANGELS
Oh, Keynan Middleton! What do we do without you? Unfortuntely, it looks like the answer is: "Nothing." Middleton's season is in jeopardy after an MRI revealed that he has UCL damage in his right elbow. And the Angels are replacing him with ... pick someone. Justin Anderson notched a save on Monday, and former Oriole Jim Johnson got the job done before him. Cam Bedrosian and Blake Parker are in this picture too, and manager Mike Scioscia hasn't signaled that he will settle on just one guy in the ninth inning. Overall, I think this is a situation to avoid until further notice.
MILWAUKEE BREWERS
Corey Knebel is back after missing more than a month with a hamstring injury, and while he hasn't reclaimed his closing role yet, that shouldn't be too far off in the distance. Josh Hader has been obviously unbelievable, but he'll be placed into more of a setup role soon. That doesn't mean you should drop him; Hader is still plenty valuable in ratio leagues and is currently supplying 18 strikeouts per nine innings. I hear that's pretty good.
PHILADELPHIA PHILLIES
Hector Neris has eight saves this season, but his numbers otherwise are unsightly. His struggles have played a part in manager Gabe Kapler's decision to go with a true bullpen-by-committee format, where certain arms will be used based solely on matchups, not inning and score. I, the baseball fan, personally like such a strategy. I, the fantasy baseball owner, hate it with a passion. Best of luck to those who want to play the ninth-inning guessing game in Philly. Much like with the Angels, it's best to steer clear of here for now.
ST. LOUIS CARDINALS
After a small string of scoreless appearances, Greg Holland gave up two runs in one-third of an inning on two hits and two walks Wednesday. That forced Bud Norris to come in for a five-out save, which he accomplished without much trouble. Holland's ERA and WHIP are now back over 6.00 and 2.00, respectively. Norris' fantasy owners have probably been waiting for their ride with Bud to come to an end, but I don't see a light at the end of the tunnel right now.
TORONTO BLUE JAYS
Roberto Osuna's baseball future is nebulous after he was arrested last week for allegedly assaulting a woman. MLB has placed him on administrative leave, and all we know right now is that he won't appear in a game until at least May 22. And then he'll probably be dealing with a lengthy suspension as well. On the field, it's been more than a week since the Jays' last save opportunity, which was successfully converted by Tyler Clippard. Toronto has a handful of options to choose from that have pitched well. Although Clippard has been getting the most love on the waiver wire, don't forget about Seung Hwan Oh. The former Cardinals closer has a 20:3 strikeout-to-walk ratio and a 1.45 ERA through 18.2 innings. He deserves a look in the ninth.
Stats updated through May 16.


Feel free to follow, ask fantasy questions and yell at Brian on Twitter: @Spokes_Murphy
Never miss ASL's latest fantasy sports news. Send us an email at This email address is being protected from spambots. You need JavaScript enabled to view it. and list the sports you are interested in (NFL, NBA, MLB, NHL, EPL) to start receiving ASL's newsletter.