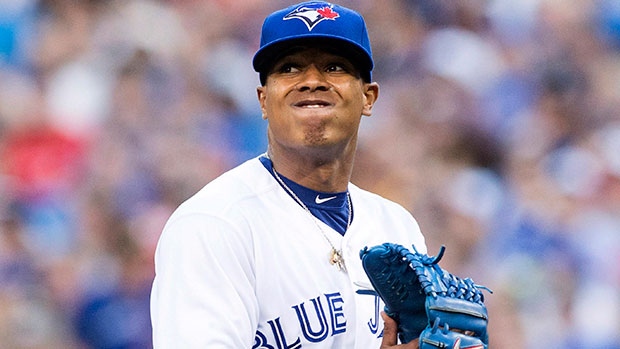 Brian Murphy
Sometimes enough is enough. Our list of players fantasy baseball owners can not not just avoid, but send packing.
It takes guts to admit that you failed. No matter your good intentions, you tried something, it didn't work out and now you have own up to it and move on for the betterment of yourself. In fantasy, you can have high expectations for a player and draft him, but once you realize that he's doing more to hurt your team than help it, admit your mistake and move on to someone else for the betterment of your team. Here are three players who no longer deserve to be so widely owned.
Marcus Stroman, SP, TOR 
I think it's easy to root for Stroman. He's a total bulldog on the mound. His return from an ACL tear in just six months was incredible, and he came back pitching well to boot. He was seen as the ace of the Blue Jays' staff this year. He has ace-like stuff and was stellar through mid-May. But since May 17, Stroman has just been getting mollywhopped. Sunday's outing versus Baltimore (3.2 innings, 10 hits, seven earned runs, four strikeouts) marked the fourth time since that date that Stroman has allowed at least six runs in a start. A bunch of strikeouts would help soften the blow, but Stroman that type of power pitcher, and his walks have increased this year as well. He has a bright future, but 2016 looks like a bump in the road that fantasy owners should choose to avoid.
James Shields, SP, CWS
Too obvious? Probably. But this is a call to all leagues, not just your common 10- or 12-teamers. Even if there are only eight teams in your league, there are two things you must do: Find more friends to join next year and get rid of Shields. It's difficult to comprehend how bad he has been in three starts with the White Sox. His WHIP is 3.81. His ERA is 21.81, but his FIP tells us that he has pitched better than that mark, since his FIP is "only" 12.60. However, Shields has been a below-average pitcher since the start of 2015. The horrid beginning to his time on the South Side is an unsightly outlier, but his fastball velocity is down almost a full mile per hour from 2015 and he's a fly-ball pitcher playing in a homer-friendly park. Shields has been waiver wire-worthy for a while and is still owned in too many leagues.
Carlos Gomez, OF, HOU
Here is the good news: Gomez has nine hits in his last 21 at-bats. Here is the bad news: Even with that success, he is batting just .210 with three homers and 13 RBIs. Here is more bad news: He hasn't exactly been unlucky. His career BABIP is .315. This year, it's .318. Gomez, who has always been a free swinger, is striking out in 34.2 percent of his at-bats and isn't making much contact in general. He has hit the ball on just 64.5 percent of his swings, which, if he had a few more plate appearances, would be the third-lowest rate among qualified hitters. Through it all, Gomez's ownership percentage sits north of 70 percent on some platforms. That needs to change.