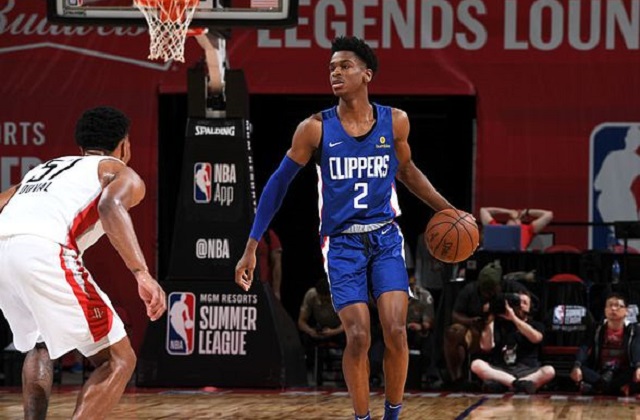 Written by Willard Simms
04 December 2018
Are you in first place in your fantasy basketball league? We're now though one quarter of the NBA fantasy basketball season, and if you're at the top of the league, congratulations on your successful draft!  If you're not, there's still hope -and if you are, keep going!   So here are some tips for the rest of the Season.   Remember there are some surprising players out there on the waiver wire that are doing much better than was expected before the draft.  Picking them up can help any team, so it might as well be yours.  Let's have a look at 5 players that are not owned in about 70% of fantasy leagues.
We'll start with the rookies.  Shai Gilgeous-Alexander was a non-lottery pick, and many pundits said the Los Angeles Clippers made a mistake in drafting him in the first round.  He's out to prove them wrong in the early season.  A very tall (6ft. 6 inches) point guard not known for his shooting ability in college, he's recently taken over a starting role for the Clips.  He's starting to score and is also adding steals and blocks from the guard position.  That makes him especially valuable in fantasy.  He's only going to get better, and the better he gets the more quickly he's going to be grabbed from the waiver wire. 
The Brooklyn Nets Spencer Dinwiddie has gotten a big boost in minutes with the injury to Caris LeVert.  He's scoring close to 20 points a game, and is often the go to guy for the Nets at the end of close games.   He's now a trusted part of their offense, and will probably earn more trust as the Season goes on, so pick him up now while he's still available.  But he happens to be one of the most added players in fantasy leagues right now, so don't dawdle, check your league, and if he's still there, pounce!
The Cleveland Cavaliers Tristan Thompson is averaging double figures in both scoring and rebounding. At this point, Thompson is actually one of the league leaders in rebounding. The Cavs seem to be in tanking mode, and probably aren't going to make any big player acquisitions soon.  That makes Thompson a valuable addition.  And, if you're struggling in the rebounding category, he's an instant levelizer!
Also on the Cavs is another rookie who is exceeding expectations.  Colin Sexton has become the quarterback of the team, and is racking up good totals in scoring, assists, and 3 pointers.  Someone has to put the ball through the hoop for that team, and Sexton seems more than willing to seize the opportunity.   He's a player that I expect big things from for the rest of the NBA Season, as he has become the team facilitator, and seems to be thriving in that role.  He's only going to get better!
Tim Frazier of the New Orleans Pelicans has jumped into the starting lineup after the injury to point guard Elfrid Payton. Payton is expected to be out for close to 2 months, which gives Frazier the opportunity to pick up lots of dimes getting the ball to the high scoring Pelican players Anthony Davis and Jrue Holiday. He may take a backseat when Payton comes back, but for right now, he's racking lots of assists and even shooting the 3 pointer with some success.  Any player who can give your team a short team boost is a valuable commodity.