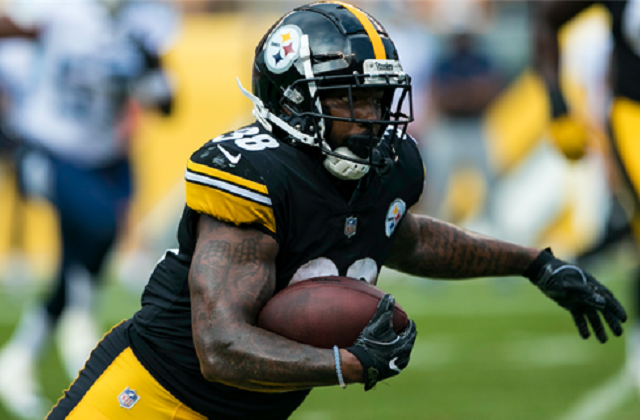 Written by Ernesto Delgado
04 December 2018
We are finally done with the regular season of fantasy football and let me congratulate you for making it to the playoffs. I hope you took our advice into consideration and filled your benches with the handcuffs of heavily used running backs. This week was filled with injuries to many key players that will have owners looking through the wire frantically to fill those positions.  Fortunately, you have us to calmly guide you along to pickup players with the most upside and safest of floors. An injury from here on out can either help you or ruin your chances to the final round. As always, it is important to stay on top injury reports and team depth charts to optimize your chances to the finals. With this report, you'll find players designated with a letter (D, O, Q) use the following key to identify each one:
D: Doubtful
Q: Questionable
O: Out
Injury report:
Carolina Panthers
Injury
TE Greg Olsen (foot) O
Opportunity
TE Ian Thomas TE2
Early in the second quarter, Greg Olsen was seen limping out into the sidelines before falling onto the turf in pain. Declining to have surgery early in the season, he will likely be out for the remainder of the year, as he believes he has ruptured the plantar fascia in his right foot. In his place, rookie Ian Thomas played well by catching all 5 of his targets for 46 yards. Knowing the tight end position is a shallow one, I would not rush to spend a waiver claim on Thomas. In the past three games, Olsen was seeing a decline of targets; 6 vs Pit, 3 vs Det, and 4 vs Sea. With the lack of consistency, we should expect those targets to be split amongst their other playmakers such as Christian McCaffery, D.J. Moore, and Curtis Samuel/ Devin Funchess.   
Build the best lineups with the power of The Machine for Daily Fantasy Sports
Pittsburgh Steelers
Injury
 RB James Conner (leg contusion) Q
Opportunity
RB, TE Jaylen Samuels RB1
Conner was having a great bounce back game against the Chargers rushing for two touchdowns and 60 yards. That is until he was tackled late in the fourth quarter, holding his ankle in pain and helped off into the locker room. Having seen the footage numerous times, it looks as though he suffered a high ankle sprain. Mike Tomlin later confirmed that Conner suffered a lower leg contusion, a bruise that is not a major concern. With Conner sidelined, Jaylen Samuels made an immediate impact in the Steelers offense. Being used as a rusher and receiver, he finished the game with 2 rushing attempts, 3 targets, and a receiving touchdown. It is highly possible that Conner can miss a practice or two, but I wouldn't be surprised if he was to sit out next week. With an easy matchup ahead, Jaylen Samuels can have himself a day against the 30th-ranked Oakland defense if Conner sits out.
San Francisco 49ers
Injury
RB Matt Breida (ankle) Q
Opportunity
RB Jeff Wilson RB2 (+)
Having a series of ankle issues throughout the season, Matt Breida hurt his ankle during pregame warm-ups, leading to Jeff Wilson's opportunity. Wilson was playing well as the primary running back, but soon limped off the field into the locker room, forcing Breida onto the field. After 5 rushing attempts and a long catch, Breida aggravated his hurt ankle and was sidelined during the remainder of the game. Fortunately, Wilson returned as the lead running back and finished the game with 15 rushing attempts, 8-of-9 targets for 134 total yards. With an above average Broncos defense up next, Jeff Wilson will be leading the backfield again if coach Kyle Shanahan decides to sit out and/or place Matt Breida on injured reserve.
Cincinnati Bengals
Injury
Cin, WR A.J. Green (foot) IR
Impact
RB Joe Mixon RB2
WR Tyler Boyd WR2
WR John Ross WR4
A.J. Green appeared as if he was in great pain when he was carted off the field in the second quarter against the Broncos. On Monday, it was confirmed that he is expected to undergo season-ending surgery on the torn ligaments in his toe, but he is expected to have a full recovery and be ready for OTAs. With Green out, the Bengals will rely heavily on Tyler Boyd, Joe Mixon, and John Ross even more. Unfortunately, their ceilings will be limited moving forward with Driskel under center averaging 6.2 yards per attempt.
Washington Redskins
Injury
QB Colt McCoy (fibula) O
Opportunity
QB Mark Sanchez QB2
RB Adrian Peterson RB2
RB Chris Thompson RB3 (+)
Early in the second quarter, backup Redskins QB Colt McCoy suffered a fractured fibula on his right leg from a sack. He was helped off the field and sidelined for the remainder of the game. In his place, Mark Sanchez took over the snaps. On his first drive, RB Adrian Peterson exploded for a 70-yard touchdown run, which could act as a sign of how the Redskins plan to use Sanchez. He favored short passes to Jordan Reed and Chris Thompson, which led to a 100-yard passing game loss against the Eagles. Adrian Peterson and Jordan Reed remain the safest options, but Chris Thompson might become a factor in PPR leagues as he gets more involved.
- - As always, follow me on Twitter: @FantasySight
Never miss ASL's latest fantasy sports news. Send us an email at This email address is being protected from spambots. You need JavaScript enabled to view it. and list the sports you are interested in (NFL, NBA, MLB, NHL) to start receiving ASL's newsletter.