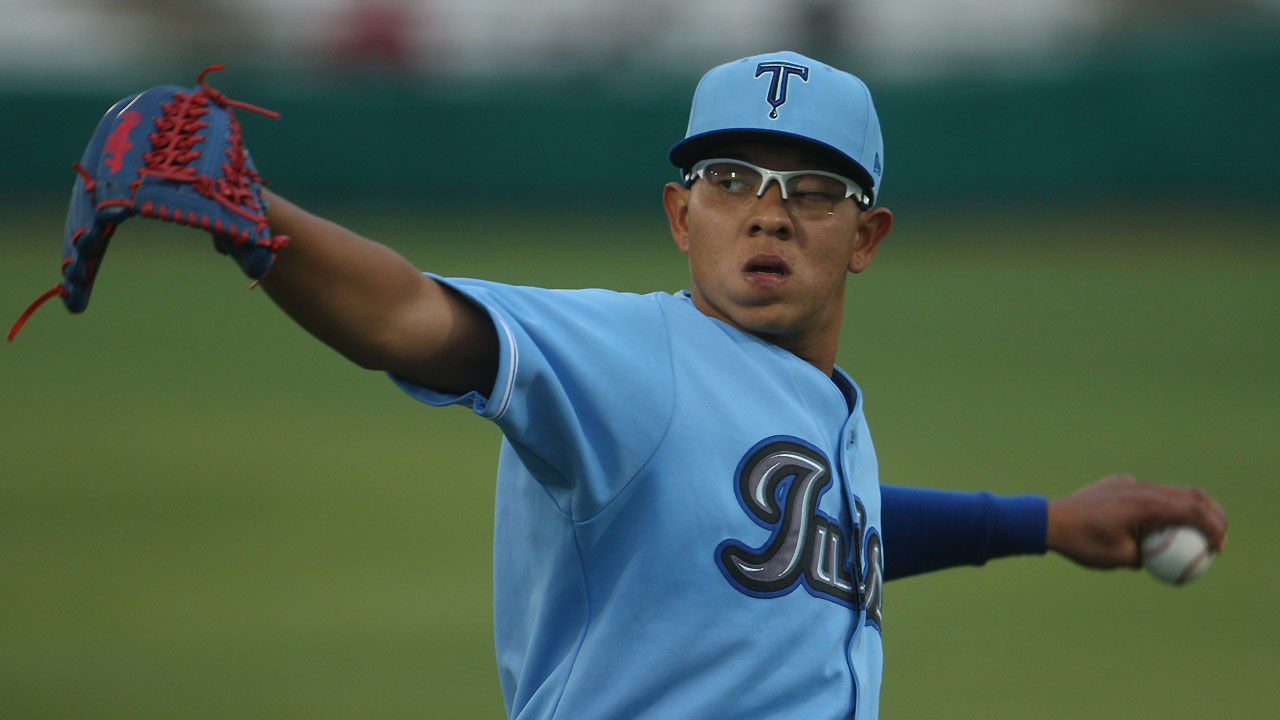 Brian Murphy
Last week, I wrote about a few players whom you should think about adding to your fantasy team even though they aren't playing in the majors right now. I regretted not mentioning Julio Urias in that article, but that's OK because I can devote a full writeup to him here. But first, a short story.
In 1980, an unimposing, 5-foot-11 lefthander from Mexico named Fernando Valenzuela made his debut for the Los Angeles Dodgers at the age of 19. He didn't allow an earned run in 17.2 innings that year and followed that up in 1981 by becoming the first player to ever win the Rookie of the Year and the Cy Young awards. He began that season by posting five shutouts and allowing just two earned runs through his first seven starts. He ended it as the best player on a World Series champion. Through it all, Valenzuela was so beloved by Los Angeles' large Latino – specifically, Mexican – community, his starts became must-see events. The craze was known as "Fernandomania."
Thirty-five years later, there's another 19-year-old, 5-foot-11 lefty from Mexico ready to become the Dodgers' next phenom.
That's Urias, a pitcher whom MLB.com has listed as a top-10 prospect two years running. He has done nothing to second-guess that ranking this season as he has a 1.25 ERA and a 39:8 strikeout-to-walk ratio through 36 innings at Triple-A Oklahoma City.  He threw six no-hit innings in a start earlier this month.
Urias does compare slightly to Valenzuela as a pitcher, but that doesn't mean he will throw a bunch of shutouts right away – it's a different era. However, Urias pitches with more power and better control. His career K-to-walk rate through more than 250 minor league innings is better than 3:1. Scouts have marveled at his feel for pitching at such a young age, and there was a belief that Urias was MLB-ready last year, at the age of 18, when he was baffling mature hitters in Double-A. Even at age 16, Urias was striking out more than 11 men per nine with a sub-2.50 ERA and a WHIP barely over 1.10. He is a player well beyond his years.
Urias has a full repertoire of pitches, too. A mid-90s fastball, an excellent changeup, a developing curveball and a slider. He can throw all of those pitches for strikes and spot them on different horizontal and vertical planes. His combination of age and stuff has led to comparisons with not so much Valenzuela, but Felix Hernandez.
The only obstacle in Urias' way to Chavez Ravine is the Dodgers' own rotation. It's deep and bound to get deeper once Hyun-jin Ryu and Brandon McCarthy return from injury. However, the Dodgers' bullpen is much more of a question mark, and there could at least be an important role for Urias in there very soon. He's proven everything he can in the minors; it's time for a promotion. Although a middle-innings gig may not sound sexy to fantasy owners, Urias' strikeout potential and control could be a boon for teams that need to improve in the ERA and WHIP categories.
But, thinking optimistically, we could get even more than that out of Urias. The Dodgers' rotation depth isn't exactly overflowing with talent – at least not the type of talent Urias brings to the table. OK, Clayton Kershaw and Kenta Maeda aren't going anywhere. But Scott Kazmir has largely struggled this year, and there's not special about neither Alex Wood nor Ross Stripling. Plus, how can you assume that Ryu or McCarthy will pitch like their previous selves following major shoulder and elbow surgery, respectively?
Whether the Dodgers want some more high-end talent in their rotation or someone to help bridge the gap to closer Kenley Jansen, Urias can wear either hat and miss plenty of bats while doing it. L.A. will protect him from throwing too many innings, but I think we will see him in the majors before July. We know he's ready now. Maybe it won't be like "Fernandomania," but how about "U-phoria"?