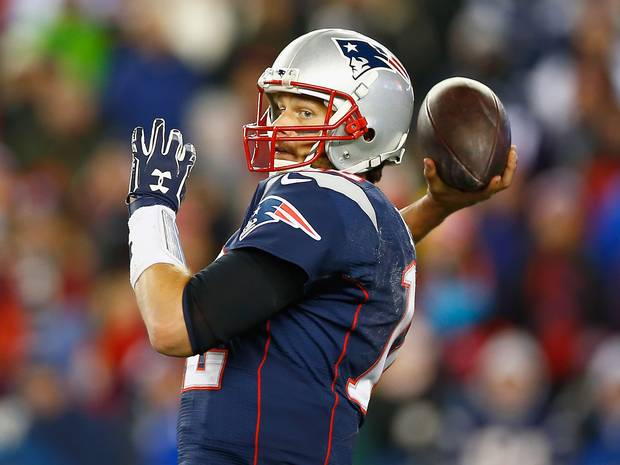 Deflategate is back. Like the bloodthirsty villain in a slasher flick, it just won't die. Like the cockroach, it's a major nuisance to most and will undoubtedly outlive us all.
On Monday, the U.S. Court of Appeals for the Second Circuit ruled by a 2-1 vote to knock down a lower court's ruling from last year and to reinstate the four-game suspension Tom Brady was initially doled out in May 2015. If you think this latest chapter will mark the end of this story or cause either side to settle Deflategate after its more than 15 months of life, you are seriously mistaken.
The fight will continue, possibly with the NFL Players Association requesting a rehearing of Brady's case before the court's 14 eligible judges, not just three. According to Mike Florio of Pro Football Talk, the mere filing of a rehearing request would automatically put Brady's suspension on hold. That would last until either the court decides to not grant a rehearing or the rehearing is completed with another judgement in the league's favor. Maybe that NFLPA will ask the U.S. Supreme Court to get involved, but let's not entertain that right now.
Put simply, Brady may still not be suspended for any games in 2016. It could be business as usual for the New England Patriots and fantasy owners, and we all continue to get through this thing called life.
But let's say Brady is suspended for the first four weeks. That would assuredly lower his average draft position, which wouldn't be the worst thing in the world. Drafting Tom Brady at a discount, even at age 39, should be enticing to most owners. The trick is picking the right four-week replacement before Brady's Week 5 return in one of his tastiest matchups of the season, at Cleveland.
Jimmy Garoppolo remains the in-house backup. Numbers need not apply when making a case for him; preseason results tell us nothing, and Garoppolo has rarely played during the regular season. All you need to know is Bill Belichick and the Patriots trust him. They were set to have Garoppolo be their starter last year until Brady's suspension was negated just one week before the season opener. The only other QB on the roster is third-round rookie Jacoby Brissett. He'll compete and has plenty of upside thanks to his athleticism and big arm. But it's hard to imagine New England handing the keys over to a complete greenhorn. Garoppolo should be the man if Brady is indeed banned.
The Patriots' schedule during the first month is anything but a cakewalk. They start at Arizona and then host three games versus Miami, Houston and Buffalo. Two divisional foes and two opponents that ranked among the top 10 in pass defense last season.
However, this is the Patriots we're talking about here. You know they aren't light on pass-catchers. Julian Edelman and Danny Amendola will continue to skitter all over the field. Tight end Martellus Bennett will team up with Rob Gronkowski to create mismatches galore. Running back Dion Lewis, who caught 36 passes in seven games last season, is expected to be available in Week 1 following his ACL reconstruction in November.
Barring Brissett having an otherworldly camp display, Garoppolo should be a sufficient handcuff for Brady owners who want to spend as little as possible on a No. 2 QB. If you would rather cover those first four games with a starter in another city, there are a few decent options to choose from during the middle rounds.
Philip Rivers, after an always-daunting task in Kansas City for Week 1, gets to sling it against the Jaguars, Colts and Saints, respectively. Two of those three matchups will come at home. Derek Carr has to go on the road for three of his first four games, but those matchups against the Saints, Titans and Ravens appear friendly. Kirk Cousins will challenge the Steelers, Cowboys and Browns at home as well as the Giants' overhauled defense. Jay Cutler of all people is worth a look versus the Eagles, Cowboys and Lions in Weeks 2-4. Plus, he'll have a healthy Kevin White raring to go.
Tom Brady has been suspended for his role in Deflategate. Again. Like the first time this happened, he may not actually serve any time. But don't fret if he has to take a seat. A handful of other quarterbacks can help keep your team afloat in September, and selecting Brady in Round 7 or 8 instead of Round 4 might be the bargain that nets you a championship in the end.