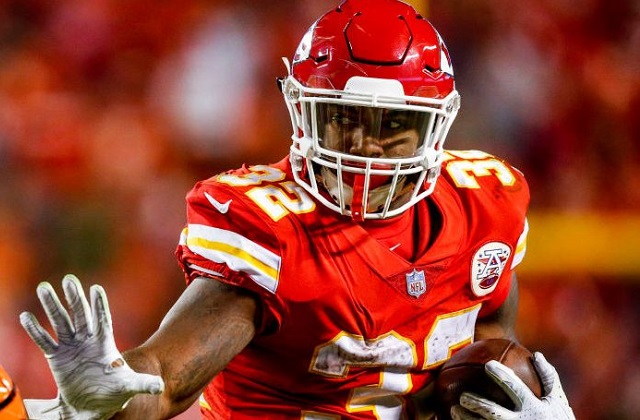 Written by John Adams
01 December 2018
Chiefs running back Spencer Ware is the hottest pick up this late in the fantasy season in a long time. 
The Kansas City Chiefs sent Kareem Hunt packing after a video surfaced of him savagely beating a woman before the NFL season got underway. His release creates a huge void for Kareem Hunt fantasy owners while producing a HUGE opportunity for anybody quick enough to snag running back Spencer Ware off of the waiver wire.
Build the best lineups with the power of The Machine for Daily Fantasy Sports 
Ware is a MUST-ADD because he is now the starting back for a team with a top-notch offensive line and Patrick Mahomes, the top-rated fantasy quarterback in the game. Ware falls into a win-win situation with a head coach who really likes to rely on just one running back.
Ware has been used very little this year, which means he comes into the starting position with a very fresh pair of legs with only five games left in the regular season. Kansas City has no choice but to hand the keys to Ware, which is also great news for those fantasy owners who can close the deal and grab him.
Ware has a prime matchup coming into Week 13 against the Raiders who have the worst run defense in the NFL. If he lights them up and runs wild, that will also boost his confidence level moving forward.
The Chiefs learned about Hunt's domestic violence incident right after it happened, but once the video went viral, he became a public relations nightmare and the team had no choice but to cut him.
Never miss ASL's latest fantasy sports news.
Send us an email at This email address is being protected from spambots. You need JavaScript enabled to view it. and list the sports you are interested in (NFL, NBA, MLB, NHL, EPL) to start receiving ASL's newsletter.