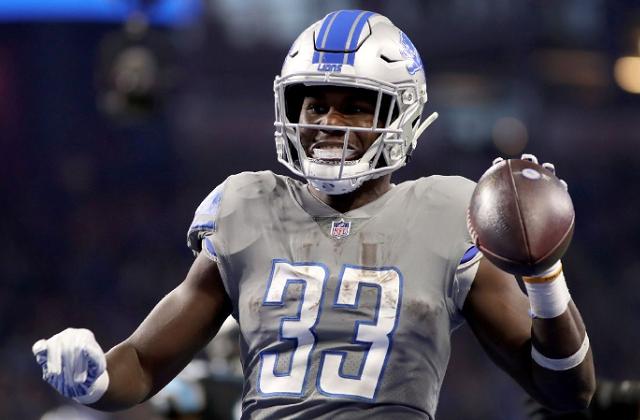 Written by Ernesto Delgado
20 November 2018
Wow what a week. The New Orleans Saints just continue to roll on by. Already setting season-highs, Drew Brees, along with the Saint's cast has become a force of nature. Patrick Mahomes was close to throwing for 500 yards and 6 touchdowns in a 54-51 loss to the Rams, as they both set the standard for the highest scoring game in MNF history. Speaking of forces, as these great athletes are making leaps and bounds to pick up a win for their teams, strain and injury can occur. As a result, your team can fall victim to or benefit from these unforeseeable events. As always, it is very important to stay on top of injuries and team depth charts to fortify your team. With this report, you'll find players designated with a letter (D, O, Q) use the following key to identify each one:
D: Doubtful
Q: Questionable
O: Out
Injury report:
Detroit Lions
Injury
WR Marvin Jones (knee) Q
RB Kerryon Johnson (knee) Q
Opportunity
WR Kenny Golladay WR2 (+)
RB Theo Riddick RB3 (+)
RB LeGarrette Blount RB4
With Marvin Jones sidelined, Kenny Golladay delivered again. Catching 8-of-14 targets for 113 yards, Golladay played a huge part in the Lions win against the Panthers by catching the leaping, winning touchdown. With Jones missing practice on Monday, we can expect Golladay to continue his production on Thanksgiving Day. In the backfield, Kerryon Johnson was playing well by rushing for 87 yards and a TD until a knee injury struck late in the second half. With him sidelined, LeGarrette Blount and Theo Riddick handled the backfield duties, but they weren't heavily involved. Up next, allowing 84 rushing yards per game, the Lions will face Chicago's stout rushing defense. On a short week, we can expect Riddick and Blount to split the rushing duties again. Riddick will be the focal point in the passing down plays with Blount handling most of the goal line duties.
Build the best lineups with the power of The Machine for Daily Fantasy Sports
Green Bay Packers
Injury
WR Randall Cobb (hamstring) Q
TE Jimmy Graham (thumb) O
Opportunity
WR Marquez Valdes-Scantling (MVS) WR3 (match-based)
WR Equanimeous St Brown WR4
RB Aaron Jones RB2 (+)
With Randall Cobb inactive before Thursday's game, St. Brown was set to take on the slot duties as MVS manned the outer fieldwork with Devante Adams. Holding slot receivers to 32 yards-per-game, Seattle's defenses limited both St. Brown's and Valdez-Scantling's production to just one catch. An MRI confirmed that Jimmy Graham broke his thumb and could miss up to 6 weeks. Disagreeing with the medical team, Graham says he will try to play through it, and will work with the medical staff with different splints and protections. With key players injured in Green Bay's offense, Rodgers needs to start relying on his other receivers to move the sticks. Because of this, trusting MVS or St. Brown in your roster will be difficult and recommended as a flex option based on match-up.
Tennessee Titans
Injury
QB Mariota (arm) Q
Opportunity
QB Blaine Gabbert QB3 (+)
WR Corey Davis WR4 with Gabbert
During the second quarter, Marcus Mariota injured his right arm after his offensive line failed to block for him. Forced into the game and losing 24-0, Blaine Gabbert struggled with the Colt's defense by passing for only 118 yards and a touchdown. On Monday, Coach Vrabel relieved worried fans by claiming that the elbow injury was just "a stinger" and publicized that Mariota will seek a second opinion. With his throwing arm hurt, the Titans will monitor Mariota's progress, as they have no other option than Gabbert to lead the offense against Houston Monday night.
Washington Redskins
Injury
QB Alex Smith (fibula) O
Opportunity
QB Colt McCoy QB2
TE Jordan Reed TE1
During the third quarter, Alex Smith suffered a gruesome broken leg after being tackled by two Texans defenders. Carted off the field, it was later confirmed that he would undergo surgery, ending his season for the year. In his place, Colt McCoy threw for 54 yards, rushed for 35 yards, and threw a touchdown on his first pass. It appears as McCoy and Reed have a connection, as Reed hauled in 7-of-11 targets for 71 yards and a TD.
Colt McCoy has been with Jay Gruden for 5 years, so he is well informed about Gruden's offensive strategies. Since McCoy does not possess a strong throwing arm, we can expect a lot of check downs to Jordan Reed. Because of this, their rapport will only increase moving forward, making Reed a viable starter again.
Baltimore Ravens
Injury
QB Joe Flacco (hip) Q
Opportunity
Lamar Jackson QB1
WR Willie Snead WR4 (+)
WR John Brown and Michael Crabtree volatile WR4
With Joe Flacco unable to practice all week, Lamar Jackson was given the start. Jackson displayed his prowess as a rusher as he ran for 117 yards and passed for 150 yards. In the receiving core, Willie Snead led the team in targets, catching 5-of-8 targets for 51 yards, as John Brown and Michael Crabtree were held in check. Because of this, the receivers are all too volatile to trust week in and week out. With the Raiders up next, Lamar Jackson will be a strong QB play if Flacco is sidelined again.
Oakland Raiders
Injury
WR Brandon LaFell (achilles) O
RB Doug Martin (ankle) Q
WR Martavis Bryant (knee) Q
WR Jordy Nelson (knee) Q
Opportunity
WR Marcell Ateman Avoid
RB Jalen Richarda RB3 (+)
RB Deandre Washington RB4
Having caught two passes for 29 yards and a touchdown, LaFell was immediately sidelined after a jump ball catch. On Monday, the Raiders placed Brandon LaFell on injured reserve after an MRI confirmed a torn Achilles tendon. In his absence, seventh-round pick Marcell Ateman caught 4-of-5 targets for 50 yards in a win against the Arizona Cardinals.
In the backfield, Martin was not seen for the remainder of the second half after he tweaked his ankle. In his place, Richard led the backfield with 93 scrimmage yards, but it's important to note that Deandre Washington was also mixed in for 12 carries. With the Raiders facing the Ravens next, Jalen Richard and Jared Cook remain the only fantasy relevant players in this team.
 - - As always, follow me on Twitter: @FantasySight
Never miss ASL's latest fantasy sports news. Send us an email at This email address is being protected from spambots. You need JavaScript enabled to view it. and list the sports you are interested in (NFL, NBA, MLB, NHL) to start receiving ASL's newsletter.