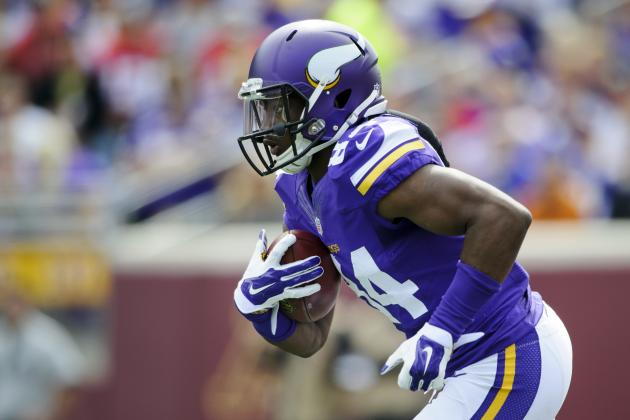 Fantasy Focus - 
Welcome to the fantasy football mid-season point. Week 7 is the last game of the first half of the NFL fantasy season. You should now focus your attention on making a playoff run. In some leagues, playoffs begin in Week 13 meaning you have 6 games after this week to punch your ticket. If you are 3-3 or 2-4 through this point, don't give up on the season just yet. Teams with these records are still in contention to make the playoffs. In Shark leagues the #6 seeded teams average record was 7-6. Some teams were able to sneak in with a 6-7 record. The way this fantasy season has looked you can win 3 or 4 more games and still get into the season. If you had a bad draft, you can revamp your team with waiver pickups and trades. For instance this week, you could have a roster of Brian Hoyer , Justin Forsett , Ronnie Hillman , Branden Oliver, Andre Holmes and Eddie Royal .

The first thing you need to do for the coming weeks is to cut bait on under-performing players, suspended players and unneeded backups. By now some of us have gone through some bye week adjustments. If your defense, kicker or tight end have already had bye weeks then it might be time to drop your backups for these. If you still haven't had a bye week, make sure to gear up for weeks 9,10 and 11 when there is a good amount of teams on a bye.
For players that are suspended such as Adrian Peterson or Ray Rice (guys who have been all over NFL player news), owners are still holding on to these players.  Peterson is still held in 68% of leagues and started in 12%. For Rice, he is owned in about 20% of leagues and started in 9%. Not sure how many of those leagues include draft only leagues or leagues that drafted then moved to another site. The point is these guys are not going to play this season and unless you are in a keeper or dynasty league, they should be dropped.

Under-performing players are the hardest for some owners to let go of. A player such as Cordarrelle Patterson who was drafted in the 5th round might be hard to drop. However, Patterson is owned in 84% of leagues and started in 19% and is averaging 8.3 fantasy points on the season ranking 52nd among wide receivers. He is averaging just 3 fantasy points over the past 3 weeks.

Another player you have to cut from your roster is Chris Johnson . CJ200YD has been a non-factor this season. He did post 21 fantasy points in Week 1 and scored in Week 4 but after last week when he had 3 carries for 9 yards it might be time to rid yourself of this dud. Unless you own Chris Ivory and are holding on to Johnson as a handcuff, there is no reason to justify his 69% ownership with 19% starting percentage.

Injured players should be removed from your roster if they are out for the rest of the season. Even players such as Montee Ball and maybe even Darren Sproles may be dropped in 8-10 team leagues. Players such as Victor Cruz , Marvin Jones , Knowshon Moreno should be dropped. Cruz is still being held on 48% of rosters.