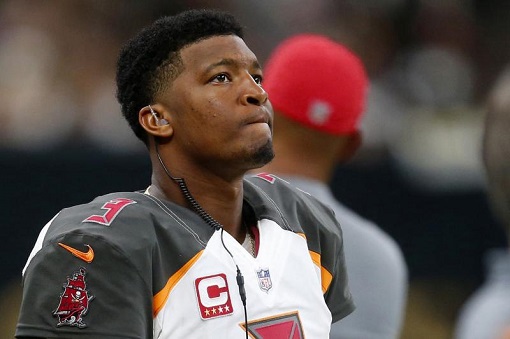 Written by Brian Murphy
07 November 2017
QUARTERBACKS
Jameis Winston, Tampa Bay Buccaneers
Winston appeared in this space just a week ago. So why the return? Well, he made his nagging right shoulder worse on Sunday and it's going to keep him on the sidelines for at least a few games. Winston suffered a sprained AC joint in his throwing shoulder about three weeks ago, and he's now dealing with weakness in his rear deltoid muscle. Winston was replaced by Ryan Fitzpatrick after halftime of this weekend's embarrassing loss to New Orleans. Fitzpatrick's presence doesn't really move the needle on DeSean Jackson's or Mike Evans' fantasy value (Evans' Week 10 status is up in the air as he is currently appealing his one-game suspension for his cheap shot on Saints cornerback Marshon Lattimore). We know Fitzpatrick likes to take chances down the field, so D-Jax and Evans should be just fine. It's difficult for Fitzpatrick to play significantly worse than Winston has recently. The Bucs host the Jets this weekend. Some will try to play up the revenge narrative for Fitzpatrick in this game, but he is only a low-end streamer in two-QB leagues.
Deshaun Watson, Houston Texans
Watson tore the ACL in his right knee last week. Whether it happened in practice or during Houston's Week 8 shootout in Seattle is inconsequential right now. This stud is unfortunately out for the year, and we've already seen the effects of his absence. Tom Savage completed just 19 of 44 throws in Week 9 and is never a threat to run with the ball. His lack of accuracy, creativity and mobility will trammel this offense. As such, DeAndre Hopkins may keep his WR1 status because of his target share alone -- he got 16 looks from Savage against the Colts -- but Will Fuller has fallen onto the WR3/4 borderline. Running back Lamar Miller also loses some value since the Texans will run fewer plays and see more stacked boxes without Watson.
RUNNING BACKS
DeMarco Murray, Tennessee Titans
Might Derrick Henry's time finally have come? Murray picked up a knee injury Sunday to go along with the hamstring and shoulder pains he has been experiencing. Fantasy owners would love to see the Titans give the vet some time off and move Henry into a near-workhorse role. We'll see if that happens. As of right now, both men are expected to suit up versus the Bengals, and that means neither back can be relied upon as more than a low-end RB2.
Eddie Lacy, Seattle Seahawks
The Seahawks said they wanted to give Lacy more work heading into Sunday's game, and they accomplished that early on as the big man racked up 34 yards on seven touches. And then he strained a groin muscle late in the first quarter. Sigh. Lacy was replaced by Thomas Rawls, who rushed for 39 yards on nine carries and gained 31 yards more on two receptions. Don't expect to see Lacy this Thursday versus the Cardinals, but you shouldn't want to invest in Rawls or any other player in Seattle's broken running game. 
If you play in a dynasty league, give your team the best chance to win with Chad's Dynasty Diagnostic service.
WIDE RECEIVERS
Julio Jones, Atlanta Falcons
The optimism Jones' fantasy owners felt after seeing him rightfully involved Sunday -- 12 targets -- was taken down a few notches with the revelation that Jones has a lower leg injury. Jones fought through the pain versus the Panthers and will be limited during the upcoming practice week, but there's no real concern yet that he might miss Week 10. If he's active and if the Falcons continue to involve him consistently in their offense, Jones should feast on Dallas' below-average secondary. 
Dez Bryant, Dallas Cowboys
Bryant is another WR1 who is dealing with a leg issue. Actually, he has a couple of issues as his right ankle and knee are at less than 100 percent. Dez has downplayed the pain; he said following Sunday's win that his ankle is just "a little sore and bruised," and head coach Jason Garrett didn't seem too concerned about the knee ailment either. Bryant, like Jones, will probably miss some practice time this week, but I think he will be out there versus Desmond Trufant and the Atlanta Falcons.
Terrance Williams, Dallas Cowboys
Near the end of a big day, Williams appeared to hurt his left knee. He might also be limited during the practice week, but this seems even less serious than what Dez is managing. Williams recorded 141 yards on nine catches in Week 9. That's great. The bad news for fantasy owners just saw the best game he'll have this season. 
Emmanuel Sanders, Denver Broncos
Sanders' return after taking two weeks off due to an ankle injury was cut short by that same ankle. He might need some more time off. If he continues to gut it out, Sanders will be a middling WR3 for fantasy purposes. Gimpy wideouts who have to catch passes from Brock Osweiler don't lead to fantasy gold. 
Zay Jones, Buffalo Bills
In the midst of his best game as a pro, Jones suffered a hyperextended knee last Thursday versus the Jets. He then returned only to get nicked up again late in the night. Jones remains off of the fantasy radar in redraft leagues even if he plays in Week 10. He had caught just 10 passes in seven previous games so after posting a 6-53-1 line against Gang Green, I just need to see it again. 
TIGHT ENDS
George Kittle, San Francisco 49ers
The 49ers were already pretty thin at receiver, and that was even with Kittle and wideout Pierre Garcon. Now, Garcon is on injured reserve and Kittle has already been ruled out for Week 10 due to an ankle injury. Marquise Goodwin and Aldrick Robinson look like the Niners' top two receivers right now. In other words, fantasy owners should expect running back Carlos Hyde to continue seeing a ton of dump-off passes.
Ryan Griffin, Houston Texans
Griffin is out indefinitely after getting concussed in Week 9. You can ignore Texans tight ends for the rest of the season. 
KICKERS
Matt Bryant, Atlanta Falcons
Bryant made it through Sunday's game in Carolina despite suffering a leg injury during pre-game warmups. He nailed a 53-yard field goal, so the injury can't be that bad, but 42-year-old kickers don't heal as quickly as other athletes in their mid-20s. Bryant will probably be a game-time decision in Week 10.

You can follow, ask fantasy questions and yell at Brian on Twitter: @Spokes_Murphy
Never miss ASL's latest fantasy sports news. Send us an email at newsletter@advancedsportslogic.com and list the sports you are interested in (NFL, NBA, MLB, NHL, EPL) to start receiving ASL's newsletter.