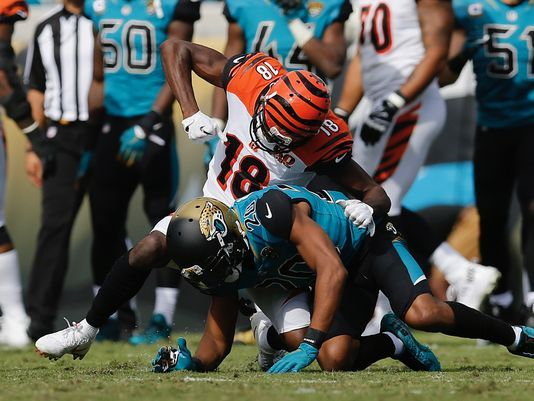 Written by Levi Andrew
06 November 2017
Dallas Cowboys 28 – Kansas City Chiefs 17
I mainly wanted to write about this game because of my frustration for Andy Reid's playcalling. How is he not calling more plays for Kareem Hunt? The rookie stud got a total of nine rushes and only three came after the half. That's twice out of the last four games that Hunt has been held to fewer than 10 carries by Reid. The Chiefs have a bye in Week 10, which hopefully they will spend figuring out how to use Hunt again. Alex Smith threw his first interception this season but finished the day with a stat line of 25-of-34 for 263 yards and two TDs. Tyreek Hill scored a simply incredible 56-yard touchdown that should have never happened before the half. He got a couple of good blocks and the rest was a special athlete doing what he does. Travis Kelce was the recipient of Smith's second TD on the day, a simple two-yard pass. The big tight end paced the Chiefs in receiving with seven catches for 73 yards.
Ezekiel Elliott found out on Friday he would be playing in Week 9 and he continued his dominance on the field. He scored his ninth TD of the year and rushed for 93 yards on 27 totes. Dak Prescott came back to be a QB1 this week, throwing for 249 yards and two scores while adding 27 yards and a score with his legs. Dez Bryant was targeted a team-high 11 times but came down with only six grabs for 73 yards. His day ended in the locker room due to an ankle injury, but Bryant said afterward that the ankle was "a little sore and bruised." Bryant was also limited in practice last week due to a knee issue, so be on the lookout for practice reports this week.
Takeaways: You have a week until you can use any of your Chiefs players. Let's hope Reid takes my advice and gives Hunt as much as he can handle in Week 11.
I really feel as though Elliott will play all year and won't see a suspension until 2018, but he said this week that his matter is "bigger than football." All we can do is wait and see with the court ruling this week. Terrance Williams and Cole Beasley had huge days: Williams caught each of his nine targets for 141 yards; Beasley caught four of six targets for 24 yards and two scores. Both box scores are fluky. I wouldn't count on either being that efficient again.
Philadelphia Eagles 51 – Denver Broncos 23
Carson Wentz took Denver on a round-trip flight to MVPville, tossing the ball for 199 yards and four TDs. Alshon Jeffery took it to the No-Fly Zone with six catches for 84 yards and two TDs. Dropping Corey Clement is starting to look like my biggest regret. Clement scored three times -- twice on the ground and once through the air. Clement led all Eagles RBs with 12 carries while newly acquired RB Jay Ajayi gained a team-high 77 rushing yards, 46 of which came on a touchdown scamper. Tight end Trey Burton did he best impression of Zach Ertz, scoring on a 27-yard pass, but he caught only one other pass for 14 yards.
Brock Osweiler started in Philly and proceeded to march down the field but had to settle for a field goal on the first drive. After that, Brock couldn't get much going until the fourth quarter when he found Demaryius Thomas for a one-yard TD. Emmanuel Sanders rejoined his team after missing games with an ankle injury but managed only one catch for 30 yards on five targets. Neither C.J. Anderson nor Devontae Booker did much on the ground; Booker's 21 rushing yards were a team-high. They were no help to Brock and the passing game.
Takeaways: Wentz is playing incredible football and it has a lot to do with the coaching staff. Although I am not a fan of Ajayi, he did show some poise out there behind a decent line and a change of scenery can sometimes change a player. But Week 9 marked only the 10th time in his 32 career games that he topped 70 rushing yards. Clement looks like the red-zone back now as he scored twice from inside the 5-yard line Sunday. LeGarrette Blount looks like an RB3 now and may be droppable in the coming weeks.
There were reports Sunday stating that quarterback Paxton Lynch could end up starting for the Broncos in Week 10. Lynch is back at practice after injuring his shoulder earlier in the year. I would stay away from starting any Denver QBs in fantasy, but you must start either Thomas or Sanders due to their draft pedigree. One thing to keep in mind: Although rookie QB Chad Kelly won't play this year after undergoing multiple surgeries, he has a full year to learn the playbook and will be ready for training camp in 2018. Come then, Kelly will take the starting QB job over.
If you haven't played Daily Fantasy Football, what are you waiting for? Get started today with DraftKings!
Los Angeles Rams 51 – New York Giants 17
I have been high on the Rams since they got head coach Sean McVay. He gave a shot of adrenaline to an offense that was horrible last year. Jared Goff has taken huge steps forward in the pros, showing why he was the No. 1 pick in 2016. Goff threw for 311 yards and four scores Sunday, bringing him to fantasy's QB11 for the season. Sammy Watkins was targeted just twice, but he caught one for a 67-yard score. However, it was my guy Robert Woods who really came to life, catching four of five targets for 70 yards and two scores. Woods' first score came on third and 33 and a screen into the flat that he turned into a 52-yard TD. Todd Gurley did the things that we want from an RB1, absolutely crushing the Giants for 59 yards and two scores on the ground while catching two of three targets for 45 yards.
Giants head coach Ben McAdoo said after the game he wouldn't rule out giving younger players a chance now that his team is 1-7. McAdoo emphasized that he will look at every position for changes, including quarterback. It doesn't help that Eli Manning has no one to throw to. Evan Engram and Sterling Shepard led the team in receiving: Engram caught four balls for 70 yards and a score while Shepard caught five balls for 70 yards. Orleans Darkwa out-touched rookie Wayne Gallman, 16-9. Gallman committed a fumble, which is never good, and McAdoo will certainly punish him for that. Darkwa gained 71 yards on those 16 carries and caught both of his targets for eight yards.
Takeaways: I have been pushing Woods since the preseason. The Watkins trade kind of tempered my hype, but in PPR scoring, Woods has been very efficient. This week was his breakout week. I would be targeting him with a waiver claim this week. If you play in a two-QB league, Goff is a great QB2.
If you are in a dynasty league and Giants QB Davis Webb is available, I would pick him up and stash him. He could be the next QB throwing to Odell Beckham. I would also see if Engram is available in your league (he shouldn't be, but ...). His value may take a hit if Manning is benched.
Indianapolis Colts 20 – Houston Texans 14
What a week for Houston. The Astros win the World Series in spectacular fashion and the Texans lose Deshaun Watson to a torn ACL. That absolutely killed all of Will Fuller's fantasy value and has created a major downturn in DeAndre Hopkins' WR1 value. Hopkins' late TD grab saved his day, bringing his stat line to six catches for 86 yards and a score. This game wasn't as close as the score shows, and Tom Savage and Hopkins didn't connect for a TD until there were six minutes left in the fourth quarter.
At the same time, Colts fans didn't get the best news this week either, losing Andrew Luck to injured reserve. Jacoby Brissett will finish the season as the starter. That hasn't always been great for T.Y. Hilton this year, but on Sunday, Hilton finished with five grabs for 175 yards and two scores, proving why he was a WR1. Jack Doyle had another decent TE2 day, catching eight balls for 63 yards. Frank Gore continues to out-touch Marlon Mack in the backfield. I don't see why head coach Chuck Pagano keeps letting that happen. There are some saying Luck might never play again, so why wouldn't you let Brissett, Hilton and Mack all grow together is beyond me.
Takeaways: Fuller's ridiculous TD rate is gone with Savage at the helm. I feel for all of you who had championship hopes with Watson, Hopkins and Fuller on your rosters. I'm also glad I got denied on a second-round pick for Fuller in my dynasty league.
I'm a frustrated Hilton owner with championship hopes in my main league. Last week, Pagano talked about the need to get Hilton involved and I guess it worked. Mack is still a hold in most leagues if you have the roster space, but neither RB is worth starting.
Quick Snaps:
Oakland Raiders 27 – Miami Dolphins 24
Beast Mode is back and not just from suspension. Marshawn Lynch had a breakout game -- FINALLY -- rushing 14 times for 57 yards and two scores. One score was from 3 yards out after a pass interference penalty put the Raiders close to the end zone. The other was a nice 22-yard run. Derek Carr found Jared Cook all night long to the tune of eight receptions for 126 yards. Cook is on the TE2 tier. The Raiders are on a bye in Week 10 and then find themselves in Mexico City against the New England Patriots.
Kenyan Drake looks to be the RB to own in standard scoring while Damien Williams looks like the PPR back in Miami. Jay Cutler was the game manager head coach Adam Gase wants him to be, throwing for 311 yards and three TDs. His third score went to Julius Thomas with about 90 seconds remaining and the Dolphins trailing by two scores. Prior to the ensuing onsides kick, Raiders head coach Jack Del Rio called a critical timeout and let Miami show their hand. Amari Cooper would come down with the onsides kick to end the game.
Jacksonville Jaguars 23 – Cincinnati Bengals 7
The best part of this game was the MMA fight in the middle of it. Jalen Ramsey gave A.J. Green a little shove after a play; Green retaliated with a full-on chokehold and a bunch of punches to the helmet. Joe Mixon scored his second NFL TD in his first career start.
Leonard Fournette was benched by the Jags for this game due to a pattern of bad behavior, including missing a team activity. Chris Ivory filled in just fine though, totaling 103 yards on 23 touches. Marqise Lee nabbed a TD from Blake Bortles early in the game. He is a WR3 with WR2 upside.    


As always follow me on Twitter: @LeviAndrewFF
Never miss ASL's latest fantasy sports news. Send us an email at newsletter@advancedsportslogic.com and list the sports you are interested in (NFL, NBA, MLB, NHL, EPL) to start receiving ASL's newsletter