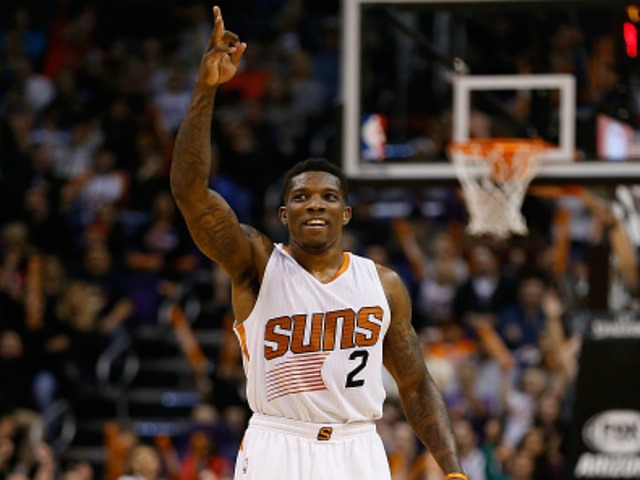 Written by Patrick Aguiluz
07 November 2017
Phoenix Suns point guard Eric Bledsoe is on his way to the Milwaukee Bucks in exchange for center Greg Monroe, a future first-round pick and a future second-round pick. From a fantasy perspective, the winner of this trade is John Henson, who should now be locked in as the starting center for a Bucks team that is looking to make a run in the weakened Eastern Conference. Fantasy owners who are in need of blocks and rebounds should run to the waiver wire and grab him now! Just keep in mind that Henson has made only 53 percent of his free throws during his career. Thon Maker's value should be static as he remains the primary backup to Henson.
Bledsoe immediately becomes the best point guard option for the Bucks and should easily transition into a 30-plus-minute role once he's acclimated with the team's plays. Current Bucks point guard Malcolm Brogdon should be able to sustain his value as he can play both guard positions efficiently. However, Milwaukee shooting guard Tony Snell's playing time should take a hit and he becomes a drop candidate once this trade is finalized. Guard Matthew Dellavedova also loses value and becomes a potential cut candidate for the Bucks. The "Greek Freak, Giannis Antetokounmpo, should be ecstatic as for the first time in his career, he is playing with a bonafide point guard and scorer.
Monroe will be joining a crowded frontcourt that has been underwhelming. At 27 years of age, Monroe is still youthful enough to blend in with the Suns' long-term plans and younger players. The Suns could use two things that Monroe does well: passing and rebounding from a frontcourt position. Last season, Monroe averaged just under 23 minutes per game with averages of 11.7 points, 6.6 rebounds, 2.3 assists and 1.1 steals to go with strong percentages from the field and the free-throw line. Monroe should be able to improve upon those numbers with Phoenix. Take a flier on Monroe if your fantasy team could use rebounds, assists and solid percentages.
Suns big men Alex Len, Marquese Chriss, Dragan Bender and Tyson Chandler all take a hit from this trade. If you own any of these players, swapping them for Henson or Monroe (in that order) makes for a good move. Mike James and Tyler Ulis will continue to split minutes at the point for Phoenix. They will alternate depending upon who is hot on a given night. Neither one deserves a roster spot in competitive leagues.

Never miss ASL's latest fantasy sports news. Send us an email at newsletter@advancedsportslogic.com and list the sports you are interested in (NFL, NBA, MLB, NHL, EPL) to start receiving ASL's newsletter.