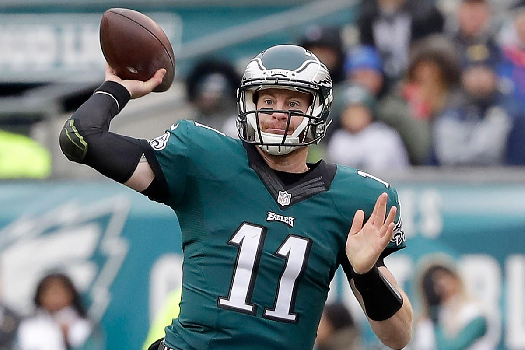 Written by Chad Samuels
07 November 2017
The trade deadline has come and passed in the NFL. The Eagles got stronger trading for Jay Ajayi. While that trade has consequence New England trading Jimmy Garoppolo has larger consequences. The Patriots signed Brian Hoyer as a backup. In reality if anything happens to Tom Brady they are done this year. The trade also signals that the Patriots believe Tom Terrific has a couple more seasons left in him. By trading for Garoppolo San Francisco signaled that CJ Beathard is not the quarterback of the future. This is not a surprise as the odds are against any quarterback not drafted in the first round to succeed long term in the NFL. While Dak Prescott wowed fantasy owners last year, there were twelve other quarterbacks drafted in round two and beyond that did little to nothing. While they have starts in the NFL, Cody Kessler and Jacoby Brissett will not be mistaken for Dak and will be short lived starters. Garoppolo will get his shot and the odds are against him too. However San Francisco needs to see what they have. It is very likely the Jimmy Garoppolo experiment will last through 2018 and possibly into 2019 before they move on. There is still a low percentage chance Jimmy G succeeds as well. What it does is take San Francisco out of the equation for drafting a quarterback at the top of next years draft. They could trade out of the pick for a windfall of draft picks and if they do it will be important to note who trades for it. They also could keep the pick and take the top player on their board, pushing a top quarterback prospect down a little bit more in the draft.
If you want me to look at your team, and give my assessment and recommendations, check out my Dynasty Diagnostic service.
When it comes to drafting rookie quarterbacks, I am a snob when it comes to players drafted outside the first round. If you just need a filler for a season I will often grab a later guy because he comes a lot cheaper than the first round QBs. I was a big proponent of DeShone Kizer for this reason. He could be had in the fourth round or later of rookie drafts or even off the waiver wire for some fill in points. Early on he did just that and then he got benched and illustrated the risks that a non day one quarterback inherently has. If you want a long term quarterback for your team I advise sticking to prospects drafted in the first round of the NFL draft. Even these quarterbacks are a dicey gamble to hit. For those who like numbers here are some statistics on first round QBs to put things in perspective. Since 2000 there have been 44 quarterbacks to be drafted in the first round of the NFL draft. Of those 44 quarterbacks 21 or 47.7% started 13 games in a season twice within their first five seasons. Barring injury Carson Wentz will join this club by the end of the season. Marcus Mariota can join the club as well this season as long as he does not miss two more games. That brings the total up to 52.2% by the end of the year. This stat means within the first five seasons half of the quarterbacks you draft will be dropped from your roster. Furthermore, only 13 or 29.5% of these quarterbacks have put up careers where they have statistically produced 3,500 yards and 20 touchdowns three times or more. This means 1 in 4 first round quarterbacks put up fantasy starter quality numbers for multiple seasons.
If you lessen the standards a little bit things get a little better. There are 19 or 43.1% of first round quarterbacks that have produced 3 or more seasons of 3000 yards and 15 touchdowns. This number includes projections for Carson Wentz, Marcus Mariota and Jameis Winston hitting this benchmark through their career. All three of these quarterbacks have turned in 50% or more of their full seasons played hitting the 3,000 yard 15 TD benchmark. The list also includes Michael Vick as a special exception. While Vick did not meet the 3,000 yard milestone in 2002, 2004, 2005 and 2006 his rushing totals had him surpassing the 3,000  total yards and 15 touchdowns. Couple with his 2010 and 2011 years with the Eagles where he met those benchmarks and MIchael VIck is deserving of a special exemption to fit into this benchmark. If you added Vicks numbers in four of those years he actually put up enough stats to meet the 3,500 yard 20 TD club but since he never hit 3,500 yards in a season in a career I kept him out of that grouping. Finally, 26 or 59% of first round quarterbacks have at least one season meeting the 3,000 yard 15 touchdown benchmark in their career.  Think about it. This means 6 in 10 first round quarterbacks will give you enough stats to use him as a quarterback by committee or better for one season or more. This also means 4 in 10 first round quarterbacks will not.
If you are drafting a quarterback it is because you either have a need at the position or you will in a year or two. Beware drafting a QB in round one and early round two of your rookie draft. Andrew Luck and Robert Griffin III were can't miss prospects and in a weak draft class. They were drafted in the first round of many rookie drafts that year. If you drafted Luck then you did well. If you drafted RG3 then you are in need of another QB. Griffin put up two solid seasons before injuries began to take their toll. Today he is a free agent. Due to the risk it is better to let someone else draft the quarterback high if they are going to do so and draft one mid to late second at the earliest. This reduces the cost and lowers the risk of drafting a rookie QB. Do this is in standard leagues. If you are in a quarterback premium league (especially leagues that start 2 QB) QB is THE high demand position and if you want one you will have to draft them high and in the first round. This is fine because if a QB starts and puts up solid numbers as a rookie he is worth a lot in the trade market.
Also, when it comes to acquiring quarterbacks in a rookie draft, these numbers would suggest you better make sure that you not only like the quarterback you are drafting but do your due diligence and make sure you are drafting the correct quarterback otherwise it is a wasted pick. I think it suggests something else entirely. Quarterback is a position where the metrics do not provide an accurate picture of who to draft in fantasy football. It shouldn't be surprising, if hitting on a QB was easy the Raiders would not have drafted Jamarcus Russell in 2007 or my beloved Redskins draft Patrick Ramsey back in 2002. The truth is all the teams whiff and as dynasty owners we can not afford to be prideful and think we will not make mistakes drafting no matter how good we are at it. Instead of drafting one QB, play the odds and draft two. IF you can draft them back to back to assure you can get both. It is a safe bet one of the quarterbacks will give you one starting season for your dynasty roster and a 50% chance one will be a long term answer. If they both hit your roster is in good shape at that position for a long time to come.
It is difficult to project top quarterback prospects for the NFL draft. Heading into 2016 Jared Goff was a hot name and he indeed was the number one overall draft pick. However even the savy draftniks did not see Carson Wentz coming as a top prospect at the start of the season. Because of this, if you really want a quarterback, then you should wait and let the process play itself out before falling in love with any prospect. There are several options for rookies entering the NFL in 2018.  Josh Allen and Josh Rosen are the frontrunners early. Sam Darnold seems to need a little more seasoning and probably should not come out this year. Mason Rudolph is a sleeper that could come out of nowhere to become a top prospect. Baker Mayfield had the savy to beat Ohio State at home and put up some gaudy numbers in the Defense deficient Big 12. While I expect him to not be one of the top prospects I am looking forward to watching the draft process unfold for him and see where he lands. Early on I am skeptical of Lamar Jackson being successful in the NFL. Heisman winning quarterbacks are notorious of not necessarily doing well in the NFL. Out of the last 20 quarterbacks to win the Heisman Trophy only 6 went on to have significant careers in the NFL. These are a few names to watch as the rest of the college season unfolds as well as the draft process in 2018. For now if you feel you want a QB for your roster in 2018 look to acquire two mid to late 2nd round picks. In November and December it doesn't matter who the QB will be. What matters is getting into position to grab them once we figure out who these players will be.  
Lastly, there are those who will balk at the risk of drafting a quarterback. With the statistics given it is completely understandable. It is OK to trade for a solid QB after they break out. The downside is a good starting QB is almost always more valuable on their current roster than in the trade market. It might be difficult to find a trade partner. But if you can send a second round pick to an owner for an aging quarterback that has two or more years left it can be a worthwhile deal. Tom Brady and Drew Brees are the optimal targets but a late second for Philip Rivers or Eli Manning is not a bad investment either. Manning and Rivers won't win your league for you but are solid bye week plays or solid in a committee. While he is shut down you can try to get Jameis Winston at a reasonable cost and Teddy Bridgewater is a risky play if you can pick him up cheap. The fact that there is still news about his return indicates he will play again in the NFL. and is worth a stash for a QB needy team.  

Love sports? Get the latest information from Advanced Sports Logic on the sports you love in your inbox. Never miss an article again. Just send an email to This email address is being protected from spambots. You need JavaScript enabled to view it. with a list of the sports you love and we will set you up.