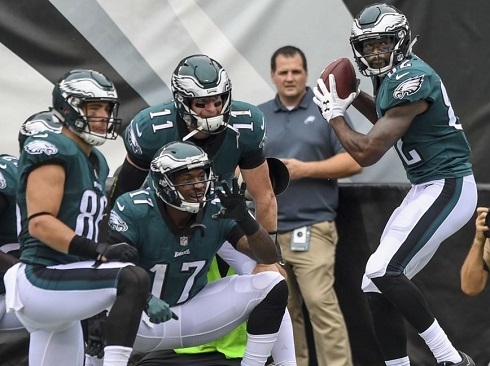 Written by AJ Schreiver
07 November 2017
Get an early look at NFL betting lines for the Week 10 games.
Emmanuel Sanders, WR, Denver Broncos
The Denver Broncos' offense has struggled mightily and the team as a whole has hit a massive wall. The quarterback position has taken much of the blame, but the run game and defense haven't shown up in weeks either. Emmanuel Sanders came back in Week 9 after being out with a high ankle sprain and only caught one pass before sitting the out the second half – likely to rest his injury – with the game out seemingly out of hand. Prior to the injury, Sanders was averaging 8.5 targets per week but had yet to have a breakout game. The schedule should ease up a bit after facing the Patriots this coming week, whose defense has made a 180 in the last two weeks after giving up the most passing yards through seven weeks. Sanders remains a WR2 with upside if one of the three Broncos quarterbacks can get ahold of this desperate offense. KEEP Sanders and his high upside the remainder of the season.
Jonathan Stewart, RB, Carolina Panthers
Christian McCaffrey finally scored his first rushing touchdown Sunday and is the present and the future of the Panthers' ground game. Jonathan Stewart quite possibly could be done in Carolina after 2017 when his guaranteed money runs out. Stewart fumbled twice in Sunday's win and gained only 21 yards on 11 carries, four fewer carries than McCaffrey. Head coach Ron Rivera seems to be standing by the 30-year-old veteran, but that isn't going to change his lack of production. Cam Newton has been given the green light to use his legs more, which will just take away more of Stewart's goal-line carries and early-down production. CUT ties with Stewart and better your roster with higher-upside guys.
Jay Ajayi, RB, Philadelphia Eagles
As if the Eagles' backfield wasn't crowded enough for fantasy owners, they went ahead and added Jay Ajayi. It's a great trade for Ajayi fans and a huge hit to Wendell Smallwood and LeGarrette Blount owners. With the quick turnaround, it wasn't clear if Jay would play, but he ended up getting eight carries and a whole lot of open green grass to run on thanks to the Eagles' offensive line, churning out 77 yards and a TD. Smallwood's owners can CUT him as the Eagles went with Corey Clement in the passing game, and Ajayi looks to be a workhorse on early downs for a team that could hold a lot of leads and will be running the ball often. Ajayi may not have breakaway speed, but his ability between the tackles is special. ACQUIRE Ajayi for his RB1 upside in this exciting, high-flying Eagles offense.
Kenyan Drake, RB, Miami Dolphins
The Dolphins parted ways with Jay Ajayi for a few reasons: He was butting heads with the coaching staff; head coach Adam Gase did not like Ajayi's skills in the passing game; and Miami wanted to get a look at their running backs for the future. Enter Kenyan Drake, a third-round pick in 2016 who runs a 4.40-40 and is the type of all-around back that Gase prefers. The Dolphins' offensive line problems aren't going away and Drake will have to share time with Damien Williams, but despite his early fumble on Sunday night, Drake out-snapped Williams, gained 69 yards on the ground and caught six passes for 39 more yards. Upcoming games versus the Buccaneers and the Patriots should lead to a lot of work for Drake. Even if only a flex option the rest of the season, Drake could be a great plug-and-play guy for your lineup down the stretch, so be sure to ACQUIRE the up-and-coming back.


Have questions about other players or want to have your player featured in next weeks edition, follow me on Twitter @sports4u_ASL and let me know who you want to read about!
Never miss ASL's latest fantasy sports news. Send us an email at newsletter@advancedsportslogic.com and list the sports you are interested in (NFL, NBA, MLB, NHL, EPL) to start receiving ASL's newsletter.
Sponsored by My Bookie