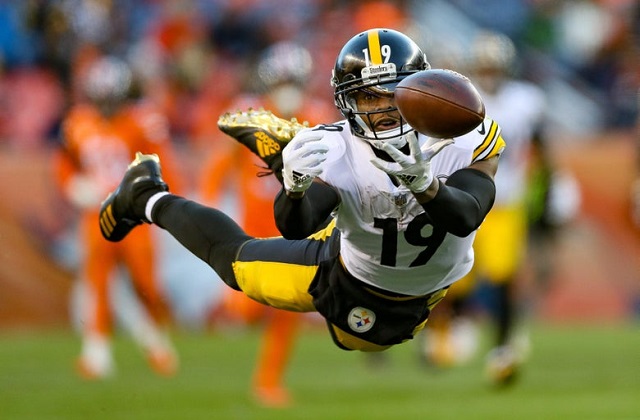 Written by Joe Buttgereit
30 August 2019
Here are Joe's other ADP Value articles: High QB | Low QB | High RB | Low RB | High WR | High TE
Finding value at the wide receiver position can easily make or break your fantasy football team. There are a lot of late-round wide receivers that can provide excellent value and depth to your roster. However, there are also a few early-round receivers that can crush your team. That's what we're talking about today.
There's a pair of guys that are being drafted much too highly for my liking. It's more of a matter of a gut feeling for one, and statistical evidence for the other.
Both players have been shoved into #1 roles heading into the 2019 season. I know we put a lot of stock into guys having to adjust to being the focal point of a team's offense; but, there is some credence to it.
It's easier to have big statistical seasons when you're getting single coverage on every play because the defense is focusing on the running back and the wide receiver on the opposite side of the field. Linebackers creep up to defend the pass-catching capable back; deep safeties creep toward the opposite side of the field to provide a secondary defender on the elite receiver.
Imagine going from being the guy that gets to roam freely trying to break free from one defender, to the elite guy that gets the attention. It changes everything. Of course, some players are just that good and adjust with no issues. These players may very well do that. We just don't know, because they haven't quite done it yet. I'd rather select early receivers that are established in their existing roles.
JuJu Smith-Schuster | WR, Pittsburgh Steelers
I'll admit, this is a bit of a gut feeling. JuJu Smith-Schuster has obviously performed extremely well in his first two seasons in Pittsburgh.
However, let us not forget who he played alongside for those two seasons. Antonio Brown has been the league's premiere wide receiver this decade. His numbers have been off the chart and was able to dismantle whatever defense was thrown at him. So, in order to slow him down, defenses had to shift the defense to his side. This allowed the "second fiddle" receivers to usually have very good seasons:
2018: JuJu Smith-Schuster: 111/1426/7
2017: JuJu Smith-Schuster: 58/917/7
2016: Eli Rogers: 48/594/3
2015: Martavis Bryant: 50/765/6
2014: Heath Miller: 66/761/3
2013: Emmanuel Sanders: 67/740/6
2012: Mike Wallace: 64/836/8
Smith-Schuster obviously put up the best season of the bunch last year, but it also had a lot to do with the fact that Ben Roethlisberger threw more than he ever has in his career. Le'Veon Bell famously held out for the entire 2018 season, forcing James Conner into the lead-back role. The unknown of whether or not Conner could handle this workload likely led to Big Ben's volume of attempts.
At 37 years old, and with the list of injuries Roethlisberger has sustained over the course of his career, it's hard to imagine he can continue throwing the ball as much as he did last season: (attempts/yards)
2018: 675/5,129
2017: 561/4,251
2016: 509/3,819
2015: 469/3,938
2014: 608/4,952
2013: 584/4,261
2012: 449/3,265
With Brown gone, and Bell gone, and Roethlisberger likely not to throw as much as he did in 2018, I believe a bit of a regression will be coming for JuJu. Guys like James Washington, Donte Moncrief, and rookie Diontae Johnson should provide enough ability to make plays opposite Smith-Schuster, taking away some of his expected target share.
The thought around fantasy football communities is that Smith-Schuster will keep his targets and get most of the targets that Brown is leaving behind. I just don't see that. I believe his target count will remain relatively equal to that of last season, with a lower conversion rate due to more stingy defensive schemes designed to stop HIM.
His current ADP is 16.7 (WR6), ahead of guys like Tyreek Hill, Mike Evans, and Antonio Brown. I like all three of those guys more than Smith-Schuster this season. Add in the fact that the Steelers face the 12th most stingy schedule for fantasy wide receivers this season, you could be looking at a disappointing early second round selection in JuJu Smith-Schuster.
Tyler Boyd | WR, Cincinnati Bengals
A.J. Green is out for at least the first few weeks; so, Tyler Boyd is "the guy" and a "value slam dunk!" Not so fast. Similar to the argument I made against JuJu above, Tyler Boyd has benefitted greatly in games where Green is on the other side of the field.
It's much easier to run the field when you're not "the guy". Defenses are paying less attention to you, yada yada yada. I talked about this earlier. But, here's the proof from a guy that was thrown into the #1 wide receiver role and struggled a bit.
Last year is the perfect example. A.J. Green played in nine games. In the nine games with Green, Boyd averaged 6.33 catches, 79.67 yards, and 0.56 touchdowns per game. In that stretched, he was the WR12. Yes, for fantasy purposes, he was a WR1 in games played as the #2 receiver. That's impressive, and is extremely rare.
In the five games without Green (he missed the final two games of the season due to injury), he averaged 6.8 catches, 62.2 yards, and 0.4 touchdowns per game. In that stretch, he was the WR28. Not a giant drop-off, but enough to worry you against cementing him as a consistent threat as the #1 receiver on the field. His catches/targets remained relatively equal, while his yardage and touchdown percentage dropped.
Boyd's current ADP is 55.0 (WR22), placing him in the middle of the fifth round and ahead of guys like Allen Robinson, D.J. Moore, and Alshon Jeffery. Similar to JuJu, I like the guys behind him more than I like Boyd. The consistent value just isn't enough for me to use a fifth round pick on him.
Cincinnati also boasts the sixth stingiest schedule for fantasy wide receivers this season. Their scheduled opponents allowed just 22.0 fantasy points per game to opposing wide receiver groups last season. Obviously teams are different year to year, but that's a difficult projection to overlook.
As always, follow me on Twitter @joebuttgereit