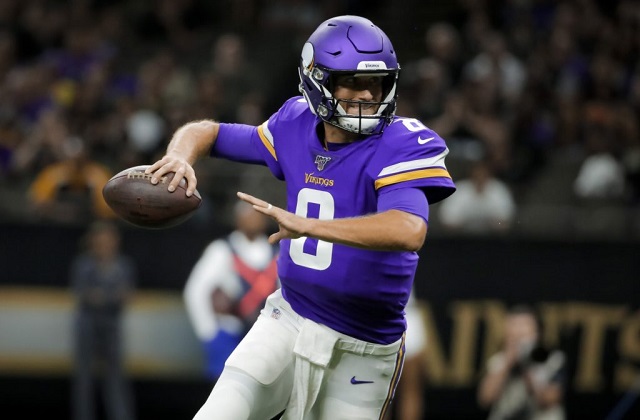 Written by Joe Buttgereit
18 August 2019
Here are Joe's other ADP Value articles: Low QB | High RB | Low RB | High WR | Low WR | High TE
We're finally into the thick of fantasy football's draft season. If you're like me, and literally draft 20+ teams, you have to know where to find the diamonds in the rough to separate yourself from your competition.
There's only so many different ways the first few rounds of your drafts will go. Unless it's a superflex league, you'll probably see the exact same 48 players go in the first four rounds in some order. The key to bringing home the chip is to find value late in drafts, and pair them with key waiver wire moves throughout the season.
The quarterback position is a tricky one in fantasy football. Patrick Mahomes flipped the position on its head last season, and made himself as valuable a fantasy player as any. This is the anomaly. Generally, there are 8-10 quarterbacks relatively close in total fantasy points that renders taking quarterback early on in a draft a waste of a pick.
More often than not (the difference being a superflex league), it's much more pertinent to wait on quarterbacks in your drafts. Here are a pair of guys that will/have outplayed their ADP this season, as they have in the past.
Kirk Cousins | QB, Minnesota Vikings
I'm not sure if it's due to the unfortunate incident that went on in Washington circling around Cousins being franchise tagged multiple times. Or, if the entire Redskins' fanbase is boycotting rostering Cousins, but he is severely undervalued in fantasy football.
He is currently sitting with an ADP of QB18, being drafted at 138.3, which puts him in the middle of the eleventh round. This is preposterous. I'm taking him in every league and the majority of the time, he is my QB1, and I'm comfortable with that.
Last season was his worst fantasy season as a starter, and he finished as the QB13. The previous three seasons with Washington, he finished QB8, QB5, and QB6 respectively. He is a heavily underrated fantasy quarterback. One major contributing factor to his QB13 finish last season was the absence of Dalvin Cook for five games.
In the five games Cook missed, Cousins completed 72.5% of his passes for an average of 286.0 yards, 1.4 touchdowns, and 0.6 interceptions. This resulted in an average of 15.78 fantasy points per game. Not terrible, but not great. In 10 games with Cook (excluding the fantasy irrelevant Week 17), Cousins completed 82.8% of his passes for an average of 273.5 yards, 2.2 touchdowns, and 0.7 interceptions. This is an obvious difference that can't be ignored. In those 10 games, he averaged 19.32 fantasy points per game, which would have resulted in a QB9 finish to the season.
It's now his second year in a new system with Stefon Diggs, Adam Thielen, and a (currently) healthy Dalvin Cook. There's reason to believe he could easily finish as a top-7 fantasy quarterback. If you can find a QB7 in the 11th round of your draft, you're set up for clear success as you (should) have a deeper collection of flex players than everyone else in your league.
I'm taking Kirk Cousins often, and with confidence. You should, too.
Josh Allen | QB, Buffalo Bills
I know, it's not the sexy pick; and I know, it may not seem practical, but hear me out. I'm sure you know the answer to this, but I'll give you one guess who the QB1 was from Weeks 12-17 of last season. Sure as hell, you guessed it; Josh Allen.
Allen was arguably the least sought after fantasy quarterback in the 2018 class, however, he turned out to be the best fantasy option not named Baker Mayfield. It didn't happen right away though. He got off to a very slow start.
In the first six weeks of the season, he averaged just 10.47 fantasy points per game, and that includes a 27.7 point performance in Week 3. In that impressive Week 3, he finished as the QB4, which was his only performance ranked better than QB27 in that stretch.
Then, he missed a few games due to injury. The Bills then had a Week 11 bye; then Josh Allen resurrected himself. With performances of QB4, QB2, QB14, QB4, QB22, and QB1 respectively in Weeks 12-17 to finished the season extremely impressively. As I mentioned earlier, he was the QB1 overall during that six week run. Not league MVP, Patrick Mahomes. Not Andrew Luck. Not Aaron Rodgers. Josh Allen.
The Bills have also added some talent around him with the likes of Mr. Consistency, Frank Gore, 2nd round draft pick, Cody Ford (tackle), and 3rd round draft pick, Devin Singletary (running back). Another year of development for receivers Zay Jones and Robert Foster, and the addition of the over-the-top threat, John Brown. Allen has a tendency of overthrowing his receivers, but he'll be hard-pressed to overthrow Brown, who could turn into Allen's version of DeSean Jackson.
I think the Bills offense will be more exciting than everyone is giving them credit, and Josh Allen will be at the forefront. He's currently being drafted as the QB22, with an ADP of 152.7. The rushing ability of Allen is going a bit under the radar or else that draft stock would be higher, similar to that of Lamar Jackson (QB17, 135.3).
I love the idea of having Allen as my team's QB2, and I certainly feel comfortable rolling with him as a QB1 most weeks. Especially when up against favorable opponents, which will present themselves, as Buffalo has the 17th easiest schedule for fantasy quarterbacks this season.
As always, follow me on Twitter @joebuttgereit for fantasy news and nuggets, as well as ramblings about sports in general!