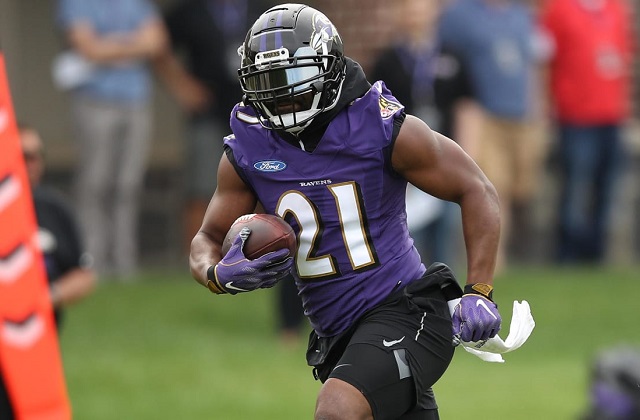 Written by Joe Buttgereit
26 August 2019
Here are Joe's other ADP Value articles: High QB | Low QB | High RB | High WR | Low WR | High TE
As draft season heats up, and draft weekend fast approaches, it's key to know who you can, and you who you cannot, target. Check out my High Value ADP series to see all the guys I am targeting this draft season.
This series is talking about guys I am avoiding in my drafts. This, to me, is more than important. There are guys that can provide a splashy draft pick, but may not necessarily provide positive value to your team.
Running back can be such a spotty position in fantasy football. There are roughly a dozen to twenty backs that consistently get touches without threat of losing their spot. Beyond that, it's a crapshoot. You can do all the research in the world, watch as much preseason football as you can, and then x running back you drafted in the 6th round ends up getting benched in Week 3 because he fumbled once.
That's the reality of the position. The majority of running backs are playing for touches. Make one mistake, and the ball gets handed (literally) to the next man up.
I only have one player to feature in this article. He's the primary back in what I believe will wind up being a legitimate running back by committee (including the quarterback). In each of the past two seasons, they have had FOUR running backs finish in the top-90 in fantasy scoring at the position. Not that the top-90 is great, but when you have so many guys contributing, it's hard to have a true #1 guy.
Mark Ingram | RB, Baltimore Ravens
In 2018, Baltimore's "featured back" finished as the RB39. They also had the RB45, RB64, and RB70. Too much committee for my liking.
On top of that, the quarterback would have finished as the RB37 with no receiving action to add. Yes, the quarterback was the highest scoring RUNNING BACK on the team last season without even adding a single receiving yard. It will be very hard to post an RB2 or better finish when you have Lamar Jackson as your quarterback and the committee of running backs around you.
He was the featured back in New Orleans prior to last year. Between 2015-2017, he finished as the RB15, RB10, and RB6 respectively. The RB6 season was alongside Alvin Kamara who finished as the RB4. Then, between 2017-2018, the Saints realized Kamara was ready to be "the guy". Kamara did his thing finishing as the RB4 again, and Ingram dropped all the way down to RB28.
Now, I know he missed four games with the suspension to begin the season which may have contributed to the RB28 finish. It didn't. Among running backs, he finished 27th in fantasy points per game. So, his RB28 finish is pretty spot on. The Ravens already have Gus Edwards who performed pretty well last season when given an opportunity. They obviously have Lamar Jackson who is a glorified running back who likes to throw sometimes. They also drafted Justice Hill in the 4th round this spring.
Justice Hill was a star at Oklahoma State and he has looked phenomenal in the preseason. It's evident that Baltimore will find a way to work him into the offense as this will likely wind up being his backfield in the next year or so. In 36 games in college, he averaged 17.56 carries and 98.31 yards/game (5.9 Y/A). He also scored 31 total touchdowns in those 36 games.
In short, there are simply too many mouths to feed for the Ravens to field a legitimate RB1/2 in 2019. Lamar Jackson will eat too much of the total rushing yardage for a committee to produce enough to warrant being drafted in the first four rounds.
That's where Mark Ingram's current ADP sits. His ADP is 45.0 (RB23), placing him in the back of the fourth round. There are too many better, more reliable options at that point to be taking a shot at a guy that will, at best, take 50% of the team's total rushing attempts.
As always, you can find me on Twitter @joebuttgereit