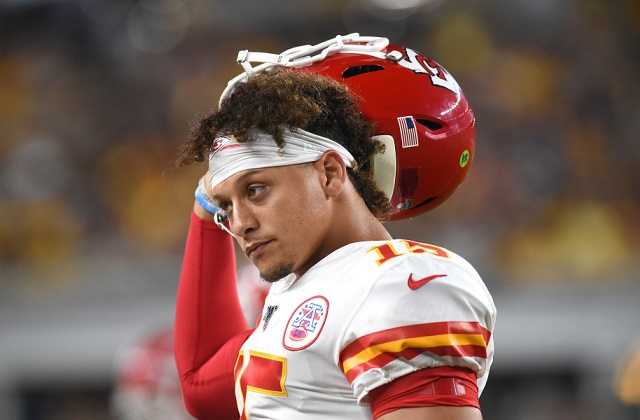 Written by Joe Buttgereit
25 August 2019
Here are Joe's other ADP Value articles: High QB | High RB | Low RB | High WR | Low WR | High TE
Ok, so this is by no means saying that these guys aren't good; or that they will be "busts". What I am saying is at their current ADP price, they provide little to no value to the construction of your team.
The key to dominating your fantasy leagues is finding "value". That's the hardest thing about drafting your teams. Knowing current ADPs is essential. Take me for example, I want Will Fuller on my team in every single league. I can make that a guarantee by just taking him in the 2nd round. But, that would then provide negative value to my team, because his current ADP says he's going around the 5th/6th rounds. It would be a terrible move for me to use a second round pick on a guy that I can get in the fifth.
That's what this series is all about: avoiding negative values. Everyone goes into their drafts with a ranking list to use as a cheat sheet. If you're using a ranking list without tiers, you're doing it wrong.
Tiers are the key to making good draft decisions. There can be guys in the same "tier" that are two rounds apart in ADP. But, in the grand scheme, they're relatively fantasy equals. This is how you win leagues. Winning drafts is cool and all during Draft Day when you can trash talk the boys for an afternoon. Winning leagues is much more fun: 8 months of trash talk!
Due to ADP, I'm avoiding:
Patrick Mahomes | QB, Kansas City Chiefs
As I stated earlier, this is by no means me saying that Mahomes is not good. I'm also not saying that he won't have a good year. I think he'll have a fine year; I also think he'll have a similar year to a handful of other quarterbacks.
Last year was a magical season for Mahomes. He became just the third quarterback in NFL history to throw for 50 TDs in a season. The two previous, Tom Brady (2007) and Peyton Manning (2013), failed to throw for 40 the following year. Brady tore his ACL and missed the entire 2008 season, then came back to throw for 29 TDs in 2009. Manning threw for 39 in 2014 to follow up his 55 TD season in 2013. Seasons like Mahomes' 2018 are extremely difficult (nothing is impossible) to duplicate.
It's also very difficult to post back-to-back QB1 seasons. Going back to 2012, it has not happened. Aaron Rodgers is the only player to post two QB1 seasons at all in that stretch (2014, 2016). Since 2012:
2012 QB1: Drew Brees (345.6 points) | 2013: 357.8, QB2
2013 QB1: Peyton Manning (410.1 points) | 2014: 312.7, QB4
2014 QB1: Aaron Rodgers (354.1 points) | 2015: 301.3, QB7
2015 QB1: Cam Newton (389.1 points) | 2016: 254.7, QB17
2016 QB1: Aaron Rodgers (380.0 points) | 2017: 129.5, QB29 (18.5 ppg, QB7)
2017 QB1: Russell Wilson (347.8 points) | 2018: 298.4, QB9
2018 QB1: Patrick Mahomes (417.0 points) | 2019: ?
Drew Brees was the only quarterback that actually improved on his QB1 season, and that was 6 years ago. In this span, the QB1s averaged 67.7 fantasy points less the following year. In addition, they averaged QB7.7 in the following year (Rodgers' 2015 injury-riddled season is based on a PPG average). The numbers just don't back up Mahomes being as dominant a fantasy player as he was last year.
It's also easy to forget that Mahomes had Kareem Hunt for 11 of those games last year. In those 11 games, he completed 67.6% of his passes for an average of 329.8 yards, 3.4 TDs, and 0.9 INTs. He averaged 27.2 fantasy points per game and finished those 11 weeks as the QB1.
In the five games without Hunt, Mahomes completed 63.0% of his passes for an average of 293.8 yards, 2.6 TDs, and 0.4 INTs. He averaged 23.5 fantasy points per game in that stretch, and finished as the QB2. Not a big drop off in QB ranking, but nearly four less points per game.
On top of all that, the quarterback position is much deeper than it's been in years past. Patrick Mahomes' current ADP is 14.3, placing him in the beginning of the second round. Here's some other notable QB ADPs:
Deshaun Watson: 45.0 (late 3rd)
Aaron Rodgers: 49.7 (early 4th)
Matt Ryan: 70.7 (late 5th)
Andrew Luck: 73.0 (early 6th) -- Editor's Note: Andrew Luck retired on August 24
Russell Wilson: 89.3 (mid 7th)
Cam Newton: 90.7 (mid 7th)
There's just too much depth to take a QB in the second round. If you can guarantee that Mahomes will throw another 50 TDs, have at it. I'm not betting on that. Give me Odell Beckham, Jr. (16.0 ADP), Tyreek Hill (16.0 ADP), or Dalvin Cook (19.0 ADP) in the second round; and I'll take a QB later in the draft.
Matt Ryan | QB, Atlanta Falcons
Similar to Mahomes, this is all a price thing. I don't doubt Ryan will have a good season, I just think he's being drafted at his ceiling.
It's very hard to consistently put up productive fantasy seasons as a quarterback without being able to take off and run. Peyton Manning, Drew Brees, and Tom Brady have been able to do it, but they're in a different quarterbacking echelon than pretty much everyone else.
Guys like Matt Ryan, Philip Rivers, and Matthew Stafford all have lower ceilings than others due to the inability to run. This doesn't mean they're not good quarterbacks. It means they may not necessarily make for the best fantasy quarterbacks.
Matt Ryan has this weird tendency of following up a very good fantasy season with an average one at best:
2012: QB8
2013: QB15
2014: QB7
2015: QB19
2016: QB2
2017: QB15
2018: QB2
2019: QB?
I think a lot of that has to do with the fact that it's very difficult to hit your individual ceiling every year. He has a much lower floor than the other quarterbacks being drafted near him, because he virtually has to throw 30-35 touchdowns to be fantasy relevant. He can't get away with 26 touchdowns, and then tack on an additional 500 yards and six touchdowns on the ground.
His current ADP is 70.7 (as mentioned above), placing him in the back end of the fifth round. That's high when you think about the quarterbacks going after him that may have a similar ceiling, but a much higher floor.
There are too many guys being drafted after him that make me want to avoid Ryan at all costs. There's still enough non-quarterback value in those very important rounds to make me want to wait a few more rounds to grab my quarterback.
You can check out my High Value ADP series to see exactly who I may be targeting later! As always, follow me on Twitter @joebuttgereit