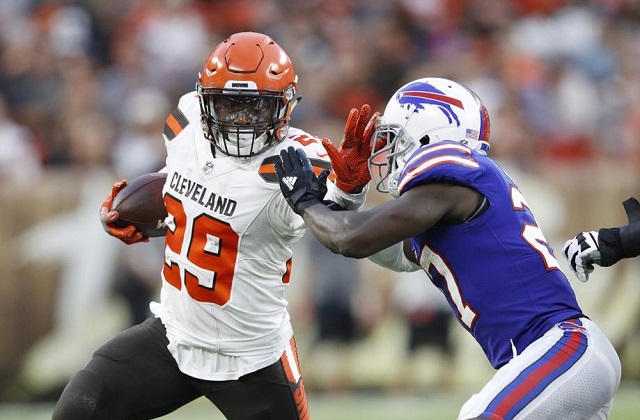 Written by Joe Buttgereit
19 August 2019
Here are Joe's other ADP Value articles: High QB | Low QB | Low RB | High WR | Low WR | High TE
Ah, the running back position. The position that houses the "Big Four", but also creates so much doubt amongst fantasy players everywhere.
It's the quintessential boom or bust position. There are obviously guys that are your stereotypical 3-down guys that are guaranteed 20+ touches a game. You need at least one of these. If you get two, you're ahead of the game.
Then, you have the guys that have a 50/50 to 60/40 split within a tandem. These type of running back rooms are becoming more and more prevalent around the league. This is who you will find all over the middle rounds of your drafts.
Then last, but not least, the full-blown running back by committees. I'm looking at you, Buffalo. Figure it out, and tell us who the bell cow will be. Anyways, until then, these are the fliers that you take shots on in the back end of your draft trying to catch lightning in a bottle. Similar to that of Phillip Lindsay from a year ago.
It's a difficult position to predict because running backs surely have the shortest shelf life as premiere and elite fantasy performers. That's why I'm here! I'm here to tell you who you can target that will certainly be available as the draft goes on that can propel you to a fantasy championship.
For now, here's a couple running backs to target late:
Adrian Peterson | RB, Washington Redskins
I understand how difficult it can be to put your faith in a 34-year old running back. However, every other 34-year old running back is not Adrian Peterson.
We're talking about the same guy that tore his ACL in December, DECEMBER, of the 2011 season; then came back to play in Week 1 (SEPTEMBER) in 2012, and went on to have a decent year. By decent, I mean he damn near broke the rushing record by going for 2,097 yards and being named the NFL's MVP.
I know, that was a long time ago; but, it just goes to show you that you can't look at the tangibles and know what to expect with him. He is a supernatural athlete that is arguably the most dominant player to ever play the position.
After only playing in 30 games between 2014-2017, he came back in 2018 and played every game, rushing for 1,042 yards and seven touchdowns. He got off to a hot start, when the team around him was healthy (Alex Smith, Trent Williams, Morgan Moses, Brandon Scherff, etc.), and was the RB9 through Week 8. He dipped a bit, falling to RB12 through Week 13, before ultimately finishing as the RB18 on the season.
With a current ADP of 142.3, the RB50, he's an absolute steal. In a full, relatively healthy season, Peterson has never finished worse than RB18, which was just last season. He's now had a full offseason in Washington which he did not have last year. The uncertainty around Trent Williams' holdout could put a dark cloud over Peterson's potential success. However, with his current ADP, I'm taking him regardless of whether Williams plays or not.
The only argument against him is the return/debut of Derrius Guice. Guice is returning from his own ACL tear suffered in the preseason a year ago. He has yet to be cleared for contact, so it's hard to imagine he'll be a full-go early on in the year. He will certainly be on a pitch (touch)-count which should allow Peterson to lead the group in touches each week.
If you're a guy that likes to load up on receivers and grab a "Big Three" tight end early, feel confident in grabbing Peterson late who has the potential to be a consistent RB2 this season.
Duke Johnson, Jr. | RB, Houston Texans
This pick would've looked much better/smarter had this article come out a week or two ago. Since being traded to the Houston Texans, Johnson's value has skyrocketed among fantasy football people.
He's going to a team where he will be the clear favorite pass-catching back. Lamar Miller will still be the primary rusher, but he's never been utilized a pass catcher. In six seasons as a full-time starter, he's averaged just 33.8 receptions/season. His career-high was 47 in 2015. It's obvious he's on the field for one reason: to be handed the football.
Enter Duke Johnson. He averages 58.8 receptions, 542.5 yards, and two receiving touchdowns per season. He's coming into an offense that features the league's best receiver, DeAndre Hopkins, and Deshaun Watson's favorite deep-threat, Will Fuller. That leaves PLENTY of space underneath for Johnson to run free and accumulate chunks of yardage on any given catch in the flat.
He's been heavily underrated in fantasy football circles over the years. He doesn't run the ball often, but he gets enough consistent action in the passing game to have finished as the RB40, RB21, RB39, and RB34 respectively in the last four seasons. While that doesn't shout "RB1 potential", it does shout excellent value when taken as the RB52 in your draft.
Granted, if you're in a non-PPR league, he's probably not worth a draft pick at all; but who plays in non-PPR leagues anymore?
So, if you're like the rest of us normal people and play in either half-PPR or full-PPR leagues, take Johnson late and reap the rewards of having a potential RB2/Flex starter for your fantasy team.
As always, follow me on Twitter @joebuttgereit