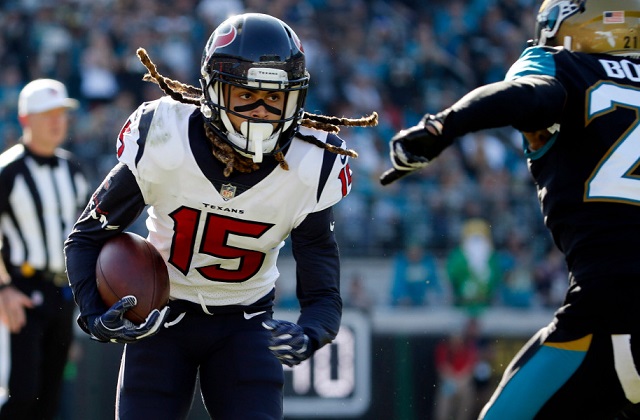 Written by Joe Buttgereit
19 August 2019
Here are Joe's other ADP Value articles: High QB | Low QB | High RB | Low RB | Low WR | High TE
If you follow me on Twitter, or talk to me about fantasy football at all, you'll know who my first choice for this article is going to be. I gave a bit of a sneak preview on Twitter yesterday, but I'll be diving into deep detail why my favorite fantasy player of 2019 is in this article.
Obviously, wide receiver is the deepest position in the sport, simply due to the fact that teams employ 4-6 of them in any given week. But, not all of them are fantasy relevant. Once you get late into the draft, it seems like, with this position more than the others, everyone has "their guys". The guys they target that someone else wouldn't necessarily touch.
Well, like everyone else, I have "my guys". The two guys below are virtually on every one of my fantasy teams this year. Practice what you preach, right? I'm not here to tell you who to pick (well, sort of), but I am here to explain in depth, and with statistical basis, why I think these guys should be on your radar, as well.
Will Fuller | WR, Houston Texans
Will Fuller is a player you need to take in context. If you look at his overall numbers, you're not all that impressed. He's been solid when healthy, but when he's healthy AND Deshaun Watson is healthy, he has been dominant.
I'm now less worried about an injury to Watson; he showed last season that he can stay healthy for a full 16-game season. Fuller, on the other hand, has yet to show that. However, to dominate your fantasy leagues, you need to take some chances. I firmly believe Will Fuller will be a popular player among fantasy championship teams, and finish inside WR15 this year. Here's why:
Fuller is an entirely different monster when on the field with Watson. In 2018, they played seven games together, between Weeks 2-8. In that stretch, Fuller caught 32 balls on 45 targets (71.1%) for 71.86 yards per game, and 4 TDs (0.57 per game). He was the WR14 in those seven games.
In 2017, the pair played four games together between Weeks 4-8. Then, he played six games without Watson between Weeks 9-17. In the games together, Fuller caught 13 balls on 22 targets (59.1%) for 69.75 yards per game and 7 TDs (1.75 per game). He finished that stretch as the WR2 (Hopkins was WR1). In the six games without Watson, Fuller caught just 15 balls on 31 targets (48.4%) for 24.0 yards per game and no scores. He finished those final eight weeks as the WR108.
It's very evident that Deshaun Watson is the key cog in the success of Fuller. It's only a matter of him showing the capability of staying healthy for a full season. He currently has an ADP of 77.7 (WR30), and I'm willing to take the risk of finding a potential high-end WR2 in the sixth round, every time.
Zay Jones | WR, Buffalo Bills
This one is much, much deeper down the fantasy draft rabbit hole. Quite honestly, Jones may be my favorite value in drafts altogether. His current ADP is 181.0 (WR68), yes, he's being taken in the FIFTEENTH round, if at all. Thank you everyone, I'll happily take him.
Similar to Fuller, Jones' success has flipped due to a quarterback-wide receiver relationship. The pairing with Josh Allen could have Jones flying up the in-season ranks to top-30 WR territory. Look at last year in particular: Josh Allen took a few weeks, an injury, and a bye week to get accustomed to life as a starting NFL quarterback. But when he did, he finished the season as the QB1 over the course of the final six weeks.
Well, in the final five weeks, Jones took off, as well. He was virtually irrelevant in Week 12 (the start of Allen's QB1 run) by making no catches on just one target. Then, he exploded in the final five games. In Weeks 13-17, he caught 19 balls for 260 yards, and five touchdowns. He finished as the WR6 in that stretch. Even after struggling for much of the first half, he finished the season as the WR33 overall. Not bad for someone who's being drafted as the WR68 this year.
On top of that, it's not uncommon to see receivers take off in their second year in the NFL. Some big name guys took a similar, albeit a little bigger, leap going into year two:
Calvin Johnson
Year 1: 48/756/4 | Year 2: 78/1331/12
Antonio Brown
Year 1: 16/167/0 | Year 2: 69/1108/2
Julio Jones
Year 1: 54/959/8 | Year 2: 79/1198/10
DeAndre Hopkins
Year 1: 52/802/2 | Year 2: 76/1210/6
Zay Jones
Year 1: 27/316/2 | Year 2: 56/652/7
Ok, I'm not saying he's on the same level as any of those guys. All I'm saying is he's being severely undervalued for a player who has a clear path to leading his team in targets, and has put up some serious numbers with Josh Allen already.
Even if he has just a five-week stretch of being WR6 as he did last year, isn't that worth a FIFTEENTH round pick?!
As always, follow me on Twitter @joebuttgereit