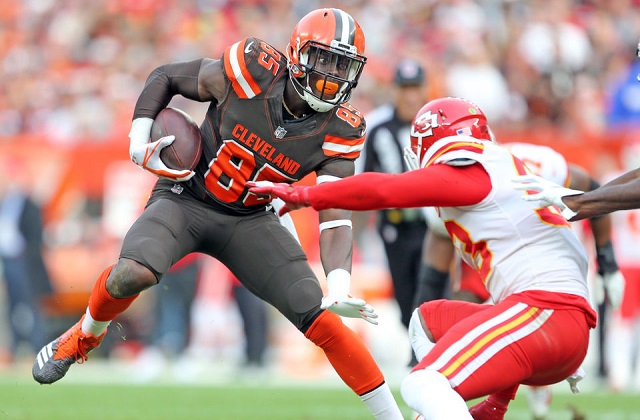 Written by Ben Muell
15 August 2019
Can a tight end be a league winner? Maybe not. But due to the lack of depth at the position it can certainly cause you some headaches. But is it worth taking Travis Kelce, George Kittle, or Zach Ertz in one of the first four rounds?
Ben's other League Winners articles: 8 Early Rounds Picks | Later Round QBs | Later Round RBs | Late Round WRs
One idea might be to wait and take a couple of tight ends. Realistically fantasy owners want a tight end who can score about 8-10 points in standard leagues and 13 points in PPR. This can come through volume or touchdown opportunity. Here are five tight ends who will be available late in drafts, see a decent amount of targets, and have the potential to catch a touchdown each week.
Tight Ends
David Njoku
Jordan Reed
Geoff Swaim
Mark Andrews
T.J. Hockenson
All the hype this offseason in Cleveland has focused on Baker Mayfield, Odell Beckham, and Nick Chubb. If everyone is projecting the Browns to have this great season then why can't David Njoku a breakout year? Last season he finished as TE9 snagging 56 of 88 targets and scoring 4 touchdowns. Certainly a bit more level production would be nice as Njoku seemed to score 10 or 11 points followed by 3 points weeks. But these are still safe numbers on an offense expected to put up points. If Njoku slides in the draft then its ok to be contrarian and pick him up.
Jordan Reed's upside is well-known. For his career he's been a TE1 about 50% of the time. Just injuries are the problem. But with no other pass-catchers of note in Washington, if healthy, Reed could provide huge value. Just maybe keep an eye on the ageless Vernon Davis, who has provided some solid numbers with Reed out of the lineup.
Geoff Swaim has only 35 career receptions and one touchdown to his name after 4 years as a backup in Dallas. But after signing with Jacksonville, the athletic tight end has as good a chance as any to produce because Nick Foles loves to target the tight end position. In addition, the AFC South was rather abysmal against the tight end last year. The Jaguars also play Denver, Carolina, and Cincinnati -- three teams who also had a hard time stopping the tight end. If Swaim wins the starting job, that's 9 plus matchups to take advantage of.
Like his QB Lamar Jackson, Mark Andrews is an interesting name to know because of Ravens Offensive Coordinator Greg Roman. Andrews will be battling with Hayden Hurst, the unproven 2018 first-round selection, for snaps. But even if he doesn't win the starting job Andrews could see the field in Roman's offense which likes to feature exotic looks and heavy sets. Andrews could provide Jackson with a deep target down the middle of the field and fantasy owners some 2018 Eric Ebron-esq potential near the red zone.
Detroit hasn't had much luck with tight ends selected in the first round. Also rookie tight ends never produce fantasy numbers. But fantasy football is about opportunity as much as anything and the Lions picked T.J. Hockenson #8 overall for a reason. He's the starter from day one. At receiver, there's not much competition for targets. Sure Marvin Jones and Kenny Golladay will get theirs. But no one else on the roster accounted for more than 39 targets. Hockenson is a complete player who blocks or can flex out wide creating match up problems for defense, especially if they are caught in a run heavy look.
Honorable mention: Is there a such thing as a tight end handcuff? Maybe in Philadelphia. Dallas Goedert, who recently went down with a calf injury, has the size and athleticism to succeed should Ertz get nicked up.
Questions, comments, suggestions, and other feedback on this piece are always welcome. Follow me on twitter @b_muell for takes my mildly depressing Skins, Caps, Terps, and O's as well as funny memes.