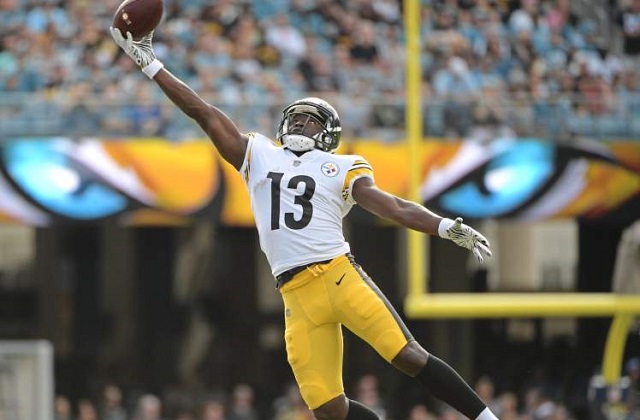 Written by Ben Muell
26 August 2019
Here are Ben's other League Winners articles: 8 Early Rounds Picks | Later Round QBs | Later Round RBs | Later Round TEs
Finding a "league winning" wide receiver late in the draft is awfully tough. For one, an injury to a #1 wide receiver doesn't mean that the next guy in line will see those targets plus touchdowns are fickle (just ask Julio Jones). It makes more sense to draft a couple wide receivers late and play the matchups.
So think about targeting these guys:
Anthony Miller
John Brown
James Washington
Donte Moncrief
Adam Humphries
Jaron Brown
Anthony Miller, Chicago Bears
Miller's current round 12 ADP could provide huge dividends. Nagy's scheme was able to provide Mitch Trubisky with simple reads and throws. Which is why Miller was able to catch 7 touchdowns on 58.2% of teams offensive snaps. He will also be one of two guys who will always be on the field, and that other guy, Allen Robinson, is expected to draw the tougher coverage matchup week to week.
John Brown, Buffalo Bills
Last season, during weeks 1-9, Brown was WR #22 in PPR with Joe Flacco flinging him the ball down field. After the switch to Lamar Jackson, Brown disappear into smoke. Now in Buffalo, Brown will be let loose. Why? Because last year, Josh Allen chucked it deep more often than any other QB in the league. So take the polished route runner paired up with the guy who can throw the ball a quarter-mile. But also remember the name Robert Foster for a DFS lineup or two.
James Washington and Donte Moncrief, Pittsburgh Steelers
JuJu Smith Schuster will obviously be the top guy. But with Antonio Brown in Oakland (as of now), ONE THOUSAND snaps (998 actually) are now available to both James Washington and Donte Moncrief. And all three Steelers will see the field in three wide receiver sets.
With this large of an opportunity on the table both guys should be drafted because they possess different skills. For a long time we've seen the Steelers have a "deep guy" - that will be Washington. But Moncrief could end up being their pseudo tight end and snag a handful of those 15 touchdowns that Brown is leaving behind.
Adam Humphries, Tennessee Titans
Was buried on the Buccaneers depth chart to start 2018, but ended up seeing 105 targets (25th in the NFL). After spurring the Patriots for the Titans, Humphries is set to start opposite of Corey Davis.
Digging into Humphries' numbers reveals a bit of upside. Humphries was typically targeted only 6 yards down the field, which is no surprise given the deep threats in Tampa. But in Tennessee last season, all of their receivers were targeted at least twice as far down the field as Humphries was. It looks like Adam chose the Titans because he liked the situation and the offense. Fantasy owners should like him for the same reason. Humphries is in line to see even more targets, even further down the field, meaning an uptick in yards at a minimum and a safe floor.
Jaron Brown, Seattle Seahawks
Chalk this up to the assumption that the Seahawks won't be converting their offense to the wishbone triple options. So while Russell Wilson's crazy passing efficiency has to regress toward the mean someone has to catch passes. And Jaron Brown, who snagged 5 touchdowns last year while seeing the 8th most team targets, is now starting alongside Tyler Lockett. With injuries to David Moore and D.K. Metcalf, Brown will have plenty of opportunity to prove that he's not a fluke early in the season and thus is worth a flyer because of his big play potential. And if he flops, then cut him and pick up one of the following guys:
Deebo Samuel, Marquise Goodwin… Kyle Shanahan's offenses have been too good to ignore
Mecole Hardman… The 2nd round rookie out of Georgia is a burner out
Jamison Crowder… Should see a ton of volume from Sam Darnold
Kenny Stills or Devante Parker… Paired with Ryan Fitzpatrick these two have the skills to will win some DFS weeks
John Ross… The "Brandon Cooks" of Cincinnati?
Nelson Agular… Will see valuable snaps in the slot
Taylor Gabriel… had some bad luck in 2018 and is due to score some touchdowns this season
Questions, comments, suggestions, and other feedback on this piece are always welcome. Follow me on twitter @b_muell for takes my mildly depressing Skins, Caps, Terps, and O's as well as funny memes.