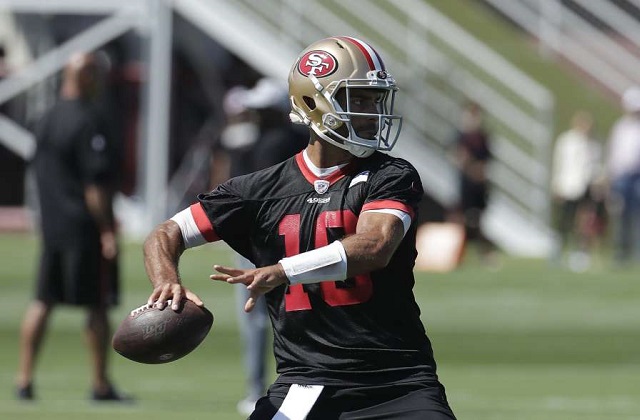 Written by Ben Muell
15 August 2019
Here are Ben's other League Winners articles: 8 Early Rounds Picks | Later Round RBs | Late Round WRs | Later Round TEs
Everyone likes a good deal no matter if it's Black Friday or a happy hour special. One of my favorites is the famed penny pitcher night in ole Morgantown, WV.
League wide the NFL is throwing the ball more than ever and the depth at quarterback these days is absolutely mind-blowing. Week-in week-out there are about 20 quarterbacks that you could consider starting. Which means waiting to select your guy or even streaming quarterbacks allows you to grab more depth at other positions.
In the later rounds of a fantasy draft consider these four quarterbacks as potentially league winners:
Quarterbacks
Jared Goff
Kirk Cousins
Lamar Jackson
Jimmy Garropolo
The offense firepower on the Rams and Vikings is what makes these guys valuable. The running backs are studs. Jared Goff and Kirk Cousins throw to five WR2+s (a new term I'm working on -- sort of meaning a WR2 that can win you any week).
Jared is in a position where he might be in line for more control of the offense with Todd Gurley's bum knee. On the other side of the injury coin, if Cooper Kupp is healthy then the Rams might be the Super Bowl Champions. The offense was noticeably different without him on the field. Without Kupp they Average 5.9 yards per pass play. With Kupp they averaged 9.2 yards per pass play or 1.5 yards better than the Chiefs, best in the league.
Kirk Cousin is a very accurate passer (66.5%), which is the second highest career average among active passers behind Drew Brees. What would make him a league winner is if more of those completions turn into touchdowns. While Cousins' play can be up and down at times the wildcard is the offensive line. If free agent addition Josh Kline and new center Garrett Bradbury, selected in the first round, and the rest of the line can give Cousins more time then maybe the Vikings offense will take the next step. Also in Washington, Cousins had some sneaky rushing upside - scoring at least four touchdowns in all three years as the starter.
Also just as Goff and Cousins have league winning WRs, so do Lamar Jackson and Jimmy Garropolo in rookie Marquise Brown and track star Marquise Goodwin. Both are capable of blowing by defense offering upside to the Ravens and 49ers passing attacks.
Lamar Jackson might have the safest floor of any QB this season because of the value he adds with his legs. The real wild card that makes Jackson a potential league winner is new offensive coordinator Greg Roman, who has been in Baltimore for the past two seasons coaching up the tight ends. Roman previously was on staff with the 49ers and Bills as the OC for Colin Kaepernick and Tyrod Taylor. His run heavy offense also featured a rather effective, though limited, passing attack. Both of Kaepernick's and Taylor's best season came with Roman calling the plays. So with the improved weapons at wide receiver and running back Baltimore's offense could take flight.
Last season Nick Mullens and C.J. Beathard were startable QB1s during 6 of their 13 games. With a stable of capable and explosive running backs, a stud tight end, and promising wide receivers Jimmy Garoppolo has weapons to target and improve upon Mullens and Beathard's passing numbers. Though Garoppolo's most valuable weapon might be Head Coach Kyle Shanahan. Since Garoppollo's 10 NFL starts offer too small of a sample size to predict anything from, fantasy owners must look at Shanahan's offensive prowess. Every one of his starting QBs have posted better numbers with him than without. Also in his 11 years calling plays in the NFL, Shanahan's offenses have finished 11th in Net Passing Yards per Attempt [(Passing Yards - Sack Yards) / (Passes Attempted + Times Sacked)] pointing to a better than average passing game.
And if you prefer to stream QBs in 2019 then Garoppolo is your guy. The 49ers start the season with three solid matchups against Tampa Bay, Cincinnati, and Pittsburgh.
Questions, comments, suggestions, and other feedback on this piece are always welcome. Follow me on twitter @b_muell for takes my mildly depressing Skins, Caps, Terps, and O's as well as funny memes.