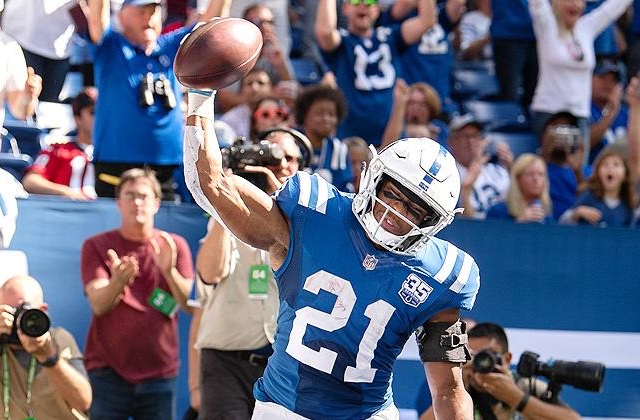 Written by Ben Muell
21 August 2019
Here are Ben's other League Winners articles: 8 Early Rounds Picks | Later Round QBs | Late Round WRs | Later Round TEs
I have a good buddy who is always looking for diamond-in-the-rough like deals on SSBDs (short sleeve button downs) at Marshall's like stores. From the moment he enters the store, he's looking for some combination of classic, yet flashy, and cheap. Or an "every down shirt" that he can wear to work, the beach, or the bar.
Late round running backs are kind of the same. Any pick after round 10 is cheap and potential league winning RBs have a trait that makes them unique or interesting given the right situation.
Running Backs to consider:
Nyheim Hines (13th Round ADP)
Justice Hill (13th Round ADP)
Alexander Mattison (13th Round ADP)
Darwin Thompson (14th Round ADP)
Mike Davis (Undrafted)
Nyheim Hines
Since March, people have been saying that Marlon Mack is a league winner. And it makes sense, he's a solid running back on a good offenses. Except, he doesn't catch passes (only 17 catches in 2018). Do you know who does catch passes in Indianapolis? Nyheim Hines.
The former NC State back was on the field from week one on last year and ended up snagging 63 balls. In a PPR league Hines possesses James White-esq upside on what should be a solid Colts offense. If there's injuries to Mack, he might be asked to carry (some of) the load behind one of the better offensive lines in the NFL. Or if a wide receiver goes down, then Hines could be more involved in the passing game.
And as a college sprinter (2016 NCAA All-American in the 4x100m relay) it was no surprise at the 2018 NFL draft combine when Hines posted the fastest 40-yard dash time for running backs (4.38 -- which apparently isn't even his fastest time ever). So from week to week he only needs one or two touches to have himself a day.
Justice Hill
We've heard this before: Baltimore's defense should again be one of the best in the league in 2019. But finally, the Ravens have committed to finding playmakers for Joe Flacco. Kidding. Sorry, I just find it hilarious that after years of never trying to find Joe some playmakers, the Ravens sign a solid veteran running back and drafted two high upside wide receivers, two athletic tight ends as well as an electric running back. This team is doing everything possible to make sure Lamar Jackson is in a position to win.
While they have draft capital invested in these players, no one, yet, has a defined role. Scheme-wise, we know that the Ravens want to run the ball behind a solid offensive line (they ran the ball 45 times per game after Lamar took over). We also know that mobile QBs help open up running lanes for running backs, boosting their performance. John Harbaugh also has a history of splitting carries between running backs. So the Oklahoma State rookie, Justice Hill, is going to get some playing time. What will make his touches different than Mark Ingram's, is Hill's dynamic big play potential can't be ignored. He won't begin the season as the starter, but he certainly could end it.
Alexander Mattison
Minnesota's Dalvin Cook has the opportunity and skills to be a top 5 running back. But he hasn't shown he can stay healthy. This makes Alexander Mattison, the 3rd round rookie, an interesting name to consider. At Boise State, Mattison was known for his powerful downhill running style and nose for the endzone, finishing 7th in college football with 17 touchdowns during 2018. He also showed the ability to catch passes out of the slot (if he's smart he'd try to learn a thing or two from route running technicians Adam Thielen and Stefon Diggs).
It's easy to see why the Vikings liked Mattison, his skills fit nicely in Mike Zimmer's scheme. While ultimately his value is tied to Cook's health, what will really decide if the rookie can take his game to the next level is his pass blocking, because keeping Kirk Cousins vertical will be a top priority for the Vikings in 2019.
Darwin Thompson
Because of the offensive potential behind Patrick Maholmes and Andy Reid, everyone needs to know the Chiefs depth chart through and through. Damien Williams finished out 2018 as one of the hottest backs in football and won many folks their leagues, he hasn't exactly proved he can handle a full time workload. Also Carlos Hyde is on his 4th team in 3 seasons, a red flag.
Darwin Thompson has the potential to come on late in the year. At Utah State, he proved to be a strong back who excelled at breaking tackles (Hey, there might be something to these Mountain West Conference running backs). The rookie also catches the ball well and Andy Reid likes to use his running back in the passing game. While it will take time to learn the offense and earn trust, Thompson's dynamic and versatile skill set might have him seeing more and more snaps as the season progresses.
Mike Davis
Mike Davis is a former 4-star recruit who showed that he could do a little bit of everything well in college at South Carolina and in Seattle last season. Now in Chicago, Davis could be the off-season value signing of the year. For starters, Davis is a capable receiver. So he'll see some targets even though Tarik Cohen owns passing down duties. But this season Davis' only competition for carries are from rookie David Montgomery. Now Montgomery is a good back, but there is so much that he has to learn and prove. If the rookie goes down with an injury then Davis will offer a whole lot of upside. Heck, if Jordan Howard can be a top-20 running back in the Bears' offense, then the more versatile Davis can certainly provide similar numbers, if not better, at a very cheap ADP cost.