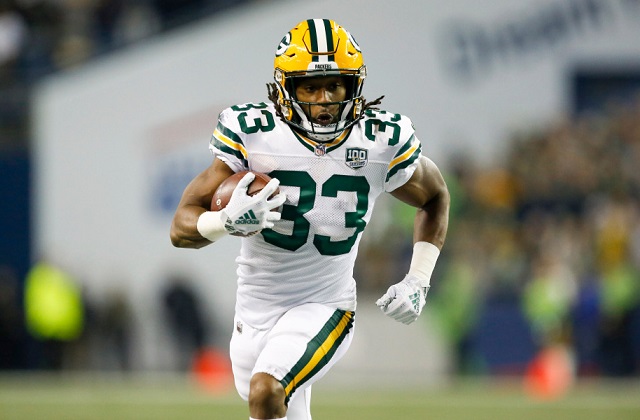 Written by Ben Muell
09 August 2019
Here are Ben's other League Winners articles: Later Round QBs | Later Round RBs | Late Round WRs | Later Round TEs
In order to win your fantasy football league you're going to need some luck. Your players schedule has to be favorable (we can make some inferences who will have solid match ups but we won't really know until October). It helps if your own league schedule is favorable (you happen to play that non-responsive friend twice or you play a team who lost their stud receiver to an ACL injury).
You're going to have to keep a sharp eye on the waiver wire. We all remember the Peyton Hollis of the fantasy world or last year's Phillip Lindsay or Tyler Boyd.
Most of all though you have to crush your draft. You can't miss on the guys in rounds 1 to round 4, in fact you need them to outplay their peers. Finally you need to hit on a few late round sleepers.
Here are some potential league winners in the early rounds of your draft:
Quarterbacks
Last season wasn't a "normal" year in Green Bay with injuries and player-coach beefs. While Rodgers posted his second highest career totals in pass attempts, completions, and yards to go with only throwing two interceptions -- it was a down year finishing as QB6. One telling stat was his 4.2% touchdown percentage was 2 points lower than his career average of 6.2%, which ranks him #7 all-time among QBs and #1 for active QBs (#2 Russell Wilson 6.0% and #3 Tom Brady 5.5%). Applying that average to last year's numbers nets 12 more touchdowns. Tack those fantasy points on last season's totals and Rodgers is easily QB2 behind Patrick Maholmes. "Bouncing back" seems almost a given for a healthy and reenergized Rodgers.
Running Backs
Aaron Jones
Davonte Freeman
Phillip Lindsay
If Aaron Rodgers is the key to success for the Packers, then he needs to be protected. That means Aaron Jones will be on the field for his pass blocking abilities. He's also the best back in Green Bay. If new Packers head coach Matt LaFleur commits to Jones like he did with Derrick Henry in Tennessee to end the season, he offers 300 touch potential. Plenty of upside exists for the former UTEP back on what could be a top-5 offense with favorable game scripts. Plus we have seen Green Bay running back produce RB1 numbers before. Luckily this Packers has learned early on to cut back on the sweets and comes into the season with 5.3% body fat (CBS).
This is a simple one. Davonte Freeman has never had the opportunity to be the guy in Atlanta. In eight games without Tevin Coleman Freeman's average weekly finish is RB8. He's also never been the goal line back, Coleman owned those duties. With a solid offense, an improved line and no clear backup Freeman could easily pay dividends.
When in doubt look to the offensive line. New offensive line coach Mike Munchack (a Hall of Fame Left Guard for the Tennessee Titans) is going to make what was a good in Denver unit even better. Sure Phillip Lindsay is splitting time with Royce Freemen but Lindsay does it all. He's solid in between the tackles, he converted 4 of 7 goal line chances (out touching Freeman there as well) and he catches passes. Yes, the Broncos just signed Theo Riddick. But Joe Flacco loves to check it down to his backs providing plenty of opportunities. The season starts with a few tough matchups (week 2 Chicago, week 3 Green Bay, and week 4 Jacksonville) but his playoff run is juicy (week 14 Houston, week 15 Kansas City, and week 16 Detroit). He won't be the fantasy draft steal that he was in 2018 but he can still help you win.
Honorable Mention:
If folks are skittish from the Le'Veon Bell hold out then Melvin Gordon is the one guy that could fall way down draft boards. In the 3rd or 4th round though he could provide some major value for a running back who's been one of the most consistent producers over the last 3 seasons. Just be sure to grab Austin Ekeler.
Wide Receivers
Amari Cooper
A.J. Green
Cooper Kupp
Chris Godwin
Since his days at Alabama, Amari Cooper has been known for his elite route running ability and creating separation. The problem was he just was never targeted like a #1 WR. That changed with the move to Dallas where he trived. After an offseason to grow more accustomed to the offense and Dak Prescott he should offer consistent WR1 numbers with 200 yard receiving and multi-touchdown potential to win you almost any week.
Bold prediction, from even before the ankle injury, in new head coach Zac Taylor-LA Rams-esq offense A.J. Green, who is currently being drafted in the 4th to 5th round of 12-team leagues, will finish as a WR1. He's great versus man coverage, he creates separation, and excels in contest catch situations. In 2018, his numbers if extended out to a full season would have easily made him a top-10 wide receiver. Worst case you will still have time to let your late round and waiver wire WRs pick up the slack if Green is slow to return. The risk is worth the reward.
Even as the #3 WR on the Rams, Cooper Kupp was one of the best receivers in the NFL last season scoring 6 touchdowns in 8 games before his season ended with a torn ACL. He's more valuable in standard scoring formats due to his propensity to snag touchdowns but at worst he's one of the safest bets in the NFL to provide WR2 numbers from week to week.
Despite the record, interceptions, and lack of a running game... Tampa Bay's offense was pretty dang good last year. This year should provide more of the same -- bad defense and 300 yard passing games from Jameis Winston. But with the departure of DeSean Jackson and Adam Humphries the receivers will be different. Enter Chris Godwin. With 175 targets up for grabs Godwin brings 100 catch potential. We've seen Minnesota and Pittsburgh feature two high end wide receivers, why not Mike Evans and Godwin?
Tight Ends
For a second (Tampa Bay) league winning candidate, all the signs are pointing to OJ Howard. He's entrenched as the #3 receiver has the talent to stretch defenses down field. Winston likes to throw the ball down field as does new Head Coach Bruce Arians. Plus Howard draws favorable matchups during the fantasy playoffs (week 14 Indianapolis, week 15 @ Detroit, and week 16 Houston) that could offer you a major edge this year.
Questions, comments, suggestions, and other feedback on this piece are always welcome. Follow me on twitter @b_muell for takes my mildly depressing Skins, Caps, Terps, and O's as well as funny memes.