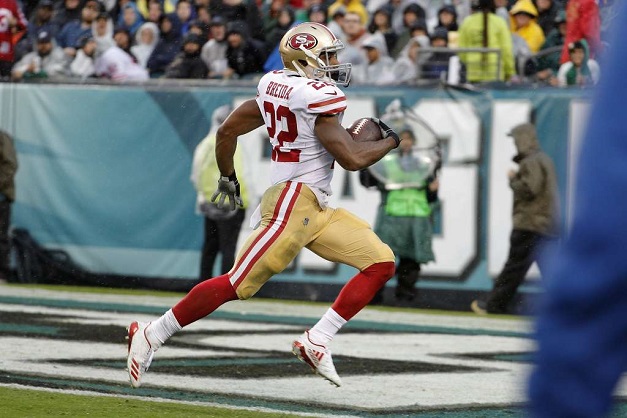 Written by Brian Murphy
01 February 2018
Chris Thompson, Washington Redskins
By the time fantasy draft season rolls around, I imagine that Thompson will no longer be an actual sleeper. He is going to receive a lot of hype over the next handful of months, which may actually land him in "overrated" territory. But for right now, Thompson fits the bill here. You may not realize that he finished 2017 ranked No. 11 in PPR points per game among running backs. And now here comes Alex Smith. As such, Thompson is going to see as many checkdown passes as he can handle. Thompson's injury history is a bit of a red flag -- he is currently recovering from a broken leg that forced him to miss the final six games of the season -- but if he can stay healthy, Thompson looks to have legitimate RB1 upside in PPR formats. 
Sad that the NFL season is ending? Don't be. Make your own offseason prop bets here.
Matt Breida, San Francisco 49ers
Gauging a player's next-season potential before the draft and free agency is tricky just because you know so many situations will look nothing like they do today, changing that player's outlook. For running backs specifically, you could put someone like the Steelers' James Conner or the Giants' Wayne Gallman on this list, but we just don't know right now what will happen to the players in front of them on their respective depth chart. The same goes for Breida, who could be a very intriguing name in a couple of months if Carlos Hyde departs via free agency (I think he will). Then what happens with 2017 fourth-rounder Joe Williams? Again, many unknowns remain in the RB situation by the bay. But Breida showed in his rookie year that he can at least be a valuable weekly piece in San Fran's backfield. He racked up at least 70 yards on the ground with only 11 and 12 carries, respectively, over the final two weeks of the season. And while Breida wasn't a great pass-catcher in college, he has already improved that part of his game significantly. He's undersized at 5-foot-11 and sub-200 pounds, but he certainly has speed and athleticism to spare; just go take a look at his pro day results. Without Hyde in the picture, Breida can become a 15-touch player every Sunday and easily break into fantasy's generally weak RB2 class.
D'Onta Foreman, Houston Texans
While Chris Thompson is probably going to turn into an overhyped commodity this summer, Foreman will be a player who many fantasy owners will ignore without a second thought. The 2017 rookie tore his Achilles tendon less than three months ago, so who knows what he'll be able to provide at the start of next season? But I'm going to put this out there: Foreman is the Texans' best running back. Yes, better than Lamar Miller, who is Houston's best RB for passing downs. Of course, that's just fine because Foreman is a liability whenever he's asked to pass block. On paper, Foreman may seem like a bit of throwback player as a two-down bulldozer at 235 pounds. However, he is much more than a straight-ahead grinder. Foreman has 4.45 speed and special athleticism. If not for the Achilles tear, he would be on many other 2018 sleeper lists. But also because of that injury, he is going to be willfully overlooked in drafts. Perhaps he doesn't contribute right away, but he is a fantastic stash. Also keep in mind that there is no more guaranteed money left on Miller's contract. He could be a cut candidate, but that decision might hinge on how quickly Foreman progresses through his rehab.
Check out these other 2018 fantasy football articles:
3 Players Who Could Be Overvalued in 2018


You can follow, ask fantasy questions and yell at Brian on Twitter: @Spokes_Murphy
Never miss ASL's latest fantasy sports news. Send us an email at newsletter@advancedsportslogic.com and list the sports you are interested in (NFL, NBA, MLB, NHL, EPL) to start receiving ASL's newsletter.