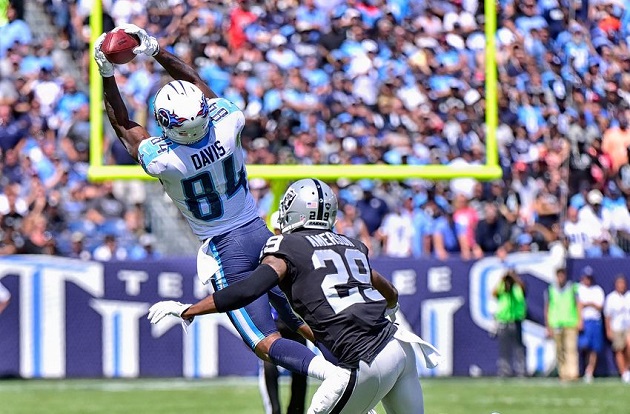 Written by Brian Murphy
18 January 2018
Note: These players are presented in no particular order.
Corey Davis, WR, Tennessee Titans
The intrigue on this choice was blown up in the Titans' playoff game last week versus the Patriots. He caught five passes, including a couple of touchdowns, one of which was of the spectacular variety. But truth be told, I've been waiting on Davis for a while. He was on the mend for most of the season's first half, but I was telling everyone to put the rookie into their lineups starting in Week 11 when Rishard Matthews was inactive for Tennessee. Did that end up being a great call? No. Davis surpassed 40 yards just once in his last seven regular-season games. However, his talent can't be denied, and that playoff game was the perfect showcase. He'll undoubtedly get more targets next season with Eric Decker likely on his way out, and the Titans' offense should become less vanilla with Mike Mularkey out and with someone else calling the offensive shots. Marcus Mariota will improve, and he'll quickly discover whom his best wideout is. It's Davis. It's not really close.
Sad that the NFL season is ending? Don't be. Make your own offseason prop bets here.
Dede Westbrook, WR, Jacksonville Jaguars
Staying in the AFC South with another 2017 rookie, Westbrook looks like the Jags' No. 1 wide receiver for next season right now given that Allen Hurns and Allen Robinson are impending free agents. Although he didn't make his NFL debut until Week 11 due to an injury, the Oklahoma product became starter-worthy in some fantasy formats almost right away. From Weeks 12-14, Westbrook caught 17 passes for 200 yards and a touchdown. Small sample size? Absolutely. However, Westbrook's game-breaking speed jumps off the tape, and catching 27 balls in your first seven games as a pro while working with one of the worst quarterbacks in football is fairly commendable. Blake Bortles' days in J-Ville should be done with after this season -- he has a club option for 2018 -- and it shouldn't be difficult for Jacksonville to upgrade at that position, which further raises Westbrook's potential. The Jaguars should still boast a run-first offense, but Westbrook's pure talent could make him a top-24 wideout next season.
Trey Burton, TE, Philadelphia Eagles
Burton might already be a star in this league if he hadn't spent his first four seasons with the Eagles. He's been behind Zach Ertz but has shined when given his opportunities. Case in point: Burton gained 112 yards and scored three times in the two games that Ertz missed in 2017. Burton will enter free agency this spring and while his fantasy value will hinge on where he signs, he is cut from the same cloth of so many productive tight ends before him: an uber-athletic former college basketball player with soft hands. He's a natural producer and should take a massive leap in 2018.
Hunter Henry, TE, Los Angeles Chargers
I ranked Henry fifth in my recent top 10 TEs for 2018 list. He was on a lot of breakout lissts entering this season, but it just didn't happen simply because there were far too many games in which Henry didn't play even 60 percent of the snaps. With free agent-to-be Antonio Gates moving on (hopefully!), Henry should have all the space and snaps he needs to finally fulfill his high-end TE1 upside. Consider that despite missing two games and watching significant portions of other games from the sidelines, Henry was fantasy's No. 12 tight end in standard leagues this season. He is still far from his ceiling.
Chris Carson, RB, Seattle Seahawks
There are some dominoes that need to fall for Carson to truly break out. Eddie Lacy, Thomas Rawls and Mike Davis all need to leave via free agency (Rawls and Davis are restricted free agents). The Seahawks desperately need to fix their offensive line. Carson needs to show that he hasn't lost a step after breaking a leg in early October. Oh, and he also has to win the starting job over some yet-to-be-added competition. Carson was Seattle's most effective RB before his injury and has the size and power to become a 20-touch back. He has room to grow as a pass-catcher, but he's not inept in that area either. Plus, while the addition of Brian Schottenheimer as offensive coordinator has led to much derision, it's no secret that Schottenheimer prefers a run-heavy attack. Carson could very well be the man to lead that attack, and thanks to being out of sight for much of 2017, he should be on the board late in plenty of drafts this summer.
You can follow, ask fantasy questions and yell at Brian on Twitter: @Spokes_Murphy
Never miss ASL's latest fantasy sports news. Send us an email at newsletter@advancedsportslogic.com and list the sports you are interested in (NFL, NBA, MLB, NHL, EPL) to start receiving ASL's newsletter.