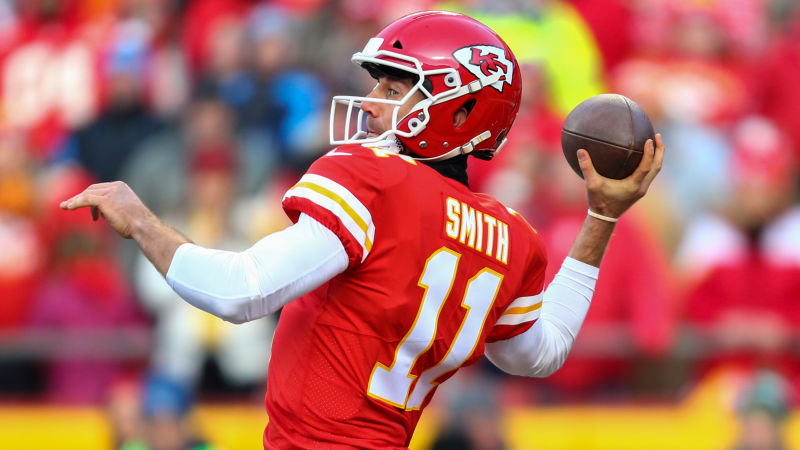 Written by John Adams
31 January 2018
The Washington Redskins just dropped $94 million with $71 million guaranteed on former Chiefs quarterback Alex Smith. Smith will turn 34 in May and joins a Redskins team that is grasping at straws. Is this a downgrade from Kirk Cousins? Of course it is. Is this an extreme amount of money to spend on an aging quarterback who just had his best season? You bet. But the Redskins have displayed a knack for self-destruction in recent years and this trade will bring nothing but mediocrity to the city of Washington.
Smith is not a bad quarterback, but he's walking into a tenuous situation in our nation's capital. The Redskins have plenty of holes that will leave Smith vulnerable every time he takes the field. Washington has limited talent at running back, no standout wide receivers and their offensive line is a disaster. Smith had his best season with the Chiefs this season behind the explosive running talents of rookie Kareem Hunt. All of Smith's best games took place when Hunt was either breaking off chunks of yards or catching the ball for him out of the backfield. Hunt caught 53 passes for 455 yards and three touchdowns last season and without him, Smith will plummet back to the reality of being a middle-of-the-road quarterback.
The big winners in this trade are impending free agent Kirk Cousins and the Kansas City Chiefs, who clear the way for second-year QB Patrick Mahomes. If you thought that Chiefs wide receiver Tyreek Hill looked explosive this year, wait until he's on the receiving end of passes from Mahomes, who can boom the ball downfield. Mahomes will surely deal with rookie growing pains, but with Hunt carrying the load and catching passes out of the backfield, the Chiefs should make it back to the playoffs next season.
Cousins will likely be the most sought after free agent coming into the new season and he must be absolutely delighted to leave behind the soap opera in D.C. Cousins showed off his grit and talent this season by throwing for 4,093 yards and 27 touchdowns despite an offensive line that couldn't protect him, a carousel at the running back position and no standout receivers. There is a logjam of teams (Jaguars, Broncos, Vikings, Jets and half the league) who desperately want him to take over their squad and lead them to the -promised land. The good news for Cousins is that he can take his time, consider all the offers and decide what works best for him.
Never miss ASL's latest fantasy sports news. Send us an email at This email address is being protected from spambots. You need JavaScript enabled to view it. and list the sports you are interested in (NFL, NBA, MLB, NHL, EPL) to start receiving ASL's newsletter.