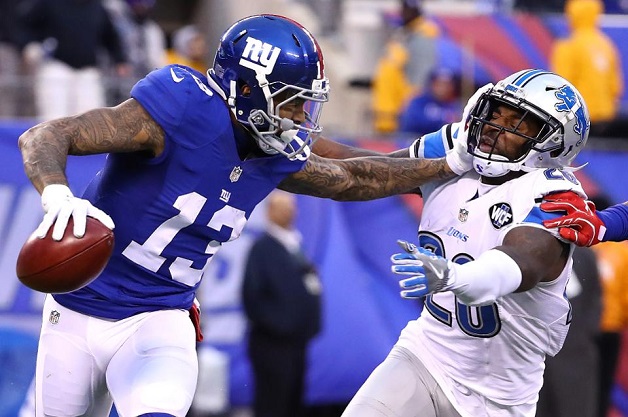 Written by Brian Murphy
16 January 2018
Check out my other early 2018 rankings:
1. Antonio Brown, Pittsburgh Steelers
Here is Brown's five-year average stat line, rounded to the nearest whole number: 116 receptions, 1,570 yards and 10 touchdowns. His lows in those respective categories during that time span are 101, 1,284 and 8. That elite consistency is what you want in a high first-round pick.
2. DeAndre Hopkins, Houston Texans
My WR MVP for 2017, Hopkins claims this No. 2 spot because he proved he could churn out fantastic numbers regardless of who was throwing him the football. Plus, the possibility of seeing the Deshaun Watson-to-Hopkins connection for a full season is mighty exciting . Short sample size, yes, but Hopkins' average line in Watson's six starts this season was 6.3-106.2-1.0.
3. Odell Beckham Jr., New York Giants
He's coming off significant ankle surgery and is returning to an offense that was broken in 2017, headed by a crumbling Eli Manning. However, Beckham hasn't finished with fewer than 90 catches, 1,300 yards and 10 touchdowns in any of his three full seasons. Health permitting -- a caveat you can use on every NFL player -- Beckham should remain a high-end WR1.
4. Julio Jones, Atlanta Falcons
Once plagued by foot injuries, Jones has now played in 61 of the last 64 possible regular-season games. Something that hasn't changed is his befuddling lack of touchdowns, but Jones has gained more than 1,400 yards in each of the past four seasons. No other receiver can claim that.
5. Michael Thomas, New Orleans Saints
Here's another guy who left fantasy owners wanting more as he scored just twice through Week 12, but I'm willing to write that off as a fluke. There were no such worries in 2016 when Thomas scored nine times. He's the clear-cut No. 1 wideout in one of the league's best offenses and has topped 90 catches in each of the past two years.
6. Mike Evans, Tampa Bay Buccaneers
Evans' stats this season were dragged down by Jameis Winston's inconsistencies as a passer, but he still gets peppered with targets and is one of the most uncoverable players in the red zone. I'm banking on a bounceback year from him. Don't forget that he posted a 96-1,321-12 line just a year ago.
7. A.J. Green, Cincinnati Bengals
Green gets overlooked because his ceiling isn't as high any longer as those at the front of this list, and Andy Dalton is a mediocre QB at best. A.J. turns 30 this summer, but he still finds his way into the top-10 because of his target share and big-play ability. He's still so good that a 1,078-yard campaign with eight touchdowns is a legitimate disappointment.
8. Keenan Allen, Los Angeles Chargers
So that's what Allen can do when he stays on the field. Playing in more than eight games for the first time in three years, Allen posted a 102-1,393-6 line. If not for those recent health concerns, he would be higher up on this list. 
9. Brandin Cooks, New England Patriots
Cooks ended the 2017 season as fantasy's No. 7 WR. That's kind of amazing given that he didn't surpass 60 yards in seven games. He averaged 16.6 yards per catch, and there's clear room for improvement as his rapport with the forever-young Tom Brady improves.
10. Tyreek Hill, Kansas City Chiefs
Yes, Hill is a boom-or-bust player. And we don't know how he'll be impacted by the Chiefs' likely move from Alex Smith to Patrick Mahomes at QB. But what we do know is that Hill is one of the NFL's most special skill-position players. He was fantasy's No. 4 wideout in standard leagues this season, and you can argue that he didn't get enough touches. 
Just on the outside: Doug Baldwin, Seattle Seahawks; Alshon Jeffery, Philadelphia Eagles; T.Y. Hilton, Indianapolis Colts; Dez Bryant, Dallas Cowboys; Jarvis Landry, Miami Dolphins; Adam Thielen, Minnesota Vikings; Davante Adams, Green Bay Packers


You can follow, ask fantasy questions and yell at Brian on Twitter: @Spokes_Murphy
Never miss ASL's latest fantasy sports news. Send us an email at newsletter@advancedsportslogic.com and list the sports you are interested in (NFL, NBA, MLB, NHL, EPL) to start receiving ASL's newsletter.