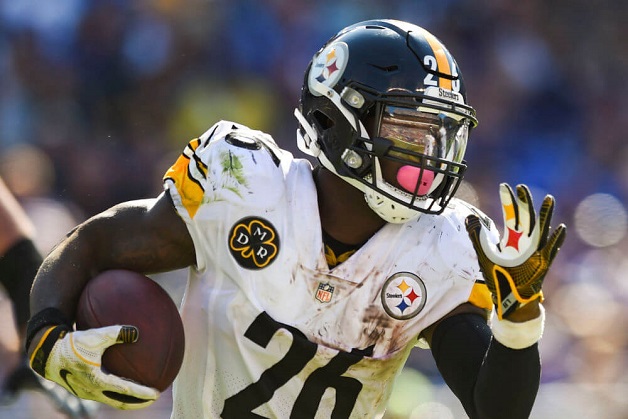 Written by Brian Murphy
08 January 2018
Check out my other early 2018 rankings:
1. Todd Gurley, Los Angeles Rams
I presented a brief case for why Gurley should be the top pick in 2018 drafts last month. You can read my take here.
2. Le'Veon Bell, Pittsburgh Steelers
Don't worry about his 4.0 yards per carry average. Bell racked up more than 1,900 yards from scrimmage during the regular season and remains the league's preeminent dual-threat back. So why is he listed below Gurley? Bell comes with slightly more injury concerns, and it's worth noting that by the end of this season, he'll probably have logged somewhere between 430-450 total touches. You have to take into account how that heavy workload could impact him next fall.
3. David Johnson, Arizona Cardinals
This season was basically a total loss for Johnson, but he should be fully recovered from his wrist injury by the spring. He is just a year removed from totaling 2,118 yards and 20 touchdowns. The No. 1 RB in most leagues entering this season won't fall below pick No. 5 in 2018.
4. Ezekiel Elliott, Dallas Cowboys
It would be great if Elliott could see more usage as a receiver, but as long as he stays on the straight and narrow off the field, he'll continue to be a highly productive workhorse for the Cowboys and fantasy owners.
5. Melvin Gordon, Los Angeles Chargers
Gordon is a pretty underrated player because people make too big of a deal about his YPC average. However, he has scored 12 TDs in each of the past two seasons and recorded close to 1,600 total yards this year. He was the No. 5 RB in standard leagues and is the Chargers' unquestioned No. 1 back. He gets a good amount of work as a receiver and has true big-play talent. It would be nice if L.A. improved its offensive line. If that happens, this ranking won't look bold at all.
6. Leonard Fournette, Jacksonville Jaguars
Fournette is a marvel with speed that shouldn't belong to a 6-foot, 230-pound man. Injuries will continue to be a big part of his narrative -- and they were the leading factor in his late-season swoon -- but if Fournette's legs stay strong for a full season, he has high-end RB1 upside, undoubtedly. His outlook should improve once the Jaguars move on from Blake Bortles and choose a quarterback who doesn't allow opposing defenses to continuously stack the box. The Jags already have the wideouts necessary to field a dangerous aerial attack. 
7. Derrick Henry, Tennessee Titans
Yes, I'm assuming that the Titans will cut DeMarco Murray, but they should. Murray, who turns 30 in February, has no more guaranteed money on his contract and is clearly slowing down. Meanwhile, Henry has shown what he can do as a bell cow over the past two weeks, gaining 308 yards from scrimmage on 52 touches. The Titans' offense should still be run-centric in 2018 and it should center around Henry as a 20-touches-per-game player.
8. Alvin Kamara, New Orleans Saints
Kamara is one of the most dynamic running backs in the NFL and was the No. 4 RB in standard leagues this year. But people should know that what he and Mark Ingram accomplished together this season doesn't happen regularly in two-man backfields. Ingram isn't going anywhere for 2018, so while I still think both players are worth high picks in summer fantasy drafts, expecting a pure repeat from either one is probably asking for too much. 
9. LeSean McCoy, Buffalo Bills
Father Time will catch McCoy at some point, but so far, Chronos has had as much success as linebackers who continue to look foolish as McCoy's jukes them out of their shoes. The soon-to-be 30-year-old will celebrate his 10th year in the league in 2018. Yet he remains the heart and soul of the Bills' offense and that won't change in the near future. Shady isn't a glitzy draft pick any longer, but he is still a decent bet for 1,500 yards from scrimmage and 7-10 TDs.
10. Kareem Hunt, Kansas City Chiefs
More than one-third of Hunt's yardage production this season came in just three games. He was a beast early in the year and then was basically an RB2 from Weeks 3-13. He will be overdrafted this summer because he claimed the 2017 rushing title, but Hunt is not in the same class with many on this list when it comes to athleticism. I expect a step back in 2018.
Just on the outside: Mark Ingram, New Orleans Saints; Dalvin Cook, Minnesota Vikings; Devonta Freeman, Atlanta Falcons

You can follow, ask fantasy questions and yell at Brian on Twitter: @Spokes_Murphy
Never miss ASL's latest fantasy sports news. Send us an email at newsletter@advancedsportslogic.com and list the sports you are interested in (NFL, NBA, MLB, NHL, EPL) to start receiving ASL's newsletter.