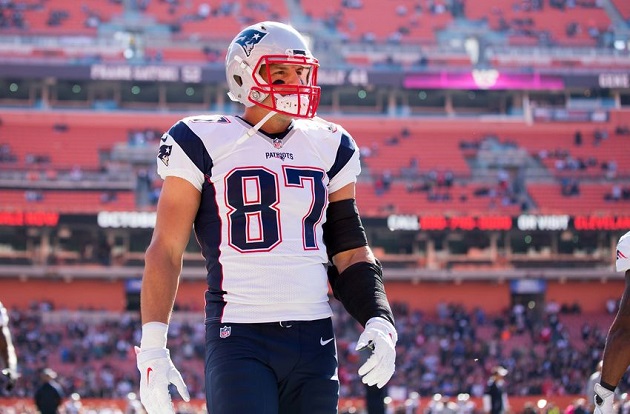 Written by Brian Murphy
11 January 2018
Check out my other early 2018 rankings:
1. Rob Gronkowski, New England Patriots
You were expecting someone else? He is unlikely to make it through a full 16-game scheduled unscathed, but 1,000 yards and 10 scores are basically his floor if he does.
2. Travis Kelce, Kansas City Chiefs
Alex Smith won't be as productive in 2018 as he was in 2017, so that will drag Kelce's numbers down somewhat. But he's another tight end who should continue to top 1,000 yards, and it was nice to see him log a career-high eight touchdowns. No matter what Smith does, getting Kelce more red-zone looks should be a priority for the Chiefs.
3. Zach Ertz, Philadelphia Eagles
I was dead wrong on Ertz. I don't think I had him inside my top 10 at tight end last summer. I won't make that mistake again. He finished second to Kelce among TEs in targets per game and looks to be forming a formidable connection with Carson Wentz.
4. Greg Olsen, Carolina Panthers
There are negatives surrounding Olsen, sure. He will be 33 in March and basically lost this season to a foot injury. My argument for placing him fourth is threefold:
-- Olsen averaged 80 catches and more than 1,000 yards in 2014-2016.
-- Norv Turner is the Panthers' new offensive coordinator, and he has been some kind of tight end whisperer for the majority of his coaching career.
-- While there are plenty of intriguing youngsters on the come up at this position, I don't trust any of them as much as I trust Olsen's track record.
5. Hunter Henry, Los Angeles Chargers
I beg you, L.A. Please let impending free agent Antonio Gates go. If that happens, I think Henry should finally turn in the TE1 campaign that many expected from him heading into 2017. 
6. Evan Engram, New York Giants
Engram finished second at the position in total targets, but what other choice did the Giants have after Week 5? Odell Beckham Jr. was on the shelf. Brandon Marshall was on the shelf. Sterling Shepard was on and off and back on the shelf. Engram was basically the last man standing. As those other receivers return, a decline in Engram's chances seems probable. Thus, I have him lower than you might expect.
7. Delanie Walker, Tennessee Titans
He was the No. 7 tight end in fantasy this year despite playing in a dysfunctional offense. Marcus Mariota will undoubtedly improve next season and although Corey Davis will soak up some more targets, Walker's production shouldn't be affected as he picks up for the likely departed Eric Decker.
8. Jimmy Graham, Seattle Seahawks
His value can't really be determined yet since he is a free agent and probably won't be returning to Seattle. But there is probably no tight end outside of Gronk who is a better TD target. On the negative side, his yards and receptions per-game averages are falling and he's probably over the hill at age 31. So, he's more of a low-end TE1 at this point.
9. Jordan Reed, Washington Redskins
Reed was never really healthy this season, and I still believe in his talent as he heads into his age-28 campaign. Obviously, health will always be the headline for him, but if he can play just 13-14 games next season, Reed will be a value pick in a lot of drafts.
10. Kyle Rudolph, Minnesota Vikings
I'm probably underrating a player who has been a top-six fantasy TE the past two seasons. Rudolph just doesn't have as much upside as others in front of him on this list (health permitting). However, if you are looking for a safe tight end starter, Rudolph fits the bill just fine.
Just on the outside: Jack Doyle, Indianapolis Colts; Tyler Eifert, Cincinnati Bengals; O.J. Howard, Tampa Bay Buccaneers
You can follow, ask fantasy questions and yell at Brian on Twitter: @Spokes_Murphy
Never miss ASL's latest fantasy sports news. Send us an email at newsletter@advancedsportslogic.com and list the sports you are interested in (NFL, NBA, MLB, NHL, EPL) to start receiving ASL's newsletter.