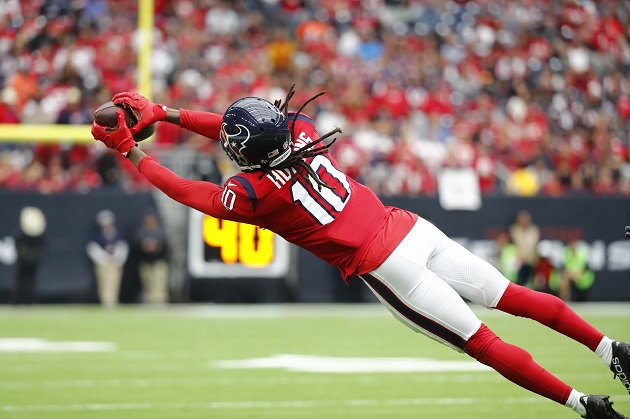 Written by Brian Murphy
26 December 2017
MVP QUARTERBACK: Alex Smith, Kansas City Chiefs
Let's begin with what I expect will be a rather controversial choice, but how many of you foresaw Smith being the No. 3 QB in standard formats this season? There is a large amount of competition for this honor, but because Smith went in the double-digit rounds of many drafts -- or wasn't drafted at all -- he gave your team so much position flexibility. He allowed you to trade the QB whom you had drafted to be your starter for help at other positions. He accentuates the word "valuable" in MVP. Through Week 16, Smith ranks among the top 10 in passing TDs and passing yards. And because he's Alex Smith, he has thrown just five interceptions and is reliable for about 20 rushing yards per week.
Honorable mentions: Carson Wentz, Philadelphia Eagles (if only he had stayed healthy ...); Russell Wilson, Seattle Seahawks; Cam Newton, Carolina Panthers; Jared Goff, Los Angeles Rams
MVP RUNNING BACK: Todd Gurley, Los Angeles Rams
How about this crazy stat: Among the top 500 teams in Yahoo public leagues, Gurley is rostered on 62.8 percent of them. The player with the second-greatest percentage is Antonio Brown at 38.8. Obviously, Gurley single-handedly carried fantasy owners to championships with what he accomplished in Weeks 14-16, recording an insane combined total of 107 points in standard leagues. But he was far from being just a three-week wonder. That's why this fantasy MVP should also probably be the NFL MVP and the first player off the board in 2018 fantasy drafts.
Honorable mentions: Alvin Kamara, New Orleans Saints; Mark Ingram, New Orleans Saints; Le'Veon Bell, Pittsburgh Steelers; Kareem Hunt, Kansas City Chiefs
MVP WIDE RECEIVER: DeAndre Hopkins, Houston Texans
This is really a three-horse race between Hopkins, Antonio Brown and Tyreek Hill. It would be a no-doubter if Deshaun Watson hadn't torn his ACL, but even with scrubs such as Tom Savage and T.J. Yates under center, Hopkins was a model of consistency. He never scored fewer than eight points after his Week 7 bye, and he was held to fewer than 11 points just once during that span. Hopkins is a great example of why if a team has a standout wide receiver, it should feed him the ball continuously. You've seen players such as Dez Bryant and A.J. Green not always get the target share they deserve, and it's incredibly frustrating for fantasy owners. But Houston sent an average of 12.1 targets Hopkins' way after their bye, and he made that usage worth it. As long as Watson is healthy by the start of the 2018 season, Hopkins should be a first-round fantasy selection.
Honorable mentions: Antonio Brown, Pittsburgh Steelers; Tyreek Hill, Kansas City Chiefs
MVP TIGHT END: Zach Ertz, Philadelphia Eagles
I'm probably shortchanging Rob Gronkowski here. He has been the No. 1 fantasy TE throughout the season, but his numbers kind of get overlooked because they are simply great instead of being out of this world. In this case, Gronk is a victim of his own dominance because he has raised the bar so high for himself. Ertz, meanwhile, has played in the same number of games as Gronk (13) and recorded about two fewer points per week. That's not an insignificant amount over the course of a season, but considering that Ertz was commonly drafted 5-7 rounds after the Patriots' beast, he really did give you more value. Ertz was also the most consistent fantasy tight end as he scored at least eight points in 11 of his 13 games played. He is present on about a quarter of the top 500 public-league teams in Yahoo.
Honorable mentions: Rob Gronkowski, New England Patriots; Travis Kelce, Kansas City Chiefs (Man, the Chiefs were pretty amazing for fantasy purposes this year)


You can follow, ask fantasy questions and yell at Brian on Twitter: @Spokes_Murphy
Never miss ASL's latest fantasy sports news. Send us an email at newsletter@advancedsportslogic.com and list the sports you are interested in (NFL, NBA, MLB, NHL, EPL) to start receiving ASL's newsletter